You can even pay using Afterpay.

Pregnancy Smoothie in Detail
The Healthy Mummy Pregnancy Smoothie is a convenient and nutritious supplementary drink. Our Pregnancy Smoothie can help you meet the increased nutritional requirements of pregnant women. The Pregnancy Smoothie is made from whole foods, is high in protein and calcium, contains probiotics and is a good source of fibre.
How Can The Pregnancy Smoothie Help You?
Healthy Calories 
Additional nutrients and calories are needed in pregnancy to support the mum and the baby. Our smoothie is a convenient and tasty way to increase your calories in pregnancy whilst nourishing your body.
Morning Sickness
If you are suffering from morning sickness and find eating food difficult – the smoothie is a great way to nourish your body with a easy to drink smoothie. It also contains ginger which helps to ease nausea.
Feeling Exhausted 
If you are feeling exhausted, the smoothie is a nutrient dense snack high in protein, B vitamins and low constipation iron to help keep energy levels up.
Convenient 
If you are struggling to find the time or energy to eat nutrient dense and healthy foods then the smoothie will be a great help. You could also have it as a quick breakfast by adding fruit, oats and vegetables to your smoothie to further increase calories.
Protein and Calcium 
It is ideal as a high-protein, high-calcium snack in pregnancy with each smoothie giving you 30% of your protein needs
Free From
The pregnancy smoothie is also free of all chemicals, fillers and artificial ingredients, has no fructose in, no added sugar and uses high quality dairy protein sourced from grass fed cows in New Zealand.
Nourish Your Body In Pregnancy
During pregnancy the nutritional demands on your body are greater in support of the growing baby along with alterations in maternal tissues and metabolism. The requirements of protein and nutrients, particularly folate, iodine, calcium, iron and zinc are higher.
During the second and third trimester additional protein is required for the growth of foetal, placental and maternal tissues, and estimated energy requirements are also higher.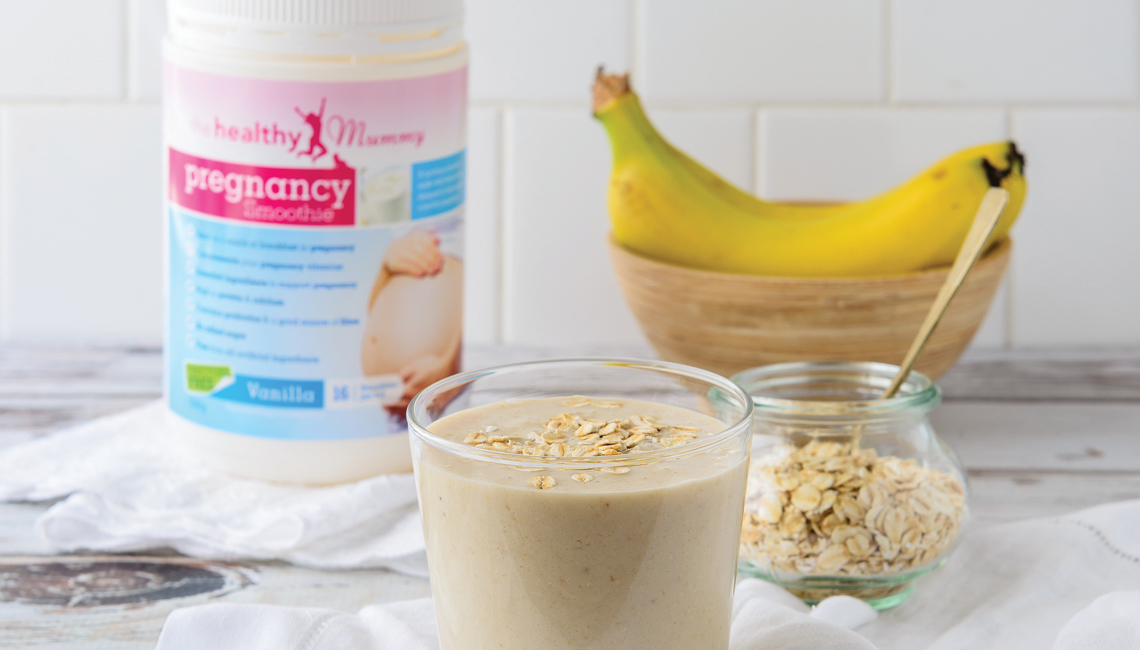 What Do The Experts Say?
Ali Pickes, Midwife says:
"The Smoothie is an easy and convenient way for pregnant women to get their intake of essential vitamins required during pregnancy. Having a Healthy Mummy Pregnancy Smoothie is an easy way to give you energy and help you glow.
The Healthy Mummy Pregnancy Smoothie is not a meal replacement but an ideal snack to compliment pregnancy supplements.  Having easy accessible snacks on hand when you are pregnant can assist acid build up or reflux, a common complaint in pregnancy. It assists by helping your digestive system to process smaller meals rather than larger meals, which are harder to digest."
Cheree Sheldon, Nutritionist says: 
"As pregnancy is one of my specialist areas, I was eager to see the Healthy Mummy Pregnancy Smoothie. After studying the ingredients I would not hesitate to recommend it to my clients. In fact, I would probably prescribe it!
It has a great formula, with about 100 calories per serve (not including ingredients you combine it with) and it is a perfect  snack.
This smoothie has no artificial colours or preservatives and is not GMO. As it is sweetened with thaumatin, a natural sweetener from fruit, it is not artificially sweetened and has no sugar, or fructose, so will not have a negative impact on your blood sugars."

Healthy Mummy Smoothie 45+ in Detail (currently out of stock)
The Healthy Mummy Smoothie 45+ is a meal replacement weight loss smoothie. It has been specially formulated to support the requirements of our mature mums and older women.
Smoothie 45+ is a delicious, creamy and versatile vanilla flavour. The nutrient-rich smoothie has just 216 calories per serve and there is 20 serves per 500g tub.
How the Healthy Mummy Smoothie 45+  benefit you?
Calcium to improve bone density*
Protein to maintain muscle mass
Vitamin B6 balances hormone activity
Zinc, Vitamin C and Vitamin E protect cells from free radical damage  
Contributes to weight loss and weight maintenance**
20 essential vitamins and minerals
No artificial flavours or preservatives
Why is Smoothie 45+ different to our normal smoothies?
MORE Vitamin D
MORE Vitamin C
MORE Vitamin E
Contains Probiotics
How else can Healthy Mummy Smoothie 45+ benefit you?
No weight loss accelerants, caffeine, gluten and are dairy-free
Non-Genetically Modified
50% of your Vitamin D RDI to help with normal bone health
Free from vitamin K which can interact with blood medication
Great source of fibre to help with regular bowel movements
What the experts say…
Nutritionist – Sonia McNaughton
What I like about this formula is how it is full of energy giving nutrients and herbs. The Smoothie 45+ is perfect for women wanting to stay vital and vibrant over the age of 45. In just 1 serve there is 50% of daily iron, brain boosting B12 and herbs like Green Tea to help fuel both mental and physical resilience.
The key to good health is a healthy tummy and as we mature it is incredibly important to support gut function so we break down and absorb our food.  The probiotic, digestive enzymes and dandelion root added are a great combination for a healthy and comfortable tummy in women over 45+.
Considering 45+ is the age women are most at risk of a sluggish thyroid, which can cause weight gain, fatigue, low mood and hair loss, adding in daily iodine, selenium, zinc, vitamin A and vitamin D is a beautiful and real way to support thyroid health.
Sugar cravings and weight gain become harder to manage as we age and as a result balancing blood sugars becomes a daily necessity.  Nutrients like chromium, magnesium, fibre and protein make this formula a lovely addition to a balanced blood sugar day for women 45+.
Ingredients and Nutritional Information

Additional Information
* when eaten in conjunction with a diet high in calcium
**When used in conjunction with a diet reduced in energy and an exercise plan