The Healthy Mummy MUST HAVE Basic Pack includes products for your everyday use.
2 x Healthy Mummy Smoothies
1 x Healthy Mummy Protein Powder
1 x Drinking Chocolate
1 x Energy Boosting Super Greens
1 x Bonus 2019 Diary
How can Healthy Mummy Smoothies benefit you?
Our meal-replacement Smoothies have been formulated by leading nutritionists to be the perfect companion to a busy mum's life when trying to lose weight.
They're breastfeeding-friendly! 
20 serves per 500g tub.
Healthy Mummy Smoothies are an excellent source of essential vitamins, minerals, nutrients & important antioxidants
They don't contain weight loss accelerants, caffeine, gluten and are dairy-free. They are also a non-Genetically Modified product.
They can help with weight management when used as part of a diet & exercise plan
They provide the best possible nutrition for energy
They're breastfeeding-safe and are designed to help to support milk supply
They're 96% sugar free and do not contain added fructose
They're low GI & high fibre which helps you feel fuller for longer and aids digestion
They're quick and easy to prepare and taste delicious
They're high in protein & lower in sugar than any other product on the market – see a comparison table.
Want more information?
See the AMAZING results from our Healthy Mummy Smoothies
Healthy Mummy 93% Protein Powder: Vanilla in Detail
Our Healthy Mummy protein powder is an AWESOME source of high quality whey protein with 28 grams per serve and is a whopping 93% protein!
This high quality protein powder is breastfeeding friendly and comes from grass fed cows. It is ideal for adding into smoothies for an extra protein hit and is also great for baking with.
It comes in a Vanilla flavour and is 99.9% sugar free and contains no added sugars or artificial sweeteners or flavours.
Our whey protein powder is:
Hormone Free
GMO Free
Breastfeeding friendly
Comes from grass fed cows
Low sodium
99.9% Sugar Free
Use it in your smoothies or use in baking
Healthy Mummy Drinking Chocolate in Detail
Did you know that traditional drinking chocolate or hot chocolate can have up to 80% sugar in?
Well the GOOD NEWS is that we have created The Healthy Mummy Drinking Chocolate with NO added sugar and with lots of additional nutrients in – so as well as tasting AMAZING – it is actually good for you.
It's rich, chocolatey and so delicious. AND ONLY 170 Kilojoules (40 Calories) per serve. Please note that the sugars in the drinking chocolate come from natural sugar in the lactose (dairy).
Have it hot or cold – it is absolutely DELICIOUS and will curb any chocolate cravings in one go!
Ingredients: Full cream milk powder, Skim milk powder, Organic Cocoa powder, Magnesium phosphate, Natural Flavours, Calcium carbonate, Natural sweetener (Thaumatin), Calcium carbonate, Ascorbic acid (Vit C), d-alpha-tocopheryl acid succinate (Vit E), Zinc oxide,
It comes with a 5 STAR Health Rating too!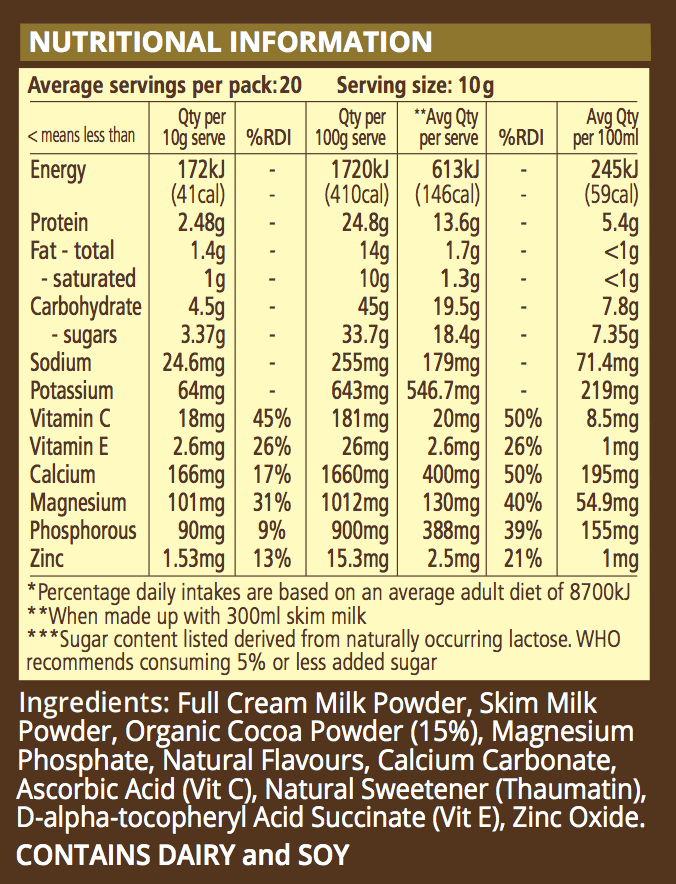 Super Greens in Detail
The Healthy Mummy SUPER GREENS Powder vitamin supplement to help boost your energy and support your immune system.
The Healthy Mummy Super Greens powder is the culmination of extensive research and development. It is designed with busy mums in mind, providing energy and nutrients to help keep you going. It is a supplement designed to support your busy life.
Our Healthy Mummy Super Energy Boosting Greens contains over 37 whole food ingredients and is an easily digestible & nutritional formula, combining real foods sources to a deliver powerful blend of nutrients to give busy mums the energy they need!
It is also safe for use in breastfeeding
The Healthy Mummy Super Greens powder delivers a careful combination of 37 natural ingredients, designed to provide a range vitamins, minerals and phytonutrients. These include Spiralling, Flaxseed, Pea Protein, Organic Barley Grass , Chlorella, Chia, Goji Berry, Kale, Spinach, Mushroom Powder and Dandelion to name but a few.
To protect the nutrients in our premium quality ingredients, the foil packaging has been protected from heat.
A vegan-friendly product. Free from dairy, gluten and preservatives.
The Healthy Mummy Super Greens contains;
More IRON than 12 cups of Spinach Iron than Spinach!
The Vitamin C equivalent of 1.4kilograms of Oranges!
56 x more Vitamin B12 than a beef steak!
Contains  calcium equivalent to 1litre of milk
It is dairy and GMO Free
It is vegan friendly
AND it TASTES delicious!
BONUS The Health Mummy 2019 Diary 
The Healthy Mummy 2019 Diary has everything you need to make sure that 2019 is your healthiest and happiest year yet!
The diary is beautifully designed with a hardcover and rose gold detail. We have listened to your feedback on last years diary, you asked for more space for writing notes so we have provided more note space! The cover is a stunning watercolour print as chosen by you, The Healthy Mummy community and is our most compact diary yet (no ring binder!).
The 2019 diary features weekly and monthly planners with loads of inspiration to keep you going. With our 2019 goal planner there is no excuses not to plan, plot and follow through with your goals. The diary provides key information on public and school holidays as well as tips for a healthy and balanced lifestyle in 2019.
What's inside?
Constant motivation
Tips for a healthy 2019
Healthy Mummy recipes
2019 Goals – including your weight loss goals
Weekly spreads with space for notes and weekly inspirational quotes
Monthly spreads with space for notes
Inspirational quote pages
Important events
Bucket list
2019 Reflections
Public and school holidays for Australia and New Zealand
Dimensions: 186 x 236 mm