What's included in the Workout Collection?
Pink Yoga Mat
1Kg  Ankle Weights
Pink Resistance Bands
2L Water Bottle
Pink Skipping Rope
Pink Yoga Mat
The Healthy Mummy yoga mat is the perfect workout mat for yoga, pilates and stretching.
It is durable, lightweight and provides great cushioning for your knees, hips, joints, and spine during your workout.
Size:
Length – 180cm
Width – 61cm
Thickness – 0.5cm
1Kg Ankle Weights
The Healthy Mummy ankle weights are 1kg each and perfect for increasing the resistance of any workout. The increase in resistance results in an increase in calories burnt!
Double your workout results with these AMAZING ankle weights.
Pink Resistance Bands
Strengthen and tone your body with our  PINK Healthy Mummy Resistance Bands.
Our 5 pack of resistance bands in various resistance levels are portable, easy to use and excellent for working out and stretching anytime and anywhere.
Dimensions: Width 2" (51cm), Length: 10" (254mm)
Resistance Levels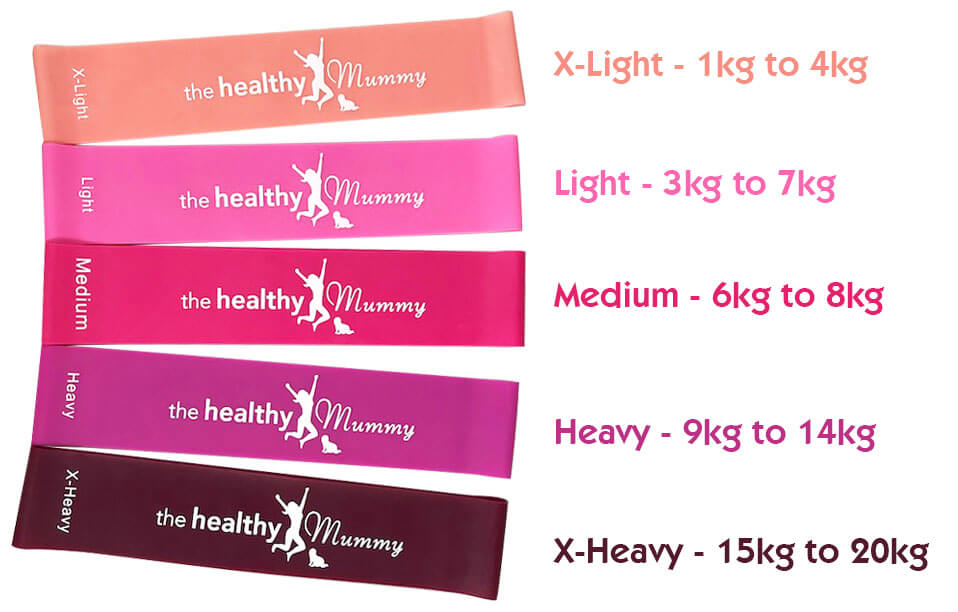 What is included:
Travel pouch – Making them super easy to keep together and take anywhere
5 resistance bands, each with different levels of resistance.
Pink 2L Water Bottle
Stay hydrated with The Healthy Mummy 2 Litre drink bottle. A great way to ensure you drink your 2 litres of water per day and perfect for those hot summer days. Track how much water you have consumed with the measurement markers on the side of the bottle. 
Easy flip lid

Durable and BPA free

Measurement markers of the side of the bottle for easy water consumption tracking

Carry handle for easy use plus a convenient carry strap
Please Note: The bottle is not suitable for the dishwasher
Pink Skipping Rope
The Healthy Mummy jump rope is the perfect piece of equipment to keep you fit.
The average person burns over 200 calories when skipping in just 10 minutes! The rope is super light weight so you can take it with you anywhere.