Winter Weight Loss Cookbook
The Winter Weight Loss Cookbook is the ultimate guide to help you stay on track with your weight loss goals this winter. The cookbook has a FANTASTIC mix of recipes including soups, slow cooking recipes, smoothies, desserts and more. You will also learn about some great SUPERFOODS to try out this winter and tips on how to exercise when the weather is cold.
This book has some NEW recipes to the previous Winter cookbook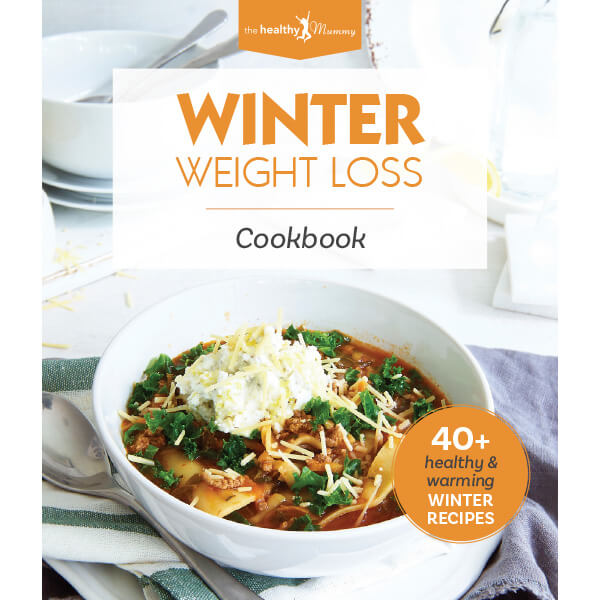 What's in the Winter Weight Loss Cookbook?
Winter Basics – Including why we turn to comfort food, how to exercise when the weather is bad, winter superfoods and more
Winter Soups Recipes
Healthy & Hearty Recipes
Oven Baked and Slow Cooking Recipes
Winter Dessert Recipes
Winter Smoothie Recipes
What's the Winter Weight Loss Cookbook about?
Winter brings with it a number of challenges when it comes to following a healthy lifestyle The cold weather often makes us want to eat rich, stodgy foods to bring us comfort and warmth And the thought of getting out from under our doonas to exercise isn't very motivating!
It's been said that "summer bodies are made in winter", so why not look at all the positives about this season? Give your weight loss and healthy lifestyle goals a real kickstart now!
We've put together this book to show you there's no need for excuses in winter Just because the weather can be miserable and you might crave unhealthy comfort meals doesn't mean you should hibernate all season and get way behind on reaching your weight-loss goals
This book includes tips and information on how to make this winter one of your healthiest, including loads of hearty, healthy comfort meal options to suit the whole family and satisfy your winter cravings
Soups, stews, curries, pasta bakes and decadent desserts are included, plus a range of smoothie ideas. They'll all help to keep you and your family fighting fit and energised during these cooler months
Get excited about winter and use it as a time to get closer to your overall healthy lifestyle goals and motivate yourself for the sunny days ahead!