This pack includes:
2 x Healthy Mummy Smoothies
1 x Drinking Chocolate
1 x Immune Supplement
1 x Grey Winter Beanie
1x Wall Planner
Healthy Mummy Smoothies in Detail
Meal replacement weight loss smoothies for mums
Our meal-replacement weight loss smoothies have been formulated by leading nutritionists to be the perfect companion to a busy mum's life when trying to lose weight. They're breastfeeding-friendly.
20 serves per 500g tub.
Available in a variety of flavours including…  Chocolate, Vanilla, Strawberry, Caramel, Coffee, Choc-Mint, Banana,  Cookies & Cream, Salted Caramel, Choc Fudge.
We also have Pregnancy Smoothies.
How can Healthy Mummy Smoothies benefit you?
The smoothies are an excellent source of essential vitamins, minerals, nutrients and important antioxidants
Do not contain weight loss accelerants, caffeine or dairy
Non-Genetically Modified product
Can assist with weight management when used as part of a diet & exercise plan
Provide the best possible nutrition for energy
Breastfeeding-safe and designed to help to support milk supply
Approx. 96% sugar free
Low GI and high in fibre which helps you feel fuller for longer and aids digestion
High in protein and lower in sugar than any other product on the market – see a comparison table.
Quick and easy to prepare
Taste delicious
Want more information?
The Busy Mums Guide to Weight Loss on a Budget in Detail
Drinking Chocolate in Detail
Did you know that traditional drinking chocolate or hot chocolate can have up to 80% sugar in?
The GOOD NEWS is that we have created The Healthy Mummy Drinking Chocolate with NO added sugar and with lots of additional nutrients in – so as well as tasting AMAZING – it is actually good for you.
It's rich, chocolatey and so delicious. AND ONLY 170 Kilojoules (40 Calories) per serve.
Please note that the sugars in the drinking chocolate come from natural sugar in the lactose (dairy).
Have it hot or cold – it is absolutely DELICIOUS and will curb any chocolate cravings in one go!
Ingredients: Full cream milk powder, Skim milk powder, Organic Cocoa powder, Magnesium phosphate, Natural Flavours, Calcium carbonate, Natural sweetener (Thaumatin), Calcium carbonate, Ascorbic acid (Vit C), d-alpha-tocopheryl acid succinate (Vit E), Zinc oxide,
It comes with a 5 STAR Health Rating too.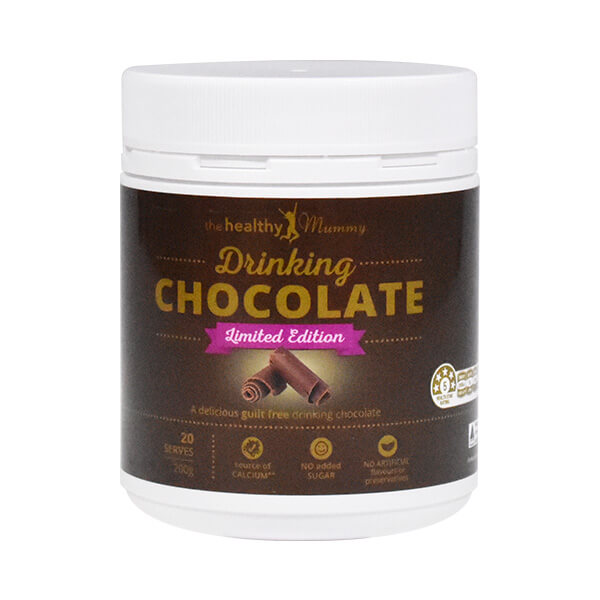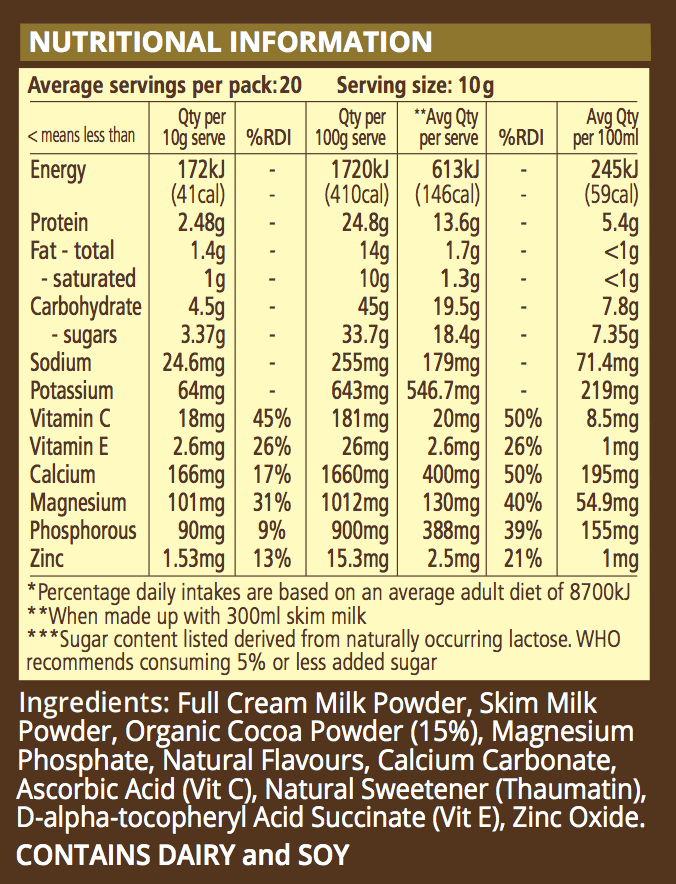 Immune in Detail
The Immune supplement is specifically designed for busy mums to help boost your immune system naturally.
The delicious, berry flavoured Immune is a supercharged blend of real food ingredients. The supplement contains Vitamin C, Vitamin D, Vitamin A, B12 and Zinc which nourish the immune system naturally.
The Healthy Mummy Immune assists with immune function and helps keep you healthy.
Benefits of our Immune Supplement:
Specifically formulated for BUSY MUMS
Nourishes your immune system NATURALLY and includes organic ingredients
Packed with immune-supporting SUPERFOODS to support and nourish your immune system
Safe for use whilst BREASTFEEDING
Contains PROBIOTICS  which assist gut function. A healthy gut means you absorb nutrients better, so you can fight off winter colds
Berry flavour which tastes DELICIOUS
Source of VITAMIN A, VITAMIN C, VITAMIN D, B12 and ZINC which assist with Immune function
VEGAN-friendly product
Free from dairy and preservatives
GMO free
How to use it?
Mix 10g per day in a glass of water or juice. Alternatively, add the powder as a immune booster to your Healthy Mummy Smoothie. Take once daily.
Nutritional Information and Ingredients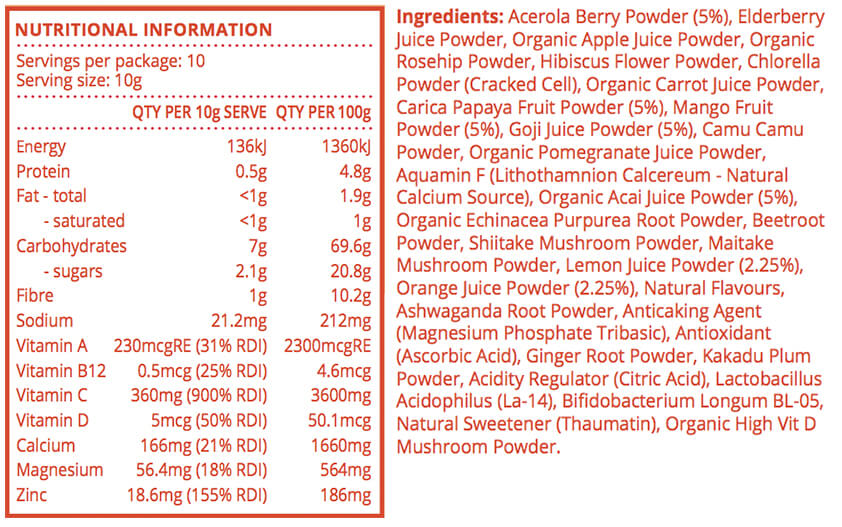 Nutritionist Reviews
Elisha Danine 
"IMMUNE is a great blend of herbs, fruits and vegetables that work well together to create a dynamic health boost. The Healthy Mummy has done a great job in creating this combination of immune enhancing ingredients that will help to prevent sickness and build the immune system. I love the addition of Vitamins C and D, plus Zinc and Probiotics. I believe this is a great all round supplement for the whole family."
Cheree Sheldon
"The thing that I like the most about the Immune supplement is that it is from real foods and herbs, and is not a synthetic product. Foods like acerola, Camu Camu and rose hips are amazing for immunity due to their vitamin C and antioxidant properties. It is full of delicious fruit powders like elder, mango and hibiscus, that not only add amazing flavour but help protect our health. It's a wonderful immune blend. I Love it."
Additional Information
To read FAQ's about IMMUNE, please click here 
Check out our Immunity Boosting eBook. The cookbook is packed with recipes to help boost your immune system
Other Supplements in the Healthy Mummy Supplement range:
Energy Boosting Super Greens – Contains over 37 whole food ingredients giving tired mums an energy boost
Breastfeeding Plus – Supports breast milk supply by providing mothers with a boost of vitamins and minerals
Tummy – Assits digestion and reduces bloating naturally
Grey Bobble Beanie in Detail
Grey Bobble Beanie
Our LIMITED EDITION grey bobble beanie will be sure to keep you warm this winter. Stylish and functional the grey beanie has a pink bobble with a Healthy Mummy tag on the front.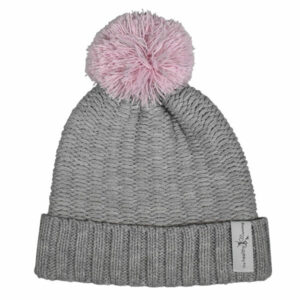 100% acrylic.
Hand wash
Dry flat
The Healthy Mummy 2019 Wall Planner in Detail
The 2019 Wall Planner is the perfect edition to your home to help you and your family plan the year ahead.
See the entire year laid out in front of you for easy planning.
Dimensions: H60 x W42cm