Vanilla Protein Powder Clearance – NOW SOLD OUT
$67.99
END OF LINE STOCK CLEARANCE SOLD OUT – we're sorry you missed out, so here is an EXTRA 20% off our regular Vanilla Protein – use code JAN20 – CLICK HERE TO ACCESS
Out of stock
Description
END OF LINE STOCK CLEARANCE SOLD OUT – we're sorry you missed out, so here is an EXTRA 20% off our regular Vanilla Protein (Already 30% off) – use code JAN20
Our Vanilla Protein Powder is a good source of high quality whey protein with 28 grams per serve and is a whopping 93% whey protein!
This high quality protein powder is breastfeeding friendly and comes from grass fed cows. It is ideal for adding into smoothies for an extra protein hit and is also great for baking with.
Reasons to LOVE our Vanilla Protein Powder
93% whey protein from grass-fed cows
Hormone Free
GMO Free
Breastfeeding friendly
Low sodium
No artificial sweeteners or flavours
99.9% sugar free
Directions for use 
Nutritional Information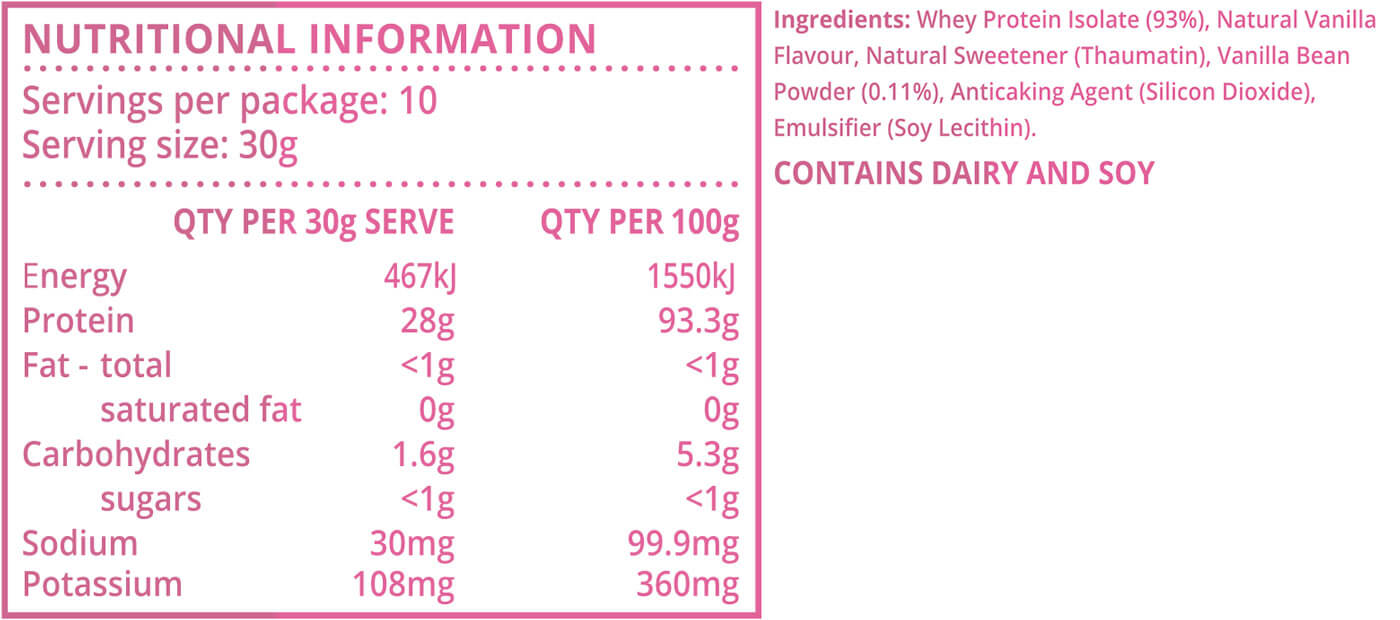 Nutritionist Reviews
Elisha Danine
The Healthy Mummy protein powder range is an excellent source of protein, whether you are using it for exercise recovery, to mix with fruit for breakfast, or as a tasty treat in between meals.
Grass fed whey is a personal favourite ingredient of mine, as it is shown to be significantly higher in nutritional value compared to grain-fed. Cows that are on a grass fed diet are able to have a more stable pH level which allows them to provide beneficial bacteria as well as a broader nutritional content.
The sweeteners used in this product are generally well received and don't cause the unwanted side affects that others may do.
If you are looking for a quality protein powder then I highly recommend The Healthy Mummy brand.
Additional Information