The Ultimate Weight Loss Smoothie Special Pack
The Smoothie Special Pack is the perfect way to kickstart your weight loss in 2018. The pack is crammed FULL of exciting products that will help you move those unwanted kilos and get you healthier and happier in 2018! 
What's in the pack?
The Healthy Mummy shopping list pad is PERFECT for planning your weekly shop. The magnet on the back means you can easily stick it to your fridge and add to it anytime!
Once you have run out of pages, you can download more from The Healthy Mummy website.
25 pages
Magnet on the back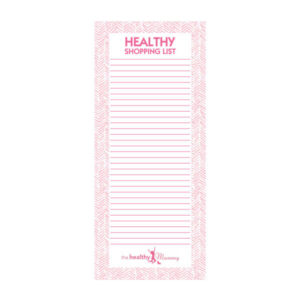 The Healthy Mummy 2018 Weight Loss Guide 
With the beginning of a new year it's a great time to assess and plan what you want to achieve for the year ahead in all areas of your life. Health and fitness are such important parts of a happy lifestyle and as busy mums it can be too easy for us to put these last in our lives.
To ensure you are putting yourself and your health and fitness first, to be a happy, healthy mummy, we've put together this mini guide with all the key info and tips you need to plan and reach your health goals for 2018.
The guide includes step by step info, yummy, family friendly recipes, and easy to achieve workouts to get you pumped and on your way to reaching your healthy lifestyle goals for the year ahead.
Remember to take things slowly and don't put too much pressure on yourself to achieve your goals in a hurry. Just making a few small changes each day and regularly choosing healthy options with your eating and exercise, will help you reach the healthy lifestyle that's right for you.
We're excited you're taking the steps to make 2018 your healthiest and happiest yet!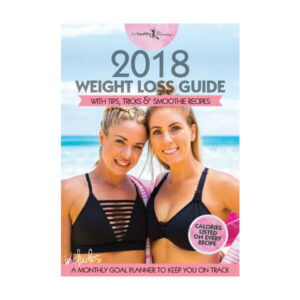 Healthy Mummy Smoothie - Choose x2 from our 8 delicious flavours
Our meal-replacement Smoothies have been formulated by leading nutritionists to be the perfect companion to a busy mum's life. Choose the flavour to be included in your box. The smoothies have no added fructose and contain no artificial colours or preservatives. They are high in protein and fibre and are recommended by 9/10 mums PLUS they are DELICIOUS. They are also Australian made in Byron Bay!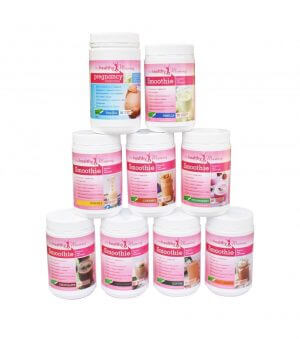 Healthy Mummy Vanilla Whey Protein Powder  
Our Healthy Mummy protein is an AWESOME source of high-quality whey protein with 28 grams per serve and is a whopping 93% protein! This high-quality protein powder is breastfeeding friendly and comes from grass-fed cows. It is ideal for adding to smoothies for an extra protein hit and is also great for baking with. It comes in a Vanilla flavour and is 99.9% sugar-free and contains no added sugars or artificial sweeteners or flavours!
Our whey protein powder is:
Hormone free
GMO free
Breastfeeding friendly
Comes from grass-fed cows
Low sodium
99.9% sugar-Free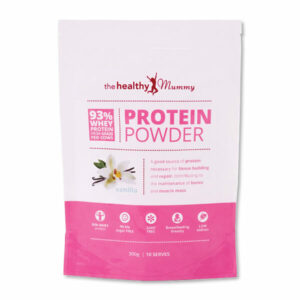 Healthy Mummy Super Greens
The Healthy Mummy energy Boosting Super Greens is specifically designed for busy mums. The power-packed powder is an easily digestible & nutritional formula, combining real food sources, to deliver a powerful blend of nutrients, to help give mums the energy they need.
Super Greens are great because:
helps boost your energy and support your immune system
contains over 37 whole food ingredients
Safe to use when breastfeeding
Vegan-Friendly Product
Free from dairy, gluten and preservatives
More iron than 12 cups of spinach
The Vitamin C equivalent of 1.4kg of oranges
56 x more Vitamin B12 than a beef steak
The calcium equivalent of 1L of milk
All items will start to be sent out in January.
*Please note as this pack is of a high dollar value delivery is signature on delivery only.