The 2018 Ultimate Weight Loss Motivation Special Pack
The Motivation Special Pack is the perfect way to kickstart your weight loss in 2018. The pack is crammed FULL of exciting products that will help you move those unwanted kilos and get you healthier and happier in 2018! 
What's in the box?
Motivational Fridge Magnet
The motivational fridge magnet is a great reminder to stay fit and healthy.
Magnet reads 'Exercise to be fit not skinny. Eat to nourish your body. And always ignore the haters, doubters & unhealthy examples that were once feeding you. You are worth more than you realise.'
Size of magnet is 7cm H x 7cm W x .3 D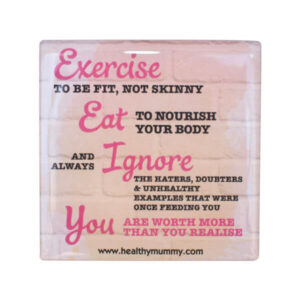 The #NOEXCUSES singlet comes in 2 colours - choose from black with white text or lime green with silver text. The black is our more traditional singlet colour whereas the lime green fits in with current fashion trends. With this awesome singlet there is NO EXCUSE not to get out there and exercise!
Sizing
12 - SMALL
14 - MEDIUM
18 - LARGE
20 - EXTRA LARGE
The Healthy Mummy day planner is a brilliant tool to get on top of your life in 2018. The planner features a to do list, space for planning your food intake, exercise and water intake.
Once you have run out of pages, you can download more from The Healthy Mummy website.
25 pages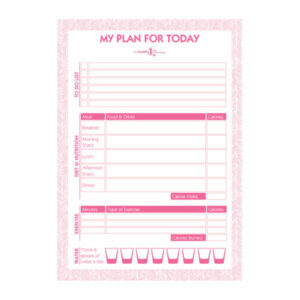 The motivational notebook is a great place to write down your goals for 2018 and take steps to achieving them. The notebook is hot pink with the text 'THIS IS YOUR YEAR TO SPARKLE' on the cover. Inside the notebook, each page is lined and features The Healthy Mummy logo.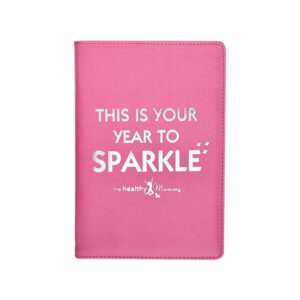 Healthy Mummy Smoothie - Choose x1 from our 8 delicious flavours
Our meal-replacement Smoothies have been formulated by leading nutritionists to be the perfect companion to a busy mum's life. Choose the flavour to be included in your box. The smoothies have no added fructose and contain no artificial colours or preservatives. They are high in protein and fibre and are recommended by 9/10 mums PLUS they are DELICIOUS. They are also Australian made in Byron Bay!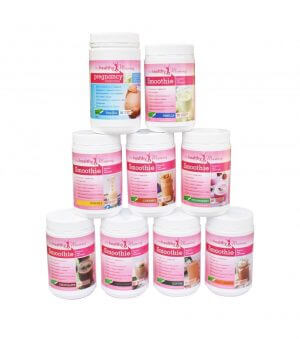 Healthy Mummy Super Greens
The Healthy Mummy energy Boosting Super Greens is specifically designed for busy mums. The power-packed powder is an easily digestible & nutritional formula, combining real food sources, to deliver a powerful blend of nutrients, to help give mums the energy they need.
Super Greens are great because:
helps boost your energy and support your immune system
contains over 37 whole food ingredients
Safe to use when breastfeeding
Vegan-Friendly Product
Free from dairy, gluten and preservatives
More iron than 12 cups of spinach
The Vitamin C equivalent of 1.4kg of oranges
56 x more Vitamin B12 than a beef steak
The calcium equivalent of 1L of milk
All items will start to be sent out in January.
*Please note as this pack is of a high dollar value delivery is signature on delivery only.