Ultimate Support pack includes:
1x Apple Cider Vinegar Tablets
1x Healthy Mummy Smoothie
1x Your choice of supplement (Super Greens, Immune, Tummy, Breastfeeding PLUS)
Apple Cider Vinegar Tablets
Apple Cider Vinegar Tablets are Gut Friendly and Taste Friendly.  
The Healthy Mummy's Apple Cider Vinegar is a convenient once-daily serving without the tang of liquid versions.  Containing 120mg of acetic acid per serve, this convenient once-daily tablet is a teeth and taste friendly way to get your daily dose of apple cider vinegar!
Why we love it
Contains "The Mother"
Tang-free
Gentle on teeth
Gentle on taste buds


Nutritional Information

60 tablets per pack
How to enjoy
Take once daily before a meal
Nutritionist Reviews
Cherree Sheldon – Nutritionist
How amazing is apple cider vinegar! It helps balance our acidity into a more alkaline state, increases metabolism, reduces appetite and helps regulate blood sugars. For those of us that can't do the intense flavour of ACV, this tablet is a fantastic solution. All of the benefit without the sour strong taste. Once a day makes it so convenient, and there are no added nasty's like colours or flavours.
This tablet makes such a good addition to a healthy weight loss plan.
FAQ's
Are the Apple Cider Vinegar Tablets Gluten Free? 
This product does not contain any ingredients with gluten, however it may have come into contact with gluten during processing and the has not not undergone testing to show they are gluten free.
Are the Apple Cider Vinegar Tablets suitable for vegans and/or vegetarians? 
Yes, they are suitable for both vegans and vegetarians.
Are the Apple Cider Vinegar Tablets breastfeeding and/or pregnancy friendly?
No, the tablets should not be taken whilst pregnant or breastfeeding.
Can I take more than one Apple Cider Vinegar Tablet per day? 
The concentrated nature of The Healthy Mummy Apple Cider Vinegar means only one serve per day is needed.
For more FAQ's on the Apple Cider Vinegar Tablets please click here
Meal replacement weight loss smoothies for mums
Our meal-replacement weight loss smoothies have been formulated by leading nutritionists to be the perfect companion to a busy mum's life when trying to lose weight. They're breastfeeding-friendly.
20 serves per 500g tub.
Available in a variety of flavours including…  Chocolate, Vanilla, Strawberry, Caramel, Coffee, Choc-Mint, Banana,  Cookies & Cream, Salted Caramel, Choc Fudge and Raspberry Ripple.
We also have Pregnancy Smoothies.
How can Healthy Mummy Smoothies benefit you?
The smoothies are an excellent source of essential vitamins, minerals, nutrients and important antioxidants
Do not contain weight loss accelerants, caffeine or dairy
Non-Genetically Modified product
Can assist with weight management when used as part of a diet & exercise plan
Provide the best possible nutrition for energy
Breastfeeding-safe and designed to help to support milk supply
Approx. 96% sugar free
Low GI and high in fibre which helps you feel fuller for longer and aids digestion
High in protein and lower in sugar than any other product on the market – see a comparison table.
Quick and easy to prepare
Taste delicious
Want more information?
Energy Boosting Super Greens
Specifically designed for busy mums, the Healthy Mummy Energy Boosting SUPER GREENS Powder vitamin supplement is here to help boost your energy and support your immune system.
The power-packed powder contains over 37 whole food ingredients in an easily digestible & nutritional formula, combining real food sources to deliver a powerful blend of nutrients to help give tired mums the energy they need. They're also safe for use in breastfeeding.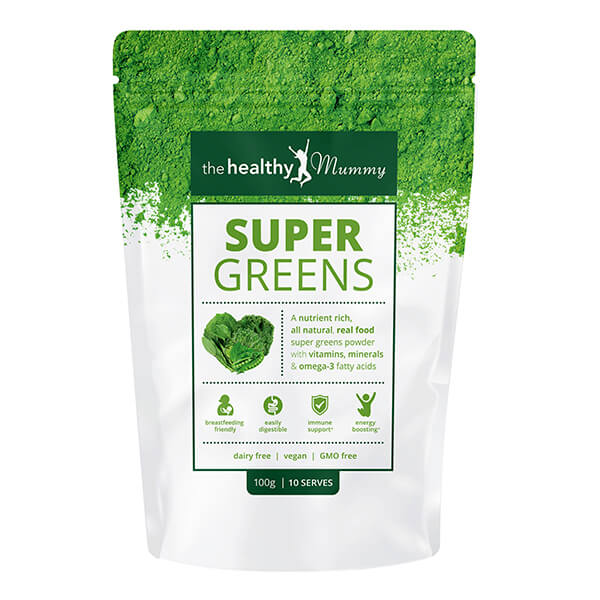 Healthy Mummy Super Greens powder is the culmination of extensive research and development. The combination of natural ingredients is designed to provide a range of vitamins, minerals and phytonutrients. These include Spirulina, Flaxseed, Pea Protein, Organic Barley Grass, Chlorella, Chia, Goji Berry, Kale, Spinach, Mushroom Powder and Dandelion to name but a few.
To protect the nutrients in our premium quality ingredients, the foil packaging has been designed to withstand heat.
A vegan-friendly product. Free from dairy and preservatives.
The Energy Boosting Super Greens have no ingredients that contain gluten, but national tests need to be done to place Gluten Free on the label.
Learn more about the benefits of Super Greens here
Healthy Mummy Super Greens contains:
More IRON than 12 cups of Spinach!
The Vitamin C equivalent of 1.4 kilograms of Oranges!
56 x more Vitamin B12 than a beef steak!
the calcium equivalent to one litre of milk.
AND it TASTES delicious!!
What makes Super Greens different?
It's safe for use in breastfeeding
The unique blend of ingredients has been designed to help boost energy in tired mums
It contains over 37 quality superfood ingredients. It contains probiotics, vitamins, minerals, antioxidants, essential fatty acids and fibre.

It contains alkaline superfoods rich in nutrients designed specifically for busy mums

It's great tasting with a slight cranberry taste and tastes good enough to be drunk with water.
How to use the Super Greens?
Add 10g to a glass of water daily or add it to your daily Healthy Mummy Smoothie
10g per serve.
Ingredients and Nutritional Information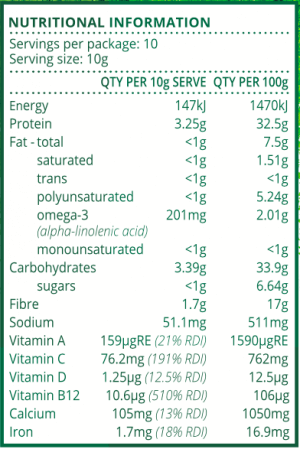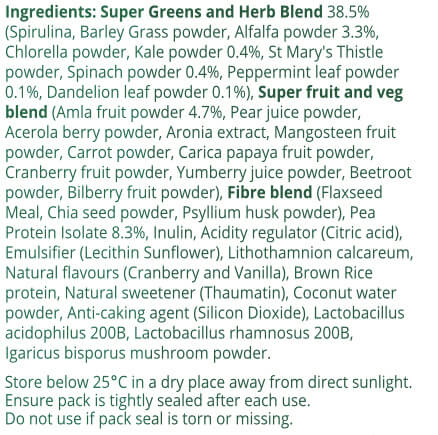 IMMUNE
Specifically designed for busy mums, The Healthy Mummy IMMUNE  is here to help boost your immune system naturally.
A supercharged blend of real food and organic sources packed with vitamins and zinc to assist immune function and help keep you healthy
IMMUNE is high in Vitamin C, Vitamin D, Vitamin A and Zinc which support and nourish the immune system naturally. With a delicious berry flavour.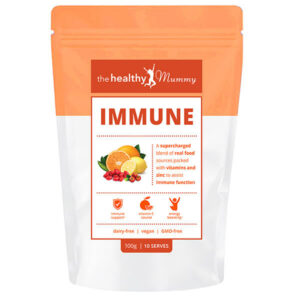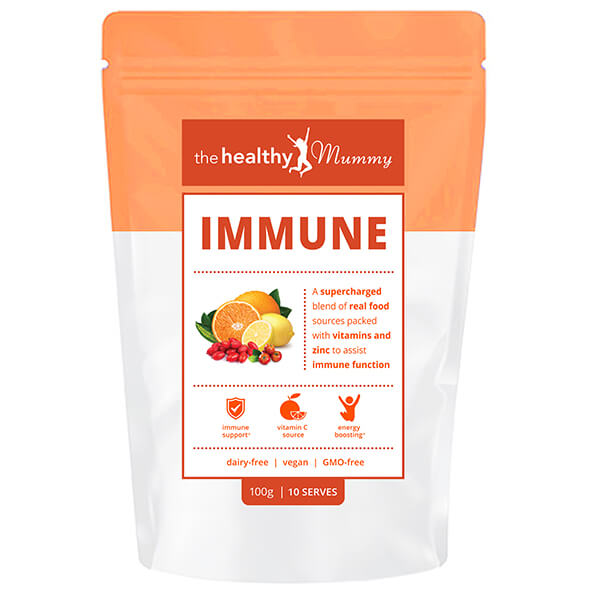 Why is our IMMUNE supplement different?
It has been specifically formulated for BUSY MUMS
It nourishes your immune system NATURALLY (includes organic ingredients)
It is safe for use whilst BREASTFEEDING
A VEGAN-friendly product. Free from dairy and preservatives
Contains PROBIOTICS  – With good gut function you can absorb your nutrients better, so you are better primed to fight off winter colds and other nasties.
Contains no gluten ingredients
Helps to BOOST your Immune System
Tastes GREAT with a berry flavour
Benefits of IMMUNE
Packed with immune-supporting superfoods to support and nourish your immune system
A great source of Vitamin C and Zinc
Supports a healthy immune system
Good source of Vitamin A, D, Calcium and Magnesium
How to use it?
Mix 10g per day in a glass of water or juice or add as a booster in your Healthy Mummy Smoothie. Take once daily.
Nutritional Info & Ingredients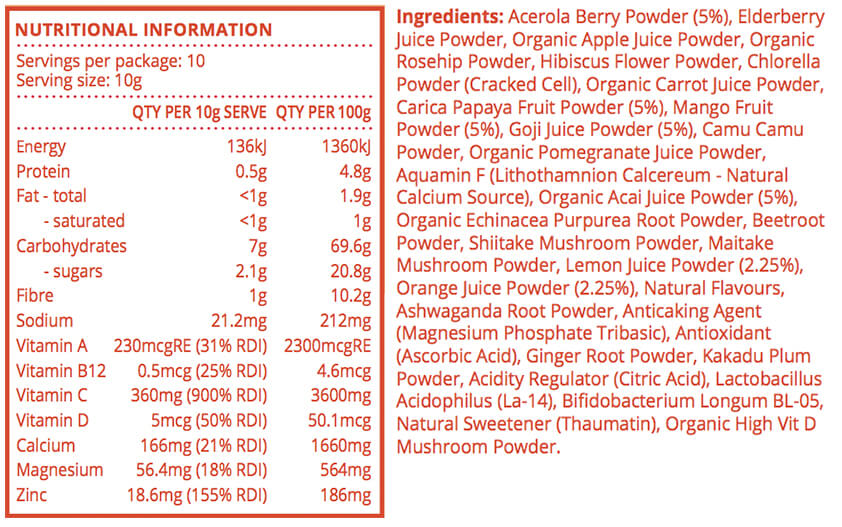 TUMMY
The Healthy Mummy TUMMY  is here to aid digestion and reduce bloating naturally. A nutritious formula with organic herbs, Omega-rich sources of fibre and probiotics which assist with gastrointestinal health and bloating.

13 serves per pack
Benefits of TUMMY
Aids digestion
Reduces bloating
Delicious Choc-Chai flavour
Fibre that contributes to regular laxation
Source of Omega 3
Nourish your tummy naturally
Probiotics that help to balance the friendly bacteria in your digestive system
Suitable for vegetarians
Superfood enriched – contains superfood ingredients including Chia Seeds and Flax seeds
Breastfeeding friendly
Contains inulin which is a powerful probiotic scientifically proven to support bone health and aid immune system function.
Why is our TUMMY supplement different?
Reduces bloating and aids digestion NATURALLY 
A VEGETARIAN-friendly product. Free from dairy and preservatives. There are no animal sourced ingredients added during manufacture
GMO-free
High in omega 3, probiotics and organic ingredients
It is breastfeeding friendly
Can be used in conjunction with other Healthy Mummy products such as Smoothie & Super Greens
How to use it?
Mix 7.5g (1.5 teaspoon) per day into a glass of water or juice. Take once daily.
Nutritional Info & Ingredients
Vitamins & Benefits
Probiotics – Lactobacillus acidophilus contributes to gastrointestinal health. Lactobacillus acidophilus and Bifidobacterium lactis contribute to the maintenance of beneficial gastrointestinal microflora. Bifidobacterium lactis contributes to gastrointestinal health and immune function.
Fibre – A source of dietary fibre which contributes to regular laxation
Omega-3 – A source of omega-3 fatty acids (healthy fats).
Calming herbs

 

– to help soothe the body, mind and tummy.
Breastfeeding PLUS
Breastfeeding PLUS can assist with energy levels, immune function and support breast milk supply by providing mothers with a boost of vitamins and minerals to aid in recovery post birth. The aim of this product is to focus on mums nourishing their body to feed their baby. 
A delicious, nutrient-rich powder filled with vitamins & minerals for breastfeeding mums. A blend of real food sources to assist mums with the nutrients they need whilst breastfeeding. No nasty chemicals or additives – nothing but nutritious ingredients. If you need help with breastfeeding, or are concerned about you and your baby's wellbeing, it is important to consult the appropriate health professional, such as a certified lactation consultant or your family doctor.
A dairy free and GMO-free product suitable for vegans. It has a mild blackcurrant taste and is delicious.
Benefits of Breastfeeding PLUS:
Breastfeeding Friendly
Easily Digestible
Immune Function
Superfood Enriched
How to use Breastfeeding PLUS?
Mix one 10g serve with water or your Healthy Mummy Smoothie and take once a day.
Breastfeeding PLUS Ingredients
Fenugreek:  Is a herb that is well known for its milk boosting properties.
St Marys thistle– Also helps with boosting milk supply and is a liver tonic and a potent antioxidant.
Flaxseed–  Is a good source of fibre and omega-3 fatty acids and when combined with other galactogues helps boost milk supply.
Fennel – A sweet liquorice flavoured spice is used to treat digestive and menstrual issues but is also a known to stimulate and increase milk production. It may also pass through the breast milk and help a baby's digestion and relieve colic symptoms.
Goats rue– The dried leaves or the goats rue is considered a galactagogue and studies suggest can stimulate the growth of breast tissue.
Here are some other superfoods, nutrients, vitamins and minerals found in The Healthy Mummy Breastfeeding PLUS:
Pea protein –  Is aplant-based, high protein, nutrient-rich ingredient in The Healthy Mummy Breastfeeding Plus.
Lithothamnion calcareum: Is from the skeletal remains of the red algae plant.  It gathers minerals naturally throughout its life cycles and when harvested, its remains contain calcium, magnesium, iron and several other trace minerals, which are excellent for bone tissue and general health.
Spirulina is a natural algae that is very rich in a number of nutrients such as protein, vitamin b, iron and essential amino acids. It boosts immunity and energy, benefiting breastfeeding mothers.
Vitamin C – The RDI of Vitamin C for lactating women increases by 45mg. The Healthy Mummy Breastfeeding Plus is jam packed with ingredients high in vitamin C such as Rosehip powder, Acerola berry powder and Ascorbic acid.
Lactobacillus Acidophilus and Bifidobacterium Lactis are powerful probiotics that support the digestive and immune system. Research has even suggested that probiotics taken by a mother during breastfeeding may positively influence gut immunity in their infant.
**Please seek medical advice from your doctor or lactation consultant if you need any assistance in this area. The Healthy Mummy supports all types of feeding.**
Where are the ingredients from / where sourced?
We source materials from our approved quality vendors from both Australian suppliers and around the world.  Usually sourced from the country that has the most suitable growing conditions for the particular plant.
How the ingredients may benefit breast milk production and breastfeeding Mums.
Your nutritional requirements change and increase during pregnancy and after the arrival of your baby. Meeting these increased needs through diet alone can be hard to achieve for some as with a new baby to take care of around the clock, eating and drinking right can sometimes fall by the wayside.
The Healthy Mummy Breastfeeding PLUS is specially tailored to help meet the nutritional requirements of a breastfeeding mother.  The mixture is full of natural energy and milk supply boosting foods to ensure extra energy, immunity and healthy development of your baby.
Healthy Mummy Breastfeeding PLUS assists mothers to meet their increase needs for vitamins and minerals when breastfeeding when not receiving them from food sources. It's also jam-packed with galactagogues which are known substances that increase milk supply for some women.
 FAQ's
To read FAQ's about Breastfeeding Plus, please click here