Healthy Mummy Smoothies
How can The Healthy Mummy Smoothie benefit you?
There are 20 serves per tub.
And as per all our Smoothies, they contain no artificial ingredients, the flavour used is all natural, they contain no gluten, no dairy, no fructose and no added sugar.The Healthy Mummy Smoothie offers an excellent source of essential vitamins, minerals, nutrients & important antioxidants. It does not contain any weight loss accelerants, caffeine, no gluten and is dairy free. It is also a non Genetically Modified product
Can help with weight management when used as part of a diet & exercise plan
Provides the best possible nutrition for energy
Is Breastfeeding safe and is designed to help to support milk supply
It is 96% sugar free and 100% fructose free
It is low GI & high fibre which helps you feel fuller for longer and aids digestion
It is quick and easy to prepare and tastes delicious
It is high in protein & lower in sugar than any other product on the market –please click here to see a comparison table
Want more information?
Download our Smoothie factsheet HERE
Download our Pregnancy factsheet HERE
The owners of  The Healthy Mummy shall have no no liability or responsibility to any person or entity with respect to any loss or damage caused, or alleged to be caused, directly or indirectly by the information contained herein
If your baby suffers from colic, has allergies, has any digestive issues or any illness we advise discussing any diet plan with your Doctor as certain foods may exacerbate the problem. For more information on breastfeeding & weight loss click here
And when introducing any new food into your diet, we advise being alert to any food sensitivity in your baby such as a change in bowel movements and discontinuing any new diet plan if any food sensitivity occurs.
Please only begin any exercise routine post birth after receiving the all clear from your Doctor or Physio and never put any pressure on yourself to do exercise before you are 100% recovered post birth – which could up to 12 months or more if you have had a difficult birth.
Spring & Summer Healthy Recipes Cookbook in Detail
Over 245 pages with so 107 delicious recipes for spring & summer 2016!
Get your Spring and Summer Healthy Mummy Cookbooks
The books are a large sized cookbook full of gorgeous images on high quality paper, in the same style as our other Healthy Mummy Recipe Books
Healthy Mummy Whey Protein Powder in Detail
Our Healthy Mummy protein is an AWESOME source of high quality whey protein with 28 grams per serve and is a whopping 93% protein!
This high quality protein powder is breastfeeding friendly and comes from grass fed cows. It is ideal for adding into smoothies for an extra protein hit and is also great for baking with.
It comes in a Vanilla flavour and is 99.9% sugar free and contains no added sugars or artificial sweeteners or flavours.
Our whey protein powder is:
Hormone Free
GMO Free
Breastfeeding friendly
Comes from grass fed cows
Low sodium
99.9% Sugar Free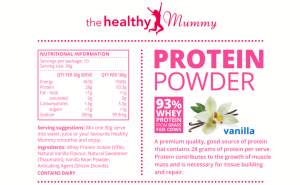 The Healthy Mummy Drinking Chocolate
Did you know that traditional drinking chocolate or hot chocolate can have up to 80% sugar in?
Well the GOOD NEWS is that we have created The Healthy Mummy Drinking Chocolate with NO added sugar and with lots of additional nutrients in - so as well as tasting AMAZING - it is actually good for you.
It's rich, chocolatey and so delicious. AND ONLY 170 Kilojoules (40 Calories) per serve. Please note that the sugars in the drinking chocolate come from natural sugar in the lactose (dairy).
Have it hot or cold - it is absolutely DELICIOUS and will curb any chocolate cravings in one go!
Ingredients: Full cream milk powder, Skim milk powder, Organic Cocoa powder, Magnesium phosphate, Natural Flavours, Calcium carbonate, Natural sweetener (Thaumatin), Calcium carbonate, Ascorbic acid (Vit C), d-alpha-tocopheryl acid succinate (Vit E), Zinc oxide,
It comes with a 5 STAR Health Rating too!
Arrives at the start of October