About this product
The Tummy Mummy & Me Pack in detail
1 x Tummy Smoothie – Choose Your Flavour
1 x Coloured Smoothie Shaker
1 x Healthy Kids Smoothies
1 x Healthy Kids Aqua Shaker
Tummy Smoothie – Choose Your Flavour
We are delighted to launch our NEW breakthrough Tummy Smoothie containing our NEW Healthy Mummy Tummy Complex
The NEW Tummy meal replacement smoothie is specifically scientifically designed for gut health, digestion, stomach and weight loss.
It will aid with digestion and bloating and it tastes DELICIOUS – it is a creamy vanilla flavour. It is also high in fibre and protein and will help you feel fuller for longer!
It is a a delicious and nutritious formulated meal replacement. The smoothie is high in protein which reduces feelings of hunger and contributes to weight loss*. The probiotics support gut health whilst fibre makes you feel fuller for longer!
This smoothie is also free from artificial sweeteners, fillers and caffeine.
Reasons to LOVE the Tummy Smoothie
Contributes to weight loss*
Contains probiotics to support gut health
Fibre to keep you fuller for longer
High in protein which reduces feelings of hunger
Contains Collagen which also helps a healthy digestive tract
Contains 22 vitamins and minerals
Delicious Vanilla flavour
No artificial sweeteners, fillers or caffeine
No added sugar or artificial sweeteners
Low sodium
Nutritionist Review – Cheree Sheldon
"When it comes to health, the health of the gut is a major influence. The ingredients in the Tummy Smoothie by The Healthy Mummy will work to encourage a healthy microbiome and support digestion. Gut health can include complex conditions like IBS, Crohn's disease and colitis, this smoothie is a 2 in 1 combo to help you manage your weight and improve your gut health"
Real Mums Reviews
Amy Atkinson, Tasmania
"I'm snacking less as it's keeping me fuller for longer," she says,  "I'm excited to see some massive results while using this."
Lauren Kolstad, ACT
"I liked that it has so much goodness in them to help with bloating and digestive function and I was definitely less bloated, fitting into my pants easier within a week and it tastes amazing."
Sascha Farley, NSW
"Without a doubt it helped with boating which I struggle with! My tummy felt more settled and flatter which is a huge win. "
Samara Syed, NSW
"The Tummy smoothie was absolutely delicious! It was very smooth in texture and goes well with all smoothies and snacks! 10 out of 10 for sure!!"
Emily Rose, QLD
"Bloating has been my biggest issue since forever! So I was excited to use the new Tummy Smoothie. I am so happy with the results after 2 weeks and my muffin top in my jeans has massively reduced – I will definitely be using long term"
How to use
Place 25g (2x heaped tbsp) into a smoothie shaker and add approx. 250ml of your choice of mlk 
Serving Suggestion: In a blender, add the smoothie powder and milk to 1/2 cup fruit or vegetables of your choice and blend for 2-3 mins to a smooth consistency.
Nutritional Information
Ingredients

Additional Information
450g | 18 serves per tub
Free from preservatives, nuts, artificial sweetener, sucrose, wheat, yeast, corn and seafood products
For FAQ's on the Tummy Smoothie, click here
*when used in conjunction with a diet reduced in energy and an exercise plan.
How is the Tummy Smoothie different to the normal Healthy Mummy Smoothie?
There are some similarities and differences between the Tummy Smoothie and Healthy Mummy Smoothie.
The Tummy Smoothie has been specifically formulated with your tummy health in mind. We have developed the Tummy Smoothie  product by combining a specialised blend of soy protein, whey protein, collagen to support a healthy tummy, and provide specialised protein mix to reduce feelings of hunger. The product contains probiotic blend to support and promote gut health and prebiotic blend to help feed those specialised probiotics. Additionally, we've included a gut friendly blend to try to reduce any gut irritation. The Tummy Smoothie contains high end probiotics which support your gut health. The texture of the Tummy smoothies  is creamier and smoother than the standard Healthy Mummy Smoothie due to a completely different formula.
What is the Tummy Smoothie?
The Tummy Smoothie is a premium meal replacement that's delicious and nutritious.
It contains probiotics to support gut health and fibre to keep you fuller for longer. When combined with exercise and a diet reduced in calories the Tummy Smoothie contributes to weight loss. The smoothie is high in protein and thus reduces feelings of hunger.
Coloured Smoothie Shaker in detail
Check out our Colours in the Healthy Mummy Shaker range!
Choose your colour & quantity. Hot Pink & Aqua available
Our Healthy Mummy Smoothie Shakers contain a clever shaker ball that helps dissolve the Healthy Mummy Smoothie Mix, leaving your smoothie the perfect texture!
They're great for an arm workout too!
Our Smoothie Shakers can hold 700ml, are BPA FREE and have a cool grip panel so won't slip out of your hands.
Please note – Logo may fade in the dishwasher.
The Healthy Kids Smoothies in detail
Choose Vanilla or Chocolate

The Healthy Kids smoothies have been specially made as a healthy snack for kids and are ideal if you have fussy eaters or want to ensure your children have a DELICIOUS, nutritious and HEALTHY smoothie snack. It also has a 4.5 Health Star Rating when made with skim milk.
The Healthy Mummy Kids Smoothies are rich in carbohydrates and protein and is a natural ENERGY PACKED smoothie made for kids.
What do you need to know about The Healthy Kids Smoothie
It contains probiotics which contribute to a healthy gut

It contains 16 Vitamins and minerals when combined with milk, and provides children with 50% of their Calcium RDI. 

It contains NO artificial colours, flavours, preservatives or MSG in the product

A good source of protein 

It contains NO added sugar
Free from fructose
Directions 
Mix 10g with 250ml of milk. 
Tip – make into a thick smoothie by adding 1/2 a banana or fruit/vegetable of choice and blend until smooth
Nutritionist Reviews
Cheree Sheldon, Nutritionist

"As a mum who is also a nutritionist-naturopath, it's a major concern of mine if my daughter is meeting her dietary needs, as I know how important it is for their health and development. Kids are notoriously fussy, they all go through phases of food refusal and my kid is no different. 
When this happened to us, I wanted something that would be simple, healthy, and wasn't a drama when offered. The Kids Smoothie range is a great solution to this! My daughter loves smoothies, and it's so easy to hide extra fruits and veggies in a product that already tastes great. The flavour range is great, I can be flexible and make up all sorts of different snacks with it, not just smoothies! Banana and date bliss balls are a fave! It's such a relief to have a product on hand that provides vitamins, and minerals to help meet her daily needs, with no added sugar."
Kids Chocolate Smoothie – Nutritional Information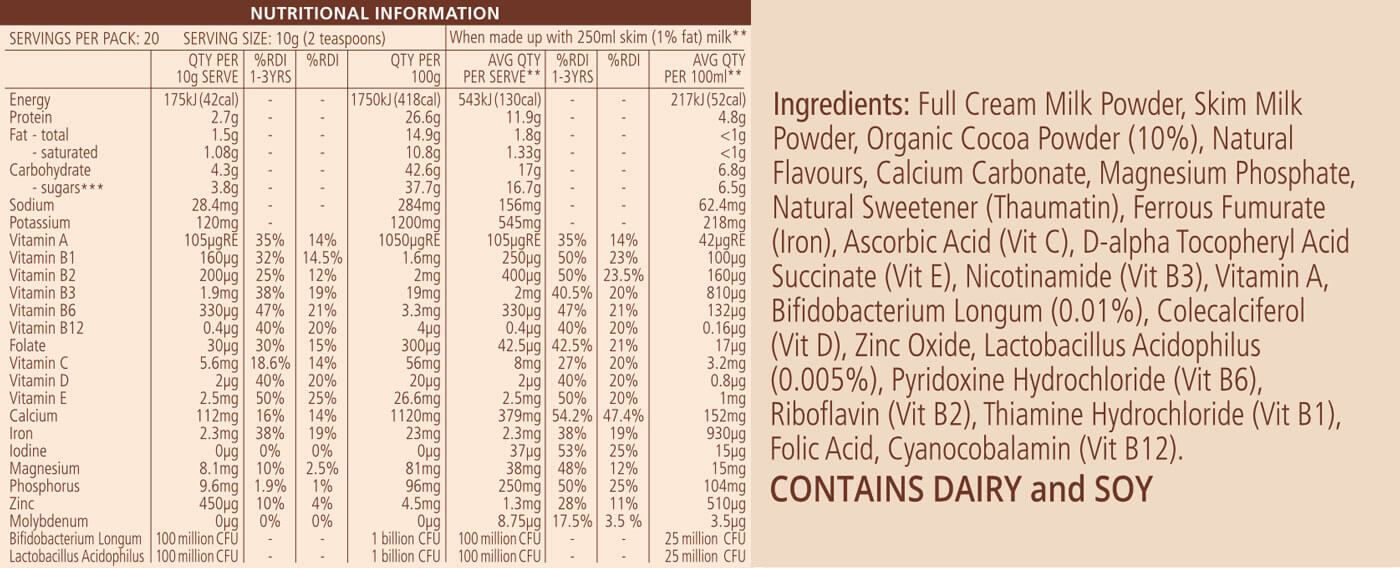 Kids Vanilla Smoothie – Nutritional Information 
Please note that we do not recommend this product for children under 2 years of age and it is not intended as a toddler formula replacement.
The product contains dairy (the base of the smoothie) and a small amount of soy (within d-alpha-tocopheryl).
The product does not contain any ingredients derived from gluten, fish, eggs, nuts or sulphites. However, the factory in which the product is made does store and manufacture these products but they are not produced on the same line.
FAQ's
Are the kids smoothies gluten-free?
The kids smoothies do not contain any ingredients with gluten, however, they may have come into contact with gluten during processing. The products have not undergone testing to show they are gluten-free.
Do the kids smoothies contain any nuts?
The kids smoothies do not contain nuts.
Are the kids smoothies suitable for vegetarians / vegans? 
The kids smoothies are suitable for vegetarians but they are not suitable for vegans as they contain dairy. 
For more FAQ's on the Kids Smoothies please click here
Healthy Kids Aqua Shaker in detail
Check out our NEW Healthy Kids AQUA Shaker!
Our Healthy Kids Smoothie Shakers contain a clever shaker ball that helps dissolve the Healthy Kids Smoothie Mix, leaving your smoothie the perfect texture! Now your kids will stop using your Healthy Mummy Smoothie Shaker as they have one of their own.
Reasons to LOVE the Healthy Mummy Kids Shakers
Holds 400ml
BPA Free
Cool grip panel so won't slip out of little hands
Measurements on the side
Includes a shaker ball to help dissolve smoothies
Additional Information
Shop more Healthy Kids products here
Please note – Logo not suitable for dishwasher