TUMMY & Super Greens Combo
This pack includes:
1 x TUMMY
1 x Super Greens
TUMMY
The Healthy Mummy TUMMY is here to aid digestion and reduce bloating naturally. A nutritious formula with organic herbs, Omega-rich sources of fibre and probiotics which assist with gastrointestinal health and bloating

13 serves per pack
Benefits of TUMMY
Aids digestion
Reduces bloating
Delicious Choc-Chai flavour
Fibre that contributes to regular laxation
Source of Omega 3
Nourish your tummy naturally

Probiotics that help to balance the friendly bacteria in your digestive system

Suitable for vegetarians
Superfood enriched – contains superfood ingredients including Chia Seeds and Flax seeds
Breastfeeding friendly
Why is our TUMMY supplement different?
Reduces bloating and aids digestion NATURALLY 
A VEGETARIAN-friendly product. Free from dairy and preservatives
GMO-free
High in omega 3, probiotics and organic ingredients
It is breastfeeding friendly
Can be used in conjunction with other Healthy Mummy products such as Smoothie & Super Greens
How to use it?
Mix 7.5g (1.5 teaspoons) per day into a glass of water or juice. Take once daily.
Nutritional Info & Ingredients
Vitamins & Benefits
Probiotics – Lactobacillus acidophilus contributes to gastrointestinal health. Lactobacillus acidophilus and Bifidobacterium lactis contribute to the maintenance of beneficial gastrointestinal microflora. Bifidobacterium lactis contributes to gastrointestinal health and immune function.
Fibre – A source of dietary fibre which contributes to regular laxation
Omega-3 – A source of omega-3 fatty acids (healthy fats).
Calming herbs

 

– to help soothe the body, mind and tummy.
FAQ'S
To read FAQ's about TUMMY, please click here 
Energy Boosting Super Greens
Specifically designed for busy mums, the Healthy Mummy Energy Boosting SUPER GREENS Powder vitamin supplement is here to help boost your energy and support your immune system.
The power-packed powder contains over 37 whole food ingredients in an easily digestible & nutritional formula, combining real food sources to deliver a powerful blend of nutrients to help give tired mums the energy they need. They're also safe for use in breastfeeding.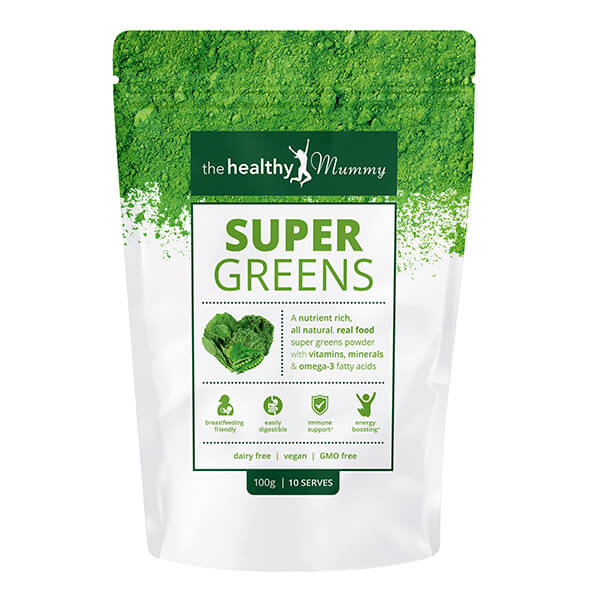 Healthy Mummy Super Greens powder is the culmination of extensive research and development. The combination of natural ingredients is designed to provide a range of vitamins, minerals and phytonutrients. These include Spirulina, Flaxseed, Pea Protein, Organic Barley Grass, Chlorella, Chia, Goji Berry, Kale, Spinach, Mushroom Powder and Dandelion to name but a few.
To protect the nutrients in our premium quality ingredients, the foil packaging has been designed to withstand heat.
A vegan-friendly product. Free from dairy and preservatives.
The Energy Boosting Super Greens have no ingredients that contain gluten, but national tests need to be done to place Gluten Free on the label.
Healthy Mummy Super Greens contains:
More IRON than 12 cups of Spinach!
The Vitamin C equivalent of 1.4 kilograms of Oranges!
56 x more Vitamin B12 than a beef steak!
the calcium equivalent to one litre of milk.
AND it TASTES delicious!!
What makes Super Greens different?
It's safe for use in breastfeeding
The unique blend of ingredients has been designed to help boost energy in tired mums
It contains over 37 quality superfood ingredients. It contains probiotics, vitamins, minerals, antioxidants, essential fatty acids and fibre.

It contains alkaline superfoods rich in nutrients designed specifically for busy mums

It's great tasting with a slight cranberry taste and tastes good enough to be drunk with water.
How to use the Super Greens?
Add 10g to a glass of water daily or add it to your daily Healthy Mummy Smoothie
10g per serve.
Ingredients and Nutritional Information