The Mini Birthday Pack
USE CODE  BDAYLOVE to save 40% + Free Aussie Post
To celebrate The Healthy Mummy's 8th Birthday we have launched the Mini Birthday Pack which is full of AMAZING Healthy Mummy products.
What's included?
Choc-Caramel Protein Ball Mix
1 x Smoothies (Choose from over 10 flavours) – including NEW Limited Edition Choc Fudge Smoothie 
Limited Edition Pink sparkle shaker
Limited Edition Pink sparkle scoop
Limited Edition Motivational Notebook – She believed she could so she did
Limited Edition Measuring Spoons
Choc Caramel Protein Ball Mix
The NEW Healthy Mummy Choc-Caramel Protein Ball Mix is super easy to make and the balls taste delicious! 
Specifically designed for busy mums, The Healthy Mummy's protein balls are easy and quick to make with no baking required. With 3g of protein per ball, wholegrain ingredients, whey protein, coconut flour and cacao nibs, they're a delicious treat that'll help you through the day, the healthy way.

What makes them so great?
Specifically formulated for BUSY MUMS

Safe for use whilst BREASTFEEDING

No nasties.  Free from artificial flavours or colours

Delicious Choc-caramel flavour

Whole food ingredients

3g of protein per ball*

Makes 15 balls*

Compact and easy to carry, for mums on the run

Enjoy as a morning boost, a late afternoon fix or a healthy snack

No blender required

No baking required – these balls are ready in 7 easy steps!
Nutritional Information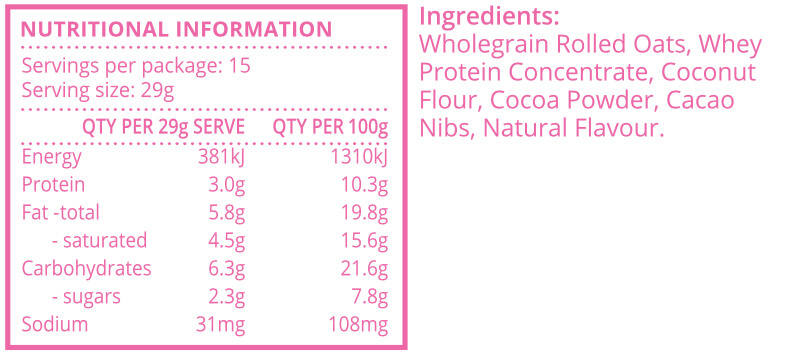 FAQ'S
For FAQ's on the Choc Caramel Protein Ball Mix please click here 
1 x Smoothies
Our meal-replacement weight loss smoothies have been formulated by leading nutritionists to be the perfect companion to a busy mum's life when trying to lose weight.
Available in a variety of flavours including…  NEW Limited Edition Choc Fudge, Chocolate, Vanilla, Caramel, Coffee, Choc-Mint, Banana, Strawberry, Cookies & Cream, Salted Caramel, Choc Cherry and Raspberry Ripple.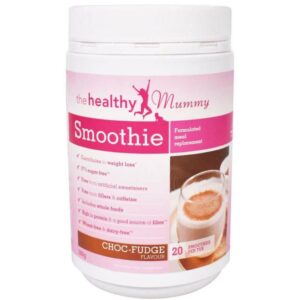 See some of the amazing results Mums have achieved by drinking our Smoothies here
See what makes Healthy Mummy Smoothies different?
How can Healthy Mummy Smoothies benefit you?
Healthy Mummy Smoothies are an excellent source of essential vitamins, minerals, nutrients & important antioxidants
They don't contain weight loss accelerants, caffeine, gluten and are dairy-free. They are also a non-Genetically Modified product.
They can help with weight management when used as part of a diet & exercise plan
They provide the best possible nutrition for energy
They're breastfeeding-safe and are designed to help to support milk supply
They're 96% sugar free and 100% fructose free
They're low GI & high fibre which helps you feel fuller for longer and aids digestion
They're quick and easy to prepare and taste delicious
They're high in protein & lower in sugar than any other product on the market – see a comparison table.
FAQ's
For FAQ's on The Healthy Mummy smoothies please click her
Pink Sparkle Shaker
The pink sparkle shaker is a LIMITED EDITION product, get your hands on it quick before it sells out!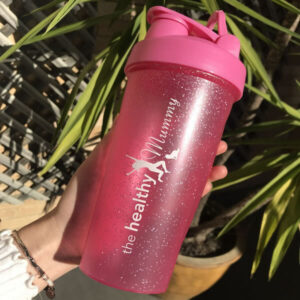 The sparkle shaker contains a clever shaker ball that helps dissolve the Healthy Mummy Smoothie mix, leaving your smoothie the perfect texture! It is also BPA free, holds 700ml and has a cool grip panel so the shaker won't slip out of your hands.
Please note – Logo may fade in the dishwasher.
Pink Sparkle Scoop
The Pink Sparkle Scoop is a LIMITED EDITION scoop to celebrate the Healthy Mummy's 8th Birthday! We hope you LOVE it as much as we do.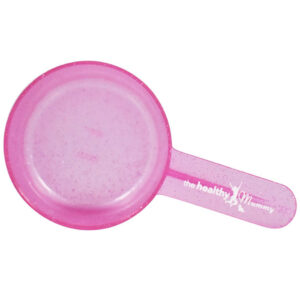 The scoop holds 25g of Smoothie powder and is strong enough to be used over and over again. It's also BPA free.
Motivational Notebook
The NEW Healthy Mummy notebook is a pink with rose gold text. The quote reads 'She Believed She Could So She Did' and is a constant reminder to believe in yourself so that you can achieve your goals!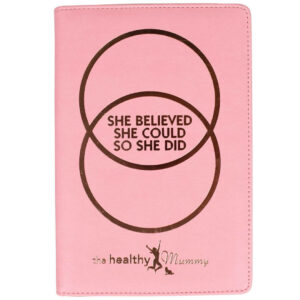 The notebook as 100 lined pages.
Measuring Spoons
These pink measuring spoons are GREAT for measuring small quantities. You can use them to measure out servings for any of our products. The measuring spoons are especially handy for our NEW Protein Ball mix. Each spoon is hot pink with our logo printed onto it in white.

Measurements
1tbsp – 15ml
1/2 tbsp – 7.5ml
1 tsp – 5ml
1/2 tsp – 2.5ml
1/4 tsp – 1.25ml
Dream. Believe. Achieve. Tote Bag
The NEW Healthy Mummy tote bag is a soft pink with rose gold text. The quote reads 'Dream. Believe. Achieve' and is a reminder that to achieve great things, you must first dream about them. Then you must believe that you can reach your goals and then you will achieve them.