Pack includes:
1x Super Greens
1x Smoothie (selected flavours below)
Smoothie flavours include:
Banana
Caramel
Choc-Cherry
Choc-Mint
Coffee
Cookies & Cream
Raspberry Ripple
Energy Boosting Super Greens
Specifically designed for busy mums, the Healthy Mummy Energy Boosting SUPER GREENS Powder vitamin supplement is here to help boost your energy and support your immune system.
The power-packed powder contains over 37 whole food ingredients in an easily digestible & nutritional formula, combining real food sources to deliver a powerful blend of nutrients to help give tired mums the energy they need. They're also safe for use in breastfeeding.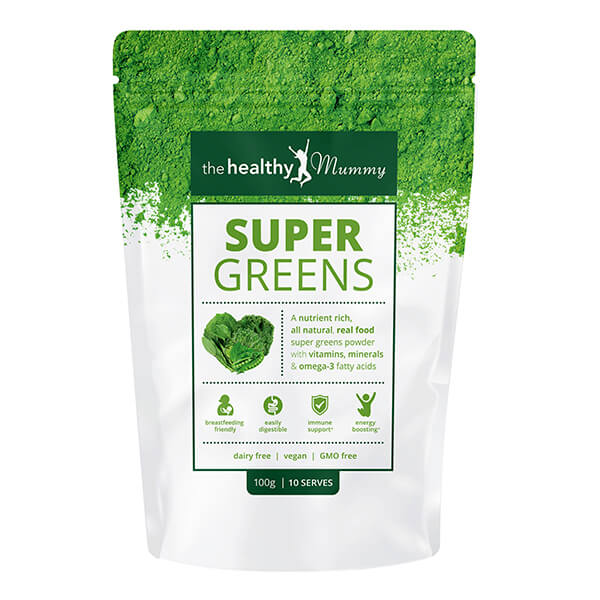 Healthy Mummy Super Greens powder is the culmination of extensive research and development. The combination of natural ingredients is designed to provide a range of vitamins, minerals and phytonutrients. These include Spirulina, Flaxseed, Pea Protein, Organic Barley Grass, Chlorella, Chia, Goji Berry, Kale, Spinach, Mushroom Powder and Dandelion to name but a few.
To protect the nutrients in our premium quality ingredients, the foil packaging has been designed to withstand heat.
A vegan-friendly product. Free from dairy and preservatives.
The Energy Boosting Super Greens have no ingredients that contain gluten, but national tests need to be done to place Gluten Free on the label.
Learn more about the benefits of Super Greens here
Healthy Mummy Super Greens contains:
More IRON than 12 cups of Spinach!
The Vitamin C equivalent of 1.4 kilograms of Oranges!
56 x more Vitamin B12 than a beef steak!
the calcium equivalent to one litre of milk.
AND it TASTES delicious!!
What makes Super Greens different?
It's safe for use in breastfeeding
The unique blend of ingredients has been designed to help boost energy in tired mums
It contains over 37 quality superfood ingredients. It contains probiotics, vitamins, minerals, antioxidants, essential fatty acids and fibre.

It contains alkaline superfoods rich in nutrients designed specifically for busy mums

It's great tasting with a slight cranberry taste and tastes good enough to be drunk with water.
How to use the Super Greens?
Add 10g to a glass of water daily or add it to your daily Healthy Mummy Smoothie
10g per serve.
Meal replacement weight loss smoothies for mums
Our meal-replacement weight loss smoothies have been formulated by leading nutritionists to be the perfect companion to a busy mum's life when trying to lose weight. They're breastfeeding-friendly.
20 serves per 500g tub.
Available in a variety of flavours including…  Chocolate, Vanilla, Caramel, Coffee, Choc-Mint, Banana, Strawberry, Cookies & Cream, Salted Caramel, Choc Cherry and Raspberry Ripple.
We also have Pregnancy Smoothies.
How can Healthy Mummy Smoothies benefit you?
Healthy Mummy Smoothies are an excellent source of essential vitamins, minerals, nutrients & important antioxidants
They don't contain weight loss accelerants, caffeine, gluten and are dairy-free. They are also a non-Genetically Modified product.
They can help with weight management when used as part of a diet & exercise plan
They provide the best possible nutrition for energy
They're breastfeeding-safe and are designed to help to support milk supply
They're 96% sugar free and 100% fructose free
They're low GI & high fibre which helps you feel fuller for longer and aids digestion
They're quick and easy to prepare and taste delicious
They're high in protein & lower in sugar than any other product on the market