2 x smoothies
1 x Protein
1 x Super Greens
1 x silver Team Healthy Mummy Singlet
Healthy Mummy Smoothies
Our meal-replacement Smoothies have been formulated by leading nutritionists to be the perfect companion to a busy mum's life when trying to lose weight. They're breastfeeding-friendly.
20 serves per 500g tub.
You can even pay using Afterpay.
How can Healthy Mummy Smoothies benefit you?
Healthy Mummy Smoothies are an excellent source of essential vitamins, minerals, nutrients & important antioxidants
They don't contain weight loss accelerants, caffeine, gluten and are dairy-free. They are also a non-Genetically Modified product.
They can help with weight management when used as part of a diet & exercise plan
They provide the best possible nutrition for energy
They're breastfeeding-safe and are designed to help to support milk supply
They're 96% sugar free and 100% fructose free
They're low GI & high fibre which helps you feel fuller for longer and aids digestion
They're quick and easy to prepare and taste delicious
They're high in protein & lower in sugar than any other product on the market – see a comparison table.
Want more information?
Metallic Workout Singlet
For a LIMITED TIME only get your hands on our favourite Healthy Mummy singlet...in SILVER!
Team Healthy Mummy Singlets.
Currently available in Black & Silver
The singlets are longer styles - so will not ride up.
They have thick straps and have a racer-style back.
They are not clingy but have a slight stretch.
They are 95% cotton and 5% elastane.
Healthy Mummy 93% Protein Powder: Vanilla in Detail
Our Healthy Mummy protein is an AWESOME source of high quality whey protein with 28 grams per serve and is a whopping 93% protein!
This high quality protein powder is breastfeeding friendly and comes from grass fed cows. It is ideal for adding into smoothies for an extra protein hit and is also great for baking with.
It comes in a Vanilla flavour and is 99.9% sugar free and contains no added sugars or artificial sweeteners or flavours.
Our whey protein powder is:
Hormone Free
GMO Free
Breastfeeding friendly
Comes from grass fed cows
Low sodium
99.9% Sugar Free
Use it in your smoothies or use in baking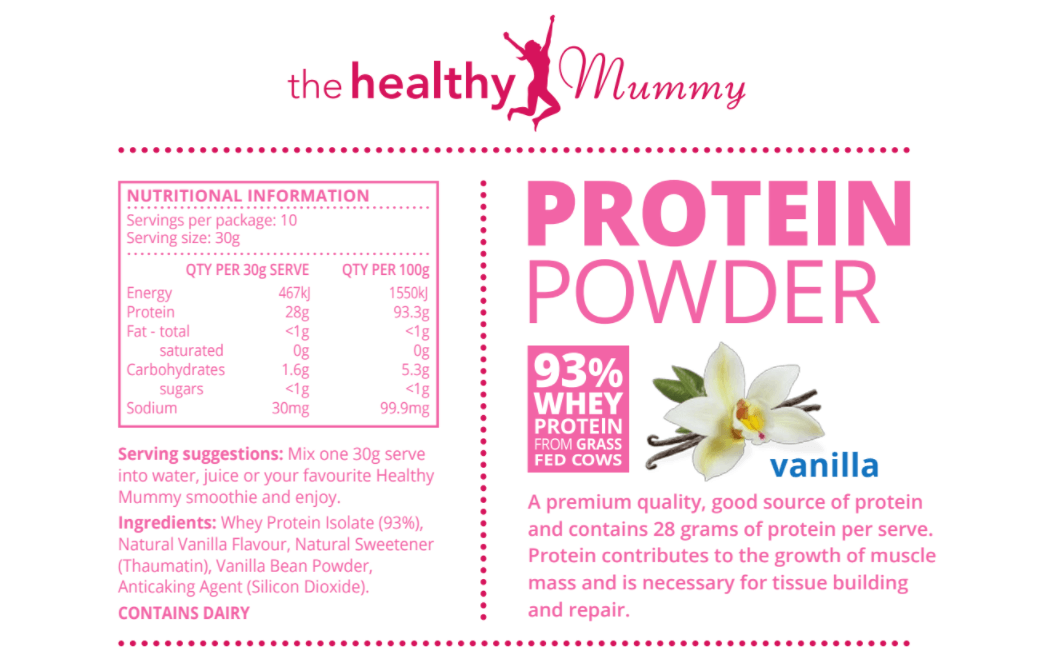 The Healthy Mummy Snack Bars: Choc-Mint in Detail
The first round of Snack Bars SOLD OUT IN 3 DAYS! But the good news is the Healthy Mummy Snack bars back in stock!
Our bars are costed at $4.95 each which is actually cheaper than most protein bars and contain much better natural ingredients.
About the SNACK Bars
The Healthy Mummy Choc-Mint SnackBar is a delicious and nutritious snack bar that contains protein and a good source of your daily fibre.
The Healthy Mummy Snack bar is made with specially selected whole foods and is a breastfeeding friendly product.
It is designed as a convenient snack bar that can replace one of your daily snacks and they come in a value and convenient box of ten.
Our FIRST Snack Bar flavour launch comes in Mint Choc flavour and TASTES AMAZING - you won't want to miss out on this AWESOME new product.
The Snack Bars come in a box of 10 Snack bars (45g each) and are great protein & energy boosting snack for when you are on the run!
7.46g Natural Protein
No artificial colours and flavours
6.29g Fibre
Low Sodium
GMO Free
200 calories per 45g bar
Ingredients: Date Paste, Chicory root extract, Organic Coconut, Almonds, Pea Protein, Organic cacao nibs, Pepitas, Dark Chocolate (the dark chocolate is made up of 50% Cocoa, Sugar, Cocoa Mass, Cocoa Butter, Emulsifier (soy lecithin), Milk Solids), Sesame Seeds, Cocoa Powder, Organic Rice Malt,  Organic Tahini, Organic Cacao Butter, Peppermint oil.
The bars are made in Australia and ingredients are sourced from local and overseas ingredients
Allergy information
The Healthy Mummy Snack Bars contain dairy, soy and nuts. It does not contain gluten ingredients but has not undergone gluten free testing for us to make the packaging claim.
Pregnancy information
Peppermint oil is not recommended in pregnancy due to safe dosages not having been determined and there is 0.1% peppermint oil per serve in the Choc Mint Snack Bars.
Saturated Fat
The type of saturated fat in the Snack Bars is from Coconut and is Medium Chain Triglycerides (also known as MCT's). MCT is the main form of fat in coconut making up at least 50% of the total fat content.
The benefits of MCTs as opposed to other types of saturated fats include the following:
MCTs are more rapidly absorbed by the body and more quickly metabolised (burned) as fuel.
MCTs are very efficiently converted into fuel for immediate use by organs and muscles.
MCTs have anti-aging properties such as promoting the development of ketones which is good for the ageing brain.
MCTs have been shown to suppress appetite.
More flavours
MORE flavours will be coming in the future and we are very excited about this new range of Healthy Mummy products and we are working on lots of variants for the future - including dairy and nut free further down the track

Energy Boosting Super Greens
Get ready for a NATURAL ENERGY BOOST!!!!
The Healthy Mummy SUPER GREENS Powder vitamin supplement to help boost your energy and support your immune system and it is NOW AVAILABLE on the discounted membership rate
There are NO lock ins, you can cancel at any time and you get your Super Greens delivered each month for a super low rate as long as you want to receive them
The Healthy Mummy Super Greens powder is the culmination of extensive research and development. It is designed with busy mums in mind, providing energy and nutrients to help keep you going. It is a supplement designed to support your busy life and it has been receiving THOUSANDS of RAVE reviews from mums who have been using it and experiencing amazing energy boosting results - read reviews here.
Our Healthy Mummy Super Energy Boosting Greens contains over 37 whole food ingredients and is an easily digestible & nutritional formula, combining real foods sources to a deliver powerful blend of nutrients to give busy mums the energy they need!
It is also safe for use in breastfeeding
The Healthy Mummy Super Greens powder delivers a careful combination of 37 natural ingredients, designed to provide a range vitamins, minerals and phytonutrients. These include Spiralina, Flaxseed, Pea Protein, Organic Barley Grass , Chlorella, Chia, Goji Berry, Kale, Spinach, Mushroom Powder and Dandelion to name but a few
To protect the nutrients in our premium quality ingredients, the foil packaging has been protected from heat.
A vegan-friendly product. Free from dairy, gluten and preservatives.
The Healthy Mummy Super Greens contains;
More IRON than 12 cups of Spinach Iron than Spinach!
The Vitamin C equivalent of 1.4kilograms of Oranges!
56 x more Vitamin B12 than a beef steak!
Contains  calcium equivalent to 1litre of milk.
It is dairy and GMO Free,
It is vegan friendly
AND it TASTES delicious!
Why is our Super Greens different?
It has been specifically formulated for BUSY MUMS
The unique blend of ingredients has been designed to help boost energy in tired mums
It is safe for use in breastfeeding
It contains over 37 quality superfood ingredients. It contains probiotics, vitamins, minerals, antioxidants, essential fatty acids and fibre

It contains alkaline superfoods rich in nutrients designed specifically for busy mums and is safe in breastfeeding

It is great tasting with a slight cranberry taste and tastes good enough to be drank on its own
How to use it?
Add 10g to a glass of water daily or add it to your daily Healthy Mummy Smoothie
10g per serve