Summer Blow-Out Pack (mini) in Detail
What's in the pack?
Stay hydrated with The Healthy Mummy 2 Litre drink bottle. Brilliant for those hot summer days and to keep up your daily water intake. Track how much water you have consumed with the measurement markers on the side of the bottle.
Features:
Easy flip lid
Durable and BPA free
Measurement markers of the side of the bottle for easy water consumption tracking
Carry handle for easy use plus a convenient carry strap.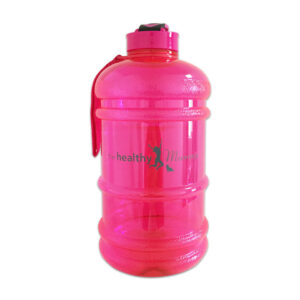 Strengthen and tone your body with our Healthy Mummy Resistance Bands.
Our 5 pack of resistance bands in various resistance levels are portable, easy to use and excellent for working out and stretching anytime and anywhere.
What is included:
Travel pouch. Making them super easy to keep together and take anywhere
5 resistance bands, each with different levels of resistance - Yellow (X-Light), Red (Light), Green (Medium), Blue (Heavy), Black  (X-Heavy).
Width 2" (51cm)
Length: 10" (254mm)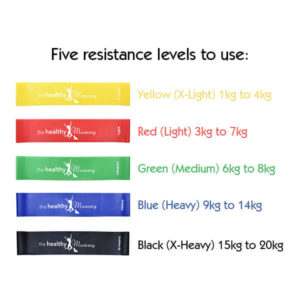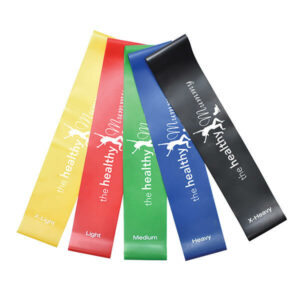 The Healthy Mummy Turkish Style Towel is PERFECT for summer trips to the beach. It looks great, it's super compact and it's quick drying. Ideal for drying off after swim, using as a sarong or as something to lie on enjoying some sun.
100% cotton
Size: 1800mm L x 1000mm W.
Colour: Pink and White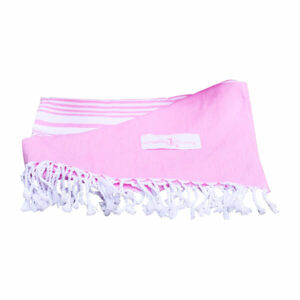 Healthy Mummy Super Greens
The Healthy Mummy energy Boosting Super Greens is specifically designed for busy mums. The power-packed powder is an easily digestible & nutritional formula, combining real food sources, to deliver a powerful blend of nutrients, to help give mums the energy they need.
Super Greens are great because:
helps boost your energy and support your immune system
contains over 37 whole food ingredients
Safe to use when breastfeeding
Vegan-Friendly Product
Free from dairy, gluten and preservatives
More iron than 12 cups of spinach
The Vitamin C equivalent of 1.4kg of oranges
56 x more Vitamin B12 than a beef steak
The calcium equivalent of 1L of milk
All items will start to be sent out in January.
*Please note as this pack is of a high dollar value delivery is signature on delivery only.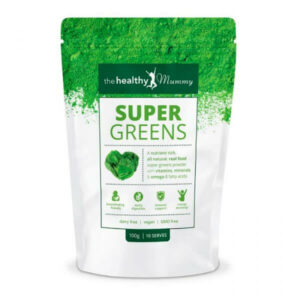 Healthy Mummy Metabolism Support Tablets 
The Healthy Mummy Metabolism Support Formula has been formulated to contain nutrients involved in energy production and the metabolism of carbohydrates, proteins and fats in the body.
The Healthy Mummy Metabolism Support is DOES NOT contain any caffeine, capsaicin, L-carnitine, picolinate, conjugated linoleic acid (CLA) or resveratrol.
The KEY INGREDIENTS in our Metabolism Support formula contain:
Thiamine, which helps the body to metabolise carbohydrates and is essential for energy production. It is involved in the maintenance of nerve tissues and supports the health and function of the nervous system.
Riboflavin, which is involved in energy production in the body and contributes to normal energy release from food.
Nicotinamide, which helps the body to metabolise proteins, carbohydrates and fats and is a component of glucose tolerance factor.
Iodine, which is essential for the manufacture of thyroid hormones, and regulates cellular oxygen consumption, basal metabolism and energy production throughout the body.
Selenium, which plays a role in thyroid hormone production, required for normal healthy thyroid function, and has a role in the antioxidant systems.
Pyridoxine (Vitamin B6), which is involved in the regulation of hormonal activity and supports a healthy immune system function.
Pantothenic acid (Vitamin B5), which has a central role in adrenal function and cellular metabolism.
Zinc, which plays a necessary role in the metabolism of androgens, oestrogen and progesterone.
Zinc has antioxidant activity and may, therefore, assist in protecting the body from the damaging effects of free radical damage.
Folinic acid, which is a form of Folate, and is involved in the formation and maturation of red blood cells and can assist in maintaining healthy blood.
Magnesium, which is necessary for proper muscle and nerve function and is required for the production of energy in the body.
Chromium, which is a main component of glucose tolerance factor.
Mecobalamin (Vitamin B12), which is required for red blood cell formation, and is also involved in cell growth and replication.
The Healthy Mummy Metabolism Support tablets can be taken while breastfeeding or pregnant. If you are taking other multi-vitamin supplements we recommend that you consult with your healthcare practitioner for appropriate dosages.
Dosage: take two tablets daily or as directed by your healthcare professional
Please note:
Vitamins can only be of assistance if the dietary vitamin intake is inadequate. This product contains selenium which is toxic in high doses. A daily dose of 150 micrograms for adults of selenium from dietary supplements should not be exceeded. If symptoms persist consult your healthcare practitioner"
ALWAYS READ THE LABEL
USE ONLY AS DIRECTED
IF SYMPTOMS PERSIST SEE YOUR DOCTOR/HEALTHCARE PROFESSIONAL
*Lactose-Free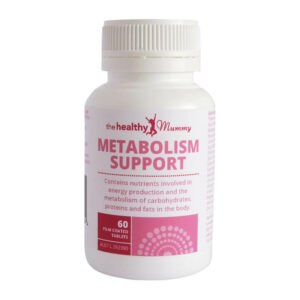 Healthy Mummy Smoothie - Choose x 1 from our 8 delicious flavours
Our meal-replacement Smoothies have been formulated by leading nutritionists to be the perfect companion to a busy mum's life. Choose the flavour to be included in your box. The smoothies have no added fructose and contain no artificial colours or preservatives. They are high in protein and fibre and are recommended by 9/10 mums PLUS they are DELICIOUS. They are also Australian made in Byron Bay!