The Sports Pack Contains:
1x Healthy Mummy Smoothies
1x Resistance Bands
1x Black Visor
1x 2l Water Bottle
1x Yoga Mat
1x Protein Powder
1x Healthy Snacks eBook
Healthy Mummy Smoothies in Detail
Meal replacement weight loss smoothies for mums
Our meal-replacement weight loss smoothies have been formulated by leading nutritionists to be the perfect companion to a busy mum's life when trying to lose weight. They're breastfeeding-friendly.
20 serves per 500g tub.
Available in: NEW & IMPROVED Chocolate flavour, Vanilla, Caramel, Coffee, Choc-Orange, Choc-Mint, Banana, Strawberry, Cookies & Cream and Raspberry Ripple .
Want more information.
How can Healthy Mummy Smoothies benefit you?
Healthy Mummy Smoothies are an excellent source of essential vitamins, minerals, nutrients & important antioxidants
They don't contain weight loss accelerants, caffeine, gluten and are dairy-free. They are also a non-Genetically Modified product.
They can help with weight management when used as part of a diet & exercise plan
They provide the best possible nutrition for energy
They're breastfeeding-safe and are designed to help to support milk supply
They're 96% sugar free and 100% fructose free
They're low GI & high fibre which helps you feel fuller for longer and aids digestion
They're quick and easy to prepare and taste delicious
They're high in protein & lower in sugar than any other product on the market – see a comparison table.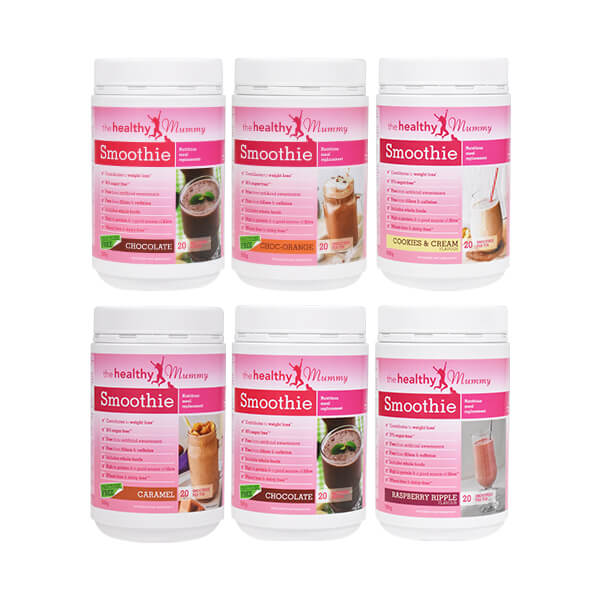 Resistance Bands in Detail
Strengthen and tone your body with our Healthy Mummy Resistance Bands.
Our 5 pack of resistance bands in various resistance levels are portable, easy to use and excellent for working out and stretching anytime and anywhere.
What is included:
Travel pouch. Making them super easy to keep together and take anywhere
5 resistance bands, each with different levels of resistance - Yellow (X-Light), Red (Light), Green (Medium), Blue (Heavy), Black  (X-Heavy).
Width 2" (51cm)
Length: 10" (254mm)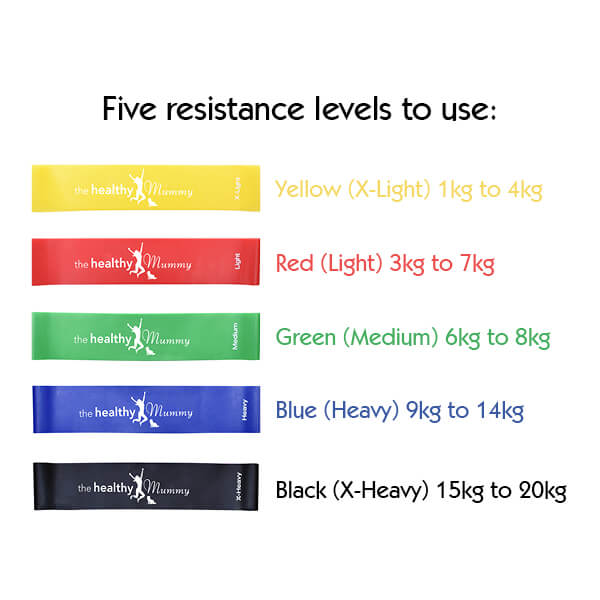 Please Note

The light bands 

(yellow and red) as these bands are quite thin for their level of resistance, they shouldn't be stretched more than 2 times their length, as this could cause the bands to snap.

Bands shouldn't be looped around any sharp surfaces.
Black Visor in Detail
The Healthy Mummy visor is perfect for working out on those hot summer days, it keeps your face in the shade whilst letting your head breath. The visor is black with The Healthy Mummy logo embroidered in pink.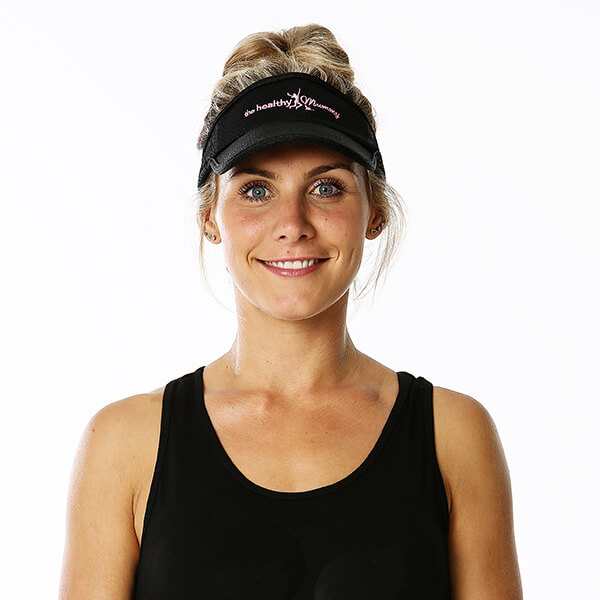 One size fits most.
2l Water Bottle in Detail
Stay hydrated with The Healthy Mummy 2 Litre drink bottle. A great way to ensure you drink your 2 litres of water per day and perfect for those hot summer days. Track how much water you have consumed with the measurement markers on the side of the bottle.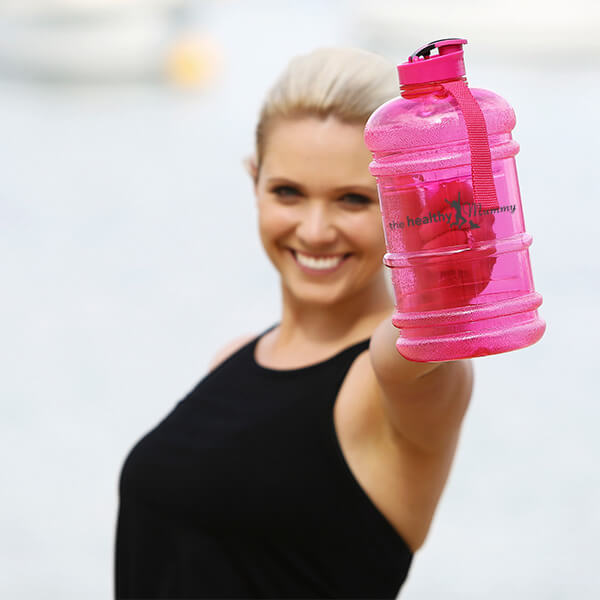 Features:
Easy flip lid
Durable and BPA free
Measurement markers of the side of the bottle for easy water consumption tracking
Carry handle for easy use plus a convenient carry strap
THIS IS NOT SUITABLE FOR THE DISHWASHER
Yoga Mat in Detail
The Healthy Mummy yoga mat (in 2 colours) is the perfect workout mat for yoga, Pilates and stretching.
It is durable, lightweight and provides great cushioning for your knees, hips, joints, and spine during your workout.
Size:
Length - 180cm
Width - 61cm
Depth - .5cm

Vanilla Protein Powder in Detail
Our Healthy Mummy protein is an AWESOME source of high quality whey protein with 28 grams per serve and is a whopping 93% protein!
This high quality protein powder is breastfeeding friendly and comes from grass fed cows. It is ideal for adding into smoothies for an extra protein hit and is also great for baking with.
It comes in a Vanilla flavour and is 99.9% sugar free and contains no added sugars or artificial sweeteners or flavours.
Our whey protein powder is:
Hormone Free
GMO Free
Breastfeeding friendly
Comes from grass fed cows
Low sodium
99.9% Sugar Free
Use it in your smoothies or use in baking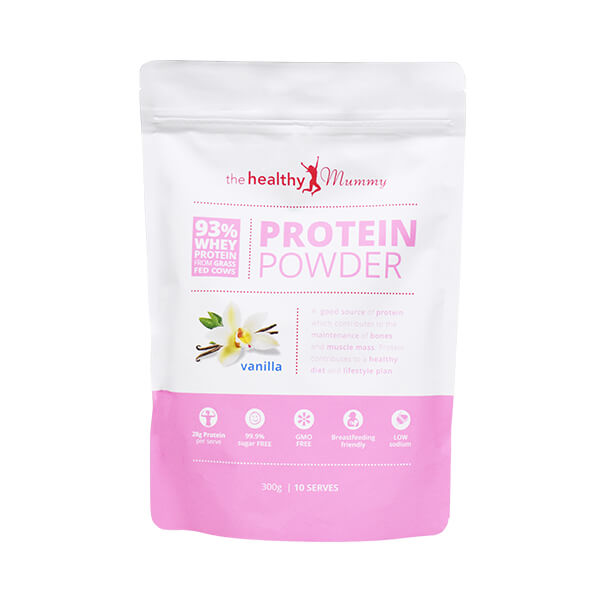 Healthy Snacks Recipe eBook in Detail
Snacks get a bad rap. It's true that your efforts at living a healthy lifestyle can be so easily sabotaged by the wrong snack choices: excessive quantities, low-quality junk foods and the sort of mindless grazing we can so easily fall into – especially when sleep deprived!
At The Healthy Mummy, we believe that snacks can be more friend than foe; it's all about snacking smarter. The right snacks – made with quality ingredients, in reasonably sized portions – can keep your metabolism firing at maximum efficiency and help to fulfil your body's nutritional requirements.
This book contains more than 200 recipes and snack ideas, from savoury nibbles and delicious dips, to decadently sweet treats. All of them are quick and easy to prepare – perfect for hungry and time-poor mums!
We hope you enjoy the recipes in this book and find it a useful tool in your journey to a healthier lifestyle.
Buy your copy today, or you can access ALL 40 of our Healthy Mummy books from just $10/month with our eBook membership - get more details here!