The Smoothie Love Pack includes:
1 x Healthy Mummy Smoothie
1x Vanilla Protein Powder
1 x Healthy Mummy Smoothie Shaker
1x Travel Smoothie Pack
 Healthy Mummy Smoothies in Detail
Meal replacement weight loss smoothies for mums
Our meal-replacement weight loss smoothies have been formulated by leading nutritionists to be the perfect companion to a busy mum's life when trying to lose weight. They're breastfeeding-friendly.
20 serves per 500g tub.
Available in: NEW & IMPROVED Chocolate flavour, Vanilla, Caramel, Coffee, Choc-Orange, Choc-Mint, Banana, Strawberry, Cookies & Cream and Raspberry Ripple .
We also have Pregnancy Smoothies. You can even pay using Afterpay.
What makes Healthy Mummy Smoothies different?
How can Healthy Mummy Smoothies benefit you?
Healthy Mummy Smoothies are an excellent source of essential vitamins, minerals, nutrients & important antioxidants
They don't contain weight loss accelerants, caffeine, gluten and are dairy-free. They are also a non-Genetically Modified product.
They can help with weight management when used as part of a diet & exercise plan
They provide the best possible nutrition for energy
They're breastfeeding-safe and are designed to help to support milk supply
They're 96% sugar free and 100% fructose free
They're low GI & high fibre which helps you feel fuller for longer and aids digestion
They're quick and easy to prepare and taste delicious
They're high in protein & lower in sugar than any other product on the market – see a comparison table.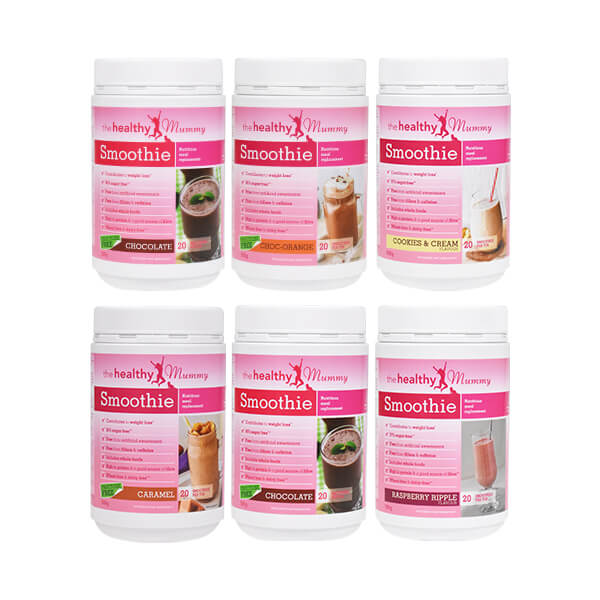 Vanilla Protein Powder in Detail
Our Healthy Mummy protein is an AWESOME source of high quality whey protein with 28 grams per serve and is a whopping 93% protein!
This high quality protein powder is breastfeeding friendly and comes from grass fed cows. It is ideal for adding into smoothies for an extra protein hit and is also great for baking with.
It comes in a Vanilla flavour and is 99.9% sugar free and contains no added sugars or artificial sweeteners or flavours.
Our whey protein powder is:
Hormone Free
GMO Free
Breastfeeding friendly
Comes from grass fed cows
Low sodium
99.9% Sugar Free
Use it in your smoothies or use in baking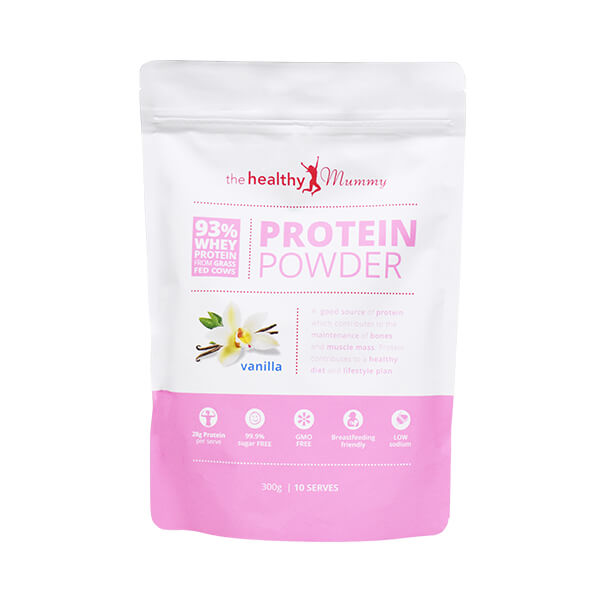 Healthy Mummy Smoothie Shaker in Detail
Check out our NEW 4 Colours in the Healthy Mummy Shaker range!
Choose your colour.
Our Healthy Mummy Smoothie Shakers contain a clever shaker ball that helps dissolve the Healthy Mummy Smoothie Mix, leaving your smoothie the perfect texture!
They're great for an arm workout too!
Our Smoothie Shakers can hold 700ml, are BPA FREE and have a cool grip panel so won't slip out of your hands.
Please note – Logo may fade in the dishwasher.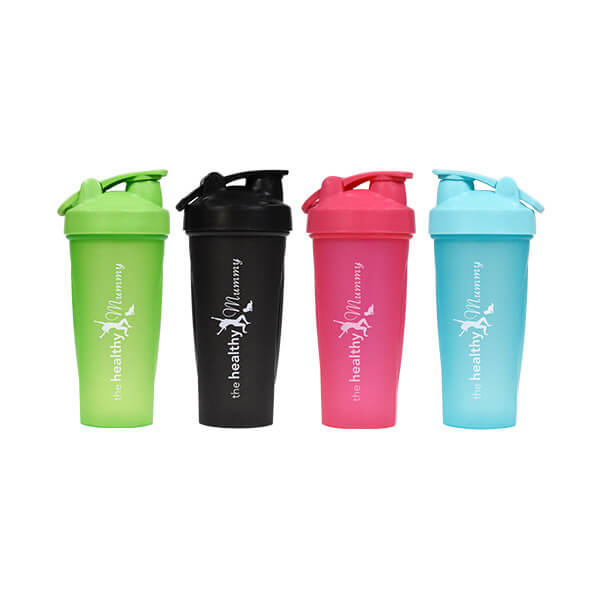 Travel Smoothie Pack in Detail
These mini Healthy Mummy Travel tubs are a PERFECT size to pack in your bag for when you are on the move!
It also helps when you can't decide what flavour to take.
The Healthy Mummy Travel smoothie pack comes with 3 x mini smoothie tubs.
The flavours were voted by YOU!
3 of the BEST:
1  x Caramel
1 x Vanilla
1 x Banana
Each tub is 75g which is 3 serves.