Pink Resistance Bands in detail
Strengthen and tone your body with our  PINK Healthy Mummy Resistance Bands.
Our 5 pack of resistance bands in various resistance levels are portable, easy to use and excellent for working out and stretching anytime and anywhere.
Width 2" (51cm)
Length: 10" (254mm)
What is included:
Travel pouch – Making them super easy to keep together and take anywhere
5 resistance bands, each with different levels of resistance. 
Vanilla Protein Powder in detail
Our Healthy Mummy protein is an AWESOME source of high quality whey protein with 28 grams per serve and is a whopping 93% whey protein!
This high quality protein powder is breastfeeding friendly and comes from grass fed cows. It is ideal for adding into smoothies for an extra protein hit and is also great for baking with.
Our whey protein powder is:
93% whey protein from grass-fed cows
Hormone Free
GMO Free
Breastfeeding friendly
Low sodium
No artificial sweeteners or flavours
99.9% sugar free
Directions for use 
Nutritional Information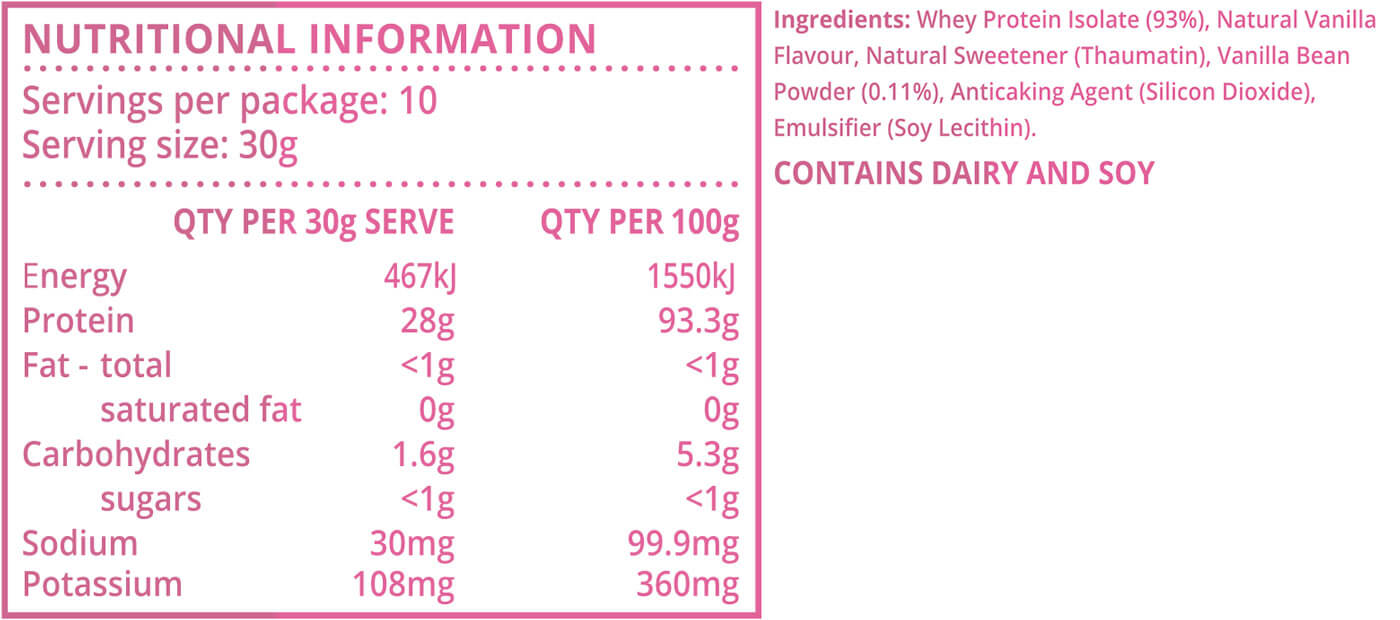 Energy Boosting Super Greens in detail
Specifically designed for busy mums, the Healthy Mummy SUPER GREENS supplement is here to help boost your energy and support your immune system.
The power-packed powder contains over 37 whole food ingredients in an easily digestible & nutritional formula, combining real food sources to deliver a powerful blend of nutrients to give tired mums the energy they need.
They're also safe for use in breastfeeding and free from preservatives.
Healthy Mummy Super Greens powder is the culmination of extensive research and development. The combination of natural ingredients are designed to provide a range of vitamins, minerals and phytonutrients. These include Spirulina, Flaxseed, Pea Protein, Organic Barley Grass, Chlorella, Chia, Goji Berry, Kale, Spinach, Mushroom Powder and Dandelion to name but a few.
Learn more about the benefits of Super Greens here
Healthy Mummy Super Greens contains:
More IRON than 12 cups of Spinach!
The Vitamin C equivalent of 1.4 kilograms of Oranges!
56 x more Vitamin B12 than a beef steak!
The calcium equivalent to one litre of milk.
AND it TASTES delicious!!
What makes Super Greens different?
It's safe for use in breastfeeding
The unique blend of ingredients has been designed to help boost energy in tired mums
It contains over 37 quality superfood ingredients. It contains probiotics, vitamins, minerals, antioxidants, essential fatty acids and fibre.

It contains alkaline superfoods rich in nutrients designed specifically for busy mums

It's great tasting with a slight cranberry taste and tastes good enough to be drunk with water.