The Healthy Mummy Protein Essentials Pack includes products for your everyday use.
1 x Healthy Mummy Smoothie tub
1 x Protein Powder
1 x Power Bars Choc-Cherry (box of 10)
How can Healthy Mummy Smoothies benefit you?
Our meal-replacement Smoothies have been formulated by leading nutritionists to be the perfect companion to a busy mum's life when trying to lose weight.
They're breastfeeding-friendly! 
20 serves per 500g tub.
Healthy Mummy Smoothies are an excellent source of essential vitamins, minerals, nutrients & important antioxidants
They don't contain weight loss accelerants, caffeine, gluten and are dairy-free. They are also a non-Genetically Modified product.
They can help with weight management when used as part of a diet & exercise plan
They provide the best possible nutrition for energy
They're breastfeeding-safe and are designed to help to support milk supply
They're 96% sugar free and do not contain added fructose
They're low GI & high fibre which helps you feel fuller for longer and aids digestion
They're quick and easy to prepare and taste delicious
They're high in protein & lower in sugar than any other product on the market – see a comparison table.
Want more information?
See the AMAZING results from our Healthy Mummy Smoothies
The owners of  The Healthy Mummy shall have no liability or responsibility to any person or entity with respect to any loss or damage caused, or alleged to be caused, directly or indirectly by the information contained herein.
If your baby suffers from colic, has allergies, has any digestive issues or any illness, we advise discussing any diet plan with your Doctor as certain foods may exacerbate the problem. 
When introducing any new food into your diet, we advise being alert to any food sensitivity in your baby such as a change in bowel movements and discontinuing any new diet plan if any food sensitivity occurs.
Please only begin any exercise routine post birth after receiving the all clear from your Doctor or Physio and never put any pressure on yourself to do exercise before you are 100% recovered post birth – which could up to 12 months or more if you have had a difficult birth.
Protein Powder in Detail
Choose from Chocolate or Vanilla Protein Powder
Our Healthy Mummy protein is an AWESOME source of high-quality whey protein with over 26g of protein per serve.
Our chocolate whey protein powder is:
High-quality whey protein from grass-fed cows
90-93% whey protein
Breastfeeding friendly
99.9% sugar-free
Low sodium
No artificial sweeteners or flavours
Hormone free
GMO-free
Directions
Simply mix 30g of Chocolate Protein Powder with water, it's super easy to make.
The powder is also ideal for adding into smoothies for an extra protein hit and is great for baking with too.
Nutritional Information
Nutritional Information – Chocolate

Nutritional Information – Vanilla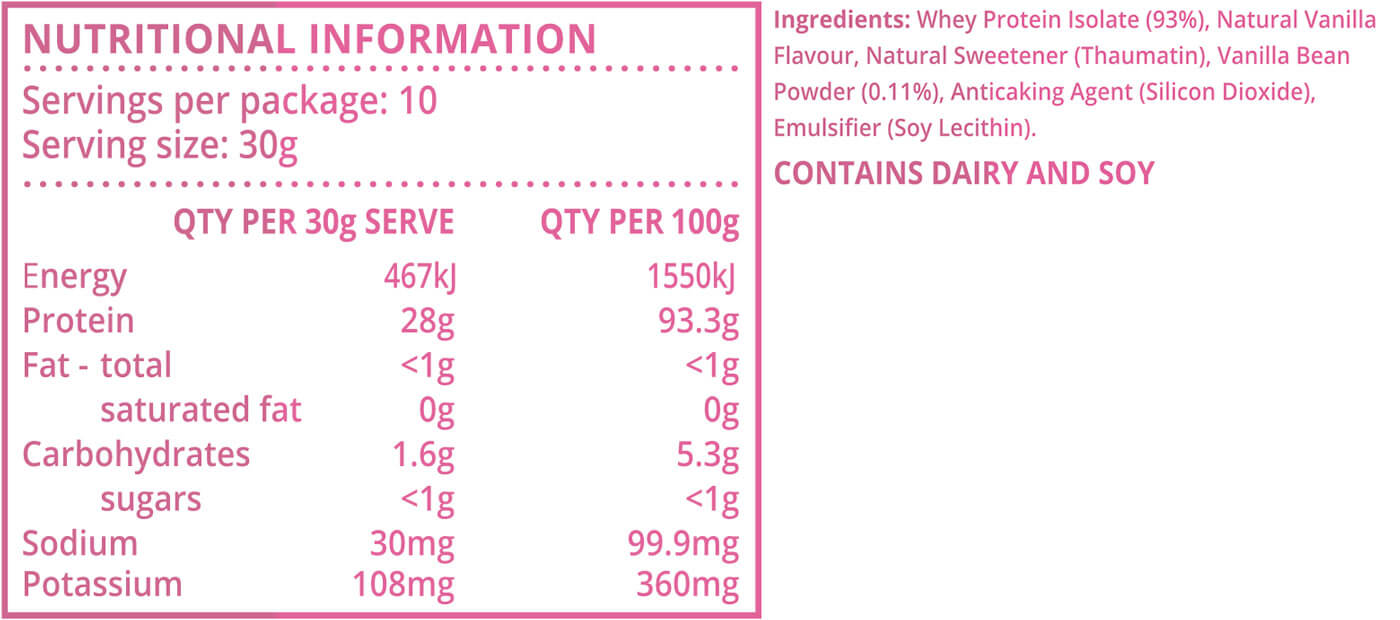 About the POWER Bars
The Healthy Mummy Power Bar is a delicious and nutritious snack bar that contains protein and a good source of your daily fibre.
The Healthy Mummy power bar is made with specially selected whole foods and is a breastfeeding friendly product.
It is designed as a convenient snack bar that can replace one of your daily snacks and they come in a value and convenient box of ten.
The Power Bars come in a box of 10 power bars (45g each) and are great protein & energy boosting snack for when you are on the run!
5.2g Natural Protein
No artificial colours and flavours
3.1  Fibre
Low Sodium
GMO Free
212.8 calories per 45g bar
The bars are made in Australia and ingredients are sourced from local and overseas ingredients.
Allergy information
The Healthy Mummy Power Bars contain dairy, soy and nuts. It does not contain gluten ingredients but has not undergone gluten free testing for us to make the packaging claim.
Saturated Fat
The type of saturated fat in the Power Bars is from Coconut and is Medium Chain Triglycerides (also known as MCT's). MCT is the main form of fat in coconut making up at least 50% of the total fat content.
The benefits of MCTs as opposed to other types of saturated fats include the following:
MCTs are more rapidly absorbed by the body and more quickly metabolised (burned) as fuel.
MCTs are very efficiently converted into fuel for immediate use by organs and muscles.
MCTs have anti-aging properties such as promoting the development of ketones which is good for the ageing brain.
MCTs have been shown to suppress appetite.
More flavours
MORE flavours will be coming in the future and we are very excited about this new range of Healthy Mummy products and we are working on lots of variants for the future – including dairy and nut free further down the track.