About this product
The pack contains:
1 x Choc Caramel Protein Ball Mix
1 x Pink Resistance Bands
1 x Protein Powder – Vanilla
1 x Apple Cider Vinegar Tablets
Choc-Caramel Protein Ball Mix in detail
The Healthy Mummy Choc-Caramel Protein Ball Mix is super easy to make and the balls taste delicious! 
Our Choc-Caramel Protein Ball Mix is an all-natural and delicious ball with whole food ingredients for a morning buzz, a late afternoon fix or a healthy snack.
Specifically designed for busy mums, The Healthy Mummy's protein balls are easy-to-make with no baking required. With 3g of protein per ball, wholegrain ingredients, whey protein, coconut flour and cacao nibs, they're a delicious treat that'll help you through the day, the healthy way.
All-natural. Nutritious. Delicious. Fun. Honest.
What makes them so great?
Specifically formulated for Busy Mums

Safe for use whilst Breastfeeding

Free from artificial flavours or colours

Delicious Choc-caramel flavour

Whole food ingredients

3g of protein per ball*

Makes 15 balls*

Compact and easy to carry, for mums on the run

Enjoy as a morning boost, a late afternoon fix or a healthy snack

No blender required

No baking required – these balls are ready in 7 easy steps!
Nutritional Information
Prep time: 20 minutes. No baking required.
Pink Resistance Bands in detail
Strengthen and tone your body with our  PINK Healthy Mummy Resistance Bands.
Our 5 pack of resistance bands in various resistance levels are portable, easy to use and excellent for working out and stretching anytime and anywhere.
Width 2" (51cm)
Length: 10" (254mm)
Resistance Levels
What is included:
Travel pouch – Making them super easy to keep together and take anywhere
5 resistance bands, each with different levels of resistance. 
Vanilla Protein Powder in detail
Our Healthy Mummy protein is an AWESOME source of high quality whey protein with 28 grams per serve and is a whopping 93% whey protein!
This high quality protein powder is breastfeeding friendly and comes from grass fed cows. It is ideal for adding into smoothies for an extra protein hit and is also great for baking with.
Our whey protein powder is:
93% whey protein from grass-fed cows
Hormone Free
GMO Free
Breastfeeding friendly
Low sodium
No artificial sweeteners or flavours
99.9% sugar free
Directions for use 
Nutritional Information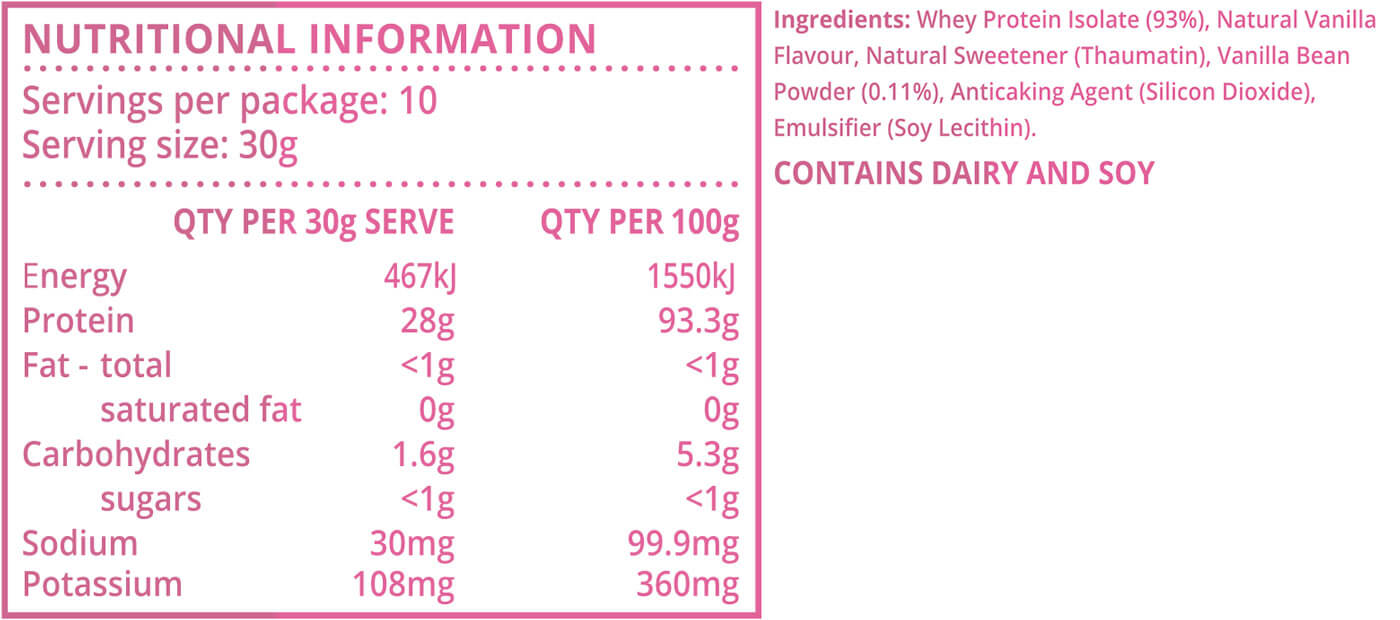 Apple Cider Vinegar Tablets in detail
Apple Cider Vinegar Tablets are Gut Friendly and Taste Friendly.  
The Healthy Mummy's Apple Cider Vinegar is a convenient once-daily serving without the tang of liquid versions.  Containing 120mg of acetic acid per serve, this convenient once-daily tablet is a teeth and taste friendly way to get your daily dose of apple cider vinegar!
Why we love it
Contains "The Mother"
Tang-free
Gentle on teeth
Gentle on taste buds

Nutritional Information
60 tablets per pack
How to enjoy
Take once daily before a meal