What's included? 
Protein Powder – Choose from Chocolate and Vanilla
Choc Cherry Snack Bars
Choc-Caramel Protein Balls
Protein Powder
Our Healthy Mummy protein is an AWESOME source of high quality whey protein with 28 grams per serve and is a whopping 93% whey protein!
This high quality protein powder is breastfeeding friendly and comes from grass fed cows. It is ideal for adding into smoothies for an extra protein hit and is also great for baking with.
Our whey protein powder is:
93% whey protein from grass-fed cows
Hormone Free
GMO Free
Breastfeeding friendly
Low sodium
No artificial sweeteners or flavours
99.9% sugar free
Use it in your smoothies or use in baking
Nutritional Information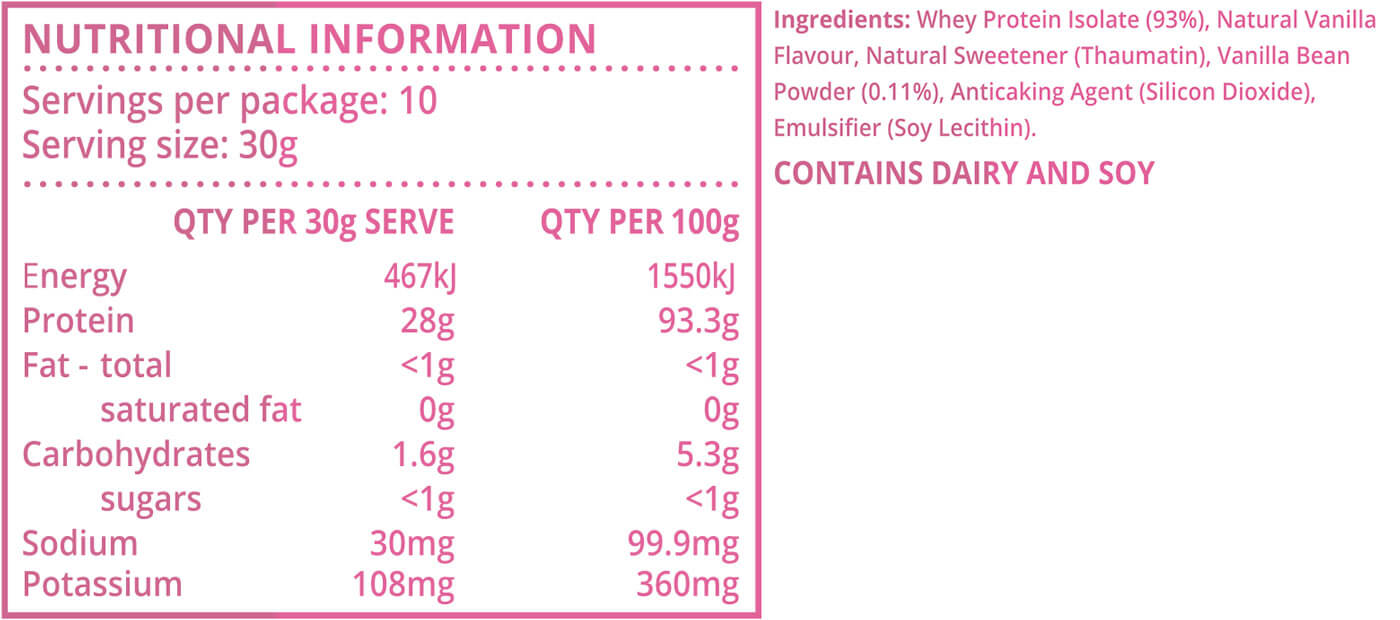 The Healthy Mummy Protein Snack Bars
The Healthy Mummy Snack Bars are a delicious and nutritious snack that contains protein and an excellent source of your daily fibre. The snack bars are made with specially selected whole food ingredients and are breastfeeding friendly.
The bars are designed as a convenient snack bar that can replace one of your daily snacks.
We have x2 delicious snack bar flavours. All of them taste absolutely amazing! Choose from:
The Snack Bars come in a box of 10 snack bars (45g each) and are great protein snack for when you are on the run!
Excellent source of fibre
Good source of natural protein
Less than 220 calories per 45g bar
No artificial colours, flavours or preservatives
Low sodium
GMO free
Choc-Caramel Protein Ball Mix
The Healthy Mummy Choc-Caramel Protein Ball Mix is super easy to make and they taste delicious! 
Our Choc-Caramel Protein Ball Mix is an all-natural and delicious ball with whole food ingredients for a morning buzz, a late afternoon fix or a healthy snack.
Specifically designed for busy mums, The Healthy Mummy's protein balls are easy-to-make with no baking required. With 3g of protein per ball, wholegrain ingredients, whey protein, coconut flour and cacao nibs, they're a delicious treat that'll help you through the day, the healthy way.
All-natural. Nutritious. Delicious. Fun. Honest.
What makes them so great?
Specifically formulated for BUSY MUMS

Safe for use whilst BREASTFEEDING

No nasties.  Free from artificial flavours or colours

Delicious Choc-caramel flavour

Whole food ingredients

3g of protein per ball*

Makes 15 balls*

Compact and easy to carry, for mums on the run

Enjoy as a morning boost, a late afternoon fix or a healthy snack

No blender required
No baking required – these balls are ready in 7 easy steps!
Nutritional Information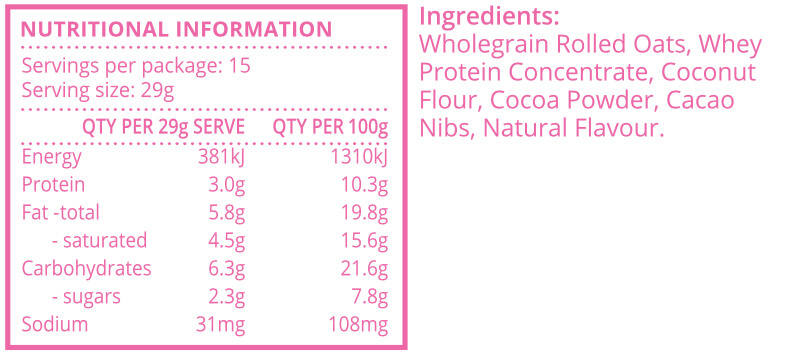 How to make
You will need:
Choc Caramel Protein Ball Mix
3 tbsp Rice Malt Syrup
3 tbsp Coconut Oil
2/3 cup boiling water
Method:
Step 1: Pour mixture into a large bowl
Step 2: Heat rice malt syrup and coconut oil in microwave until bubbling.
Step 3: Add rice malt syrup and coconut oil to the mixture and stir through evenly
Step 4: Add 1 cup of boiling water to the mixture and stir well
Step 5: All mix to stand and cool for 15 minutes
Step 6: Roll 1 tablespoon of mixture into a ball and roll in desiccated coconut until well covered.
Step 7: Place balls in an airtight container and refrigerate until ready to eat
Prep time: 20 minutes. No baking required.