SPECIAL DISCOUNT - Save $15 & Get Your TEN pack for $34.95!!
Our bars are costed at $4.95 each which is cheaper than most protein bars and contain much better natural ingredients.
And as a PRE-ORDER SPECIAL, we are offering 30% off and free Aussie Post - so it works out at actually $3.49 a bar.
Use code CHERRYPOWER at the checkout to buy your TEN PACK for $34.95
Pre orders will be sent out in October
About the POWER Bars
The Healthy Mummy Choc-Cherry Power Bar is a delicious and nutritious snack bar that contains protein and a good source of your daily fibre.
The Healthy Mummy power bar is made with specially selected whole foods and is a breastfeeding friendly product.
It is designed as a convenient snack bar that can replace one of your daily snacks and they come in a value and convenient box of ten.
Our SECOND Power Bar flavour launch comes in Choc-Cherry flavour and TASTES AMAZING - you won't want to miss out on this AWESOME new product.
The Power Bars come in a box of 10 power bars (45g each) and are great protein & energy boosting snack for when you are on the run!
5.2g Natural Protein
No artificial colours and flavours
6.8  Fibre
Low Sodium
GMO Free
212.8 calories per 45g bar
Ingredients:
Organic Rice Malt, Cranberries, Organic Coconut, Almonds, Pepitas, Skim Milk, Chocolate (Contains 50% Cocoa Solids; Sugar, Cocoa Mass, Cocoa Butter, Emulsifier (Soy Lecithin), Milk Solids) (8.6%), Sesame Seeds, Cocoa Powder, Organic Tahini, Organic Cacao Butter, Cherry Flavour Powder.
The bars are made in Australia and ingredients are sourced from local and overseas ingredients.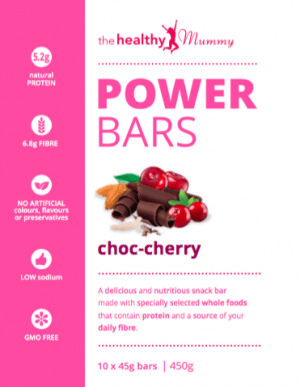 Allergy information
The Healthy Mummy Power Bars contain dairy, soy and nuts. It does not contain gluten ingredients but has not undergone gluten free testing for us to make the packaging claim.
Saturated Fat
The type of saturated fat in the Power Bars is from Coconut and is Medium Chain Triglycerides (also known as MCT's). MCT is the main form of fat in coconut making up at least 50% of the total fat content.
The benefits of MCTs as opposed to other types of saturated fats include the following:
MCTs are more rapidly absorbed by the body and more quickly metabolised (burned) as fuel.
MCTs are very efficiently converted into fuel for immediate use by organs and muscles.
MCTs have anti-aging properties such as promoting the development of ketones which is good for the ageing brain.
MCTs have been shown to suppress appetite.
More flavours
MORE flavours will be coming in the future and we are very excited about this new range of Healthy Mummy products and we are working on lots of variants for the future - including dairy and nut free further down the track.