Out & about Contains:
1x Canvas Tote Bag
1x 2l Water Bottle
1x Vanilla Protein Powder
1x Snack Bars
1x Smoothie Shaker
1x Healthy Mummy Smoothie
1x Meals in 15 minutes or less eBook
Canvas Tote Bag in Detail
Due to the HUGE popularity of our Black & White Tote bags, we now offer them in Pink & White!
These AMAZING Healthy Mummy Carry Bags are perfect to carry all those necessities!
They're made from durable canvas and fully lined with a handy zip pocket on the inside. 
Size: 60cm Length x 38.5cm Height x 15cm Side.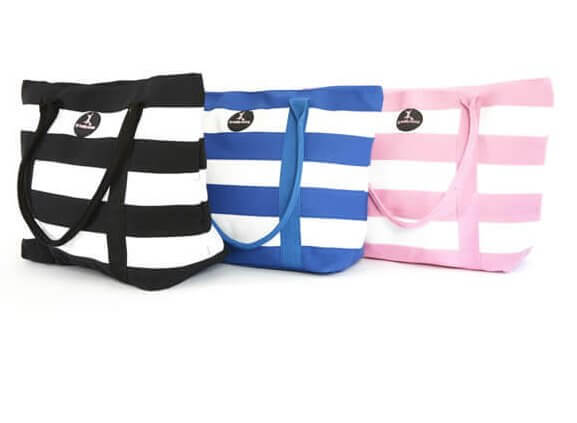 2l Water Bottle in Detail
Stay hydrated with The Healthy Mummy 2 Litre drink bottle. A great way to ensure you drink your 2 litres of water per day and perfect for those hot summer days. Track how much water you have consumed with the measurement markers on the side of the bottle.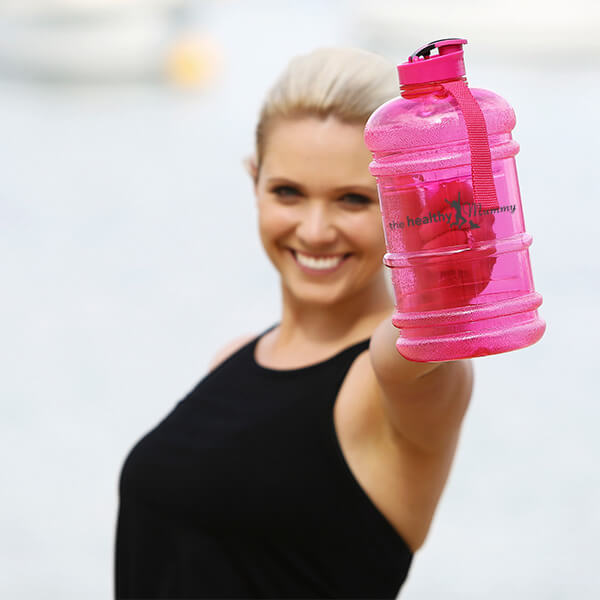 Features:
Easy flip lid
Durable and BPA free
Measurement markers of the side of the bottle for easy water consumption tracking
Carry handle for easy use plus a convenient carry strap
THIS IS NOT SUITABLE FOR THE DISHWASHER
Vanilla Protein Powder in Detail
Our Healthy Mummy protein is an AWESOME source of high quality whey protein with 28 grams per serve and is a whopping 93% protein!
This high quality protein powder is breastfeeding friendly and comes from grass fed cows. It is ideal for adding into smoothies for an extra protein hit and is also great for baking with.
It comes in a Vanilla flavour and is 99.9% sugar free and contains no added sugars or artificial sweeteners or flavours.
Our whey protein powder is:
Hormone Free
GMO Free
Breastfeeding friendly
Comes from grass fed cows
Low sodium
99.9% Sugar Free
Use it in your smoothies or use in baking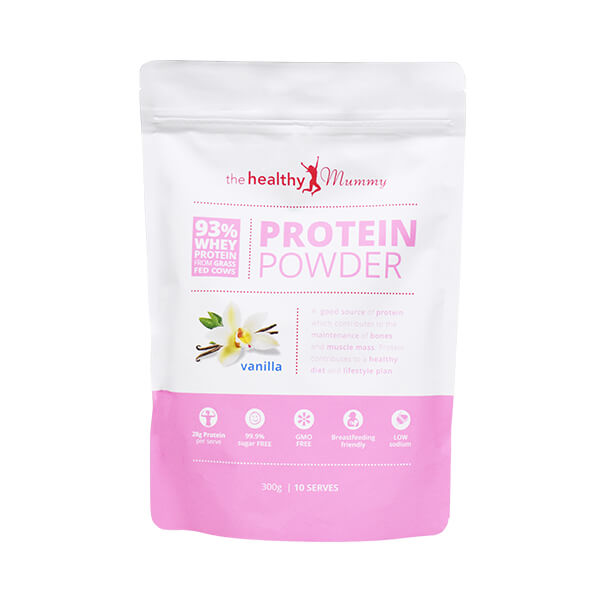 Snack Bars 10 Pack in Detail
Our all natural snack bars are costed at $4.95 each which is cheaper than most protein bars and contain much better natural ingredients.
About the Healthy Mummy Protein SNACK Bars
The Healthy Mummy Snack Bar is a delicious and nutritious snack bar that contains protein and a good source of your daily fibre.
The Healthy Mummy Snack Bar is made with specially selected whole foods and is a breastfeeding friendly product.
It is designed as a convenient snack bar that can replace one of your daily snacks and they come in a value and convenient box of ten.
Choose from both our amazing flavours!
The Snack Bars come in a box of 10 (45g each) and are great protein & energy boosting snack for when you are on the run!
The bars are made in Australia and ingredients are sourced from local and overseas ingredients.
Allergy information
The Healthy Mummy Snack Bars contain dairy, soy and nuts. It does not contain gluten ingredients but has not undergone gluten free testing for us to make the packaging claim.
Saturated Fat
The type of saturated fat in the Snack Bars is from Coconut and is Medium Chain Triglycerides (also known as MCT's). MCT is the main form of fat in coconut making up at least 50% of the total fat content.
The benefits of MCTs as opposed to other types of saturated fats include the following:
MCTs are more rapidly absorbed by the body and more quickly metabolised (burned) as fuel.
MCTs are very efficiently converted into fuel for immediate use by organs and muscles.
MCTs have anti-aging properties such as promoting the development of ketones which is good for the ageing brain.
MCTs have been shown to suppress appetite.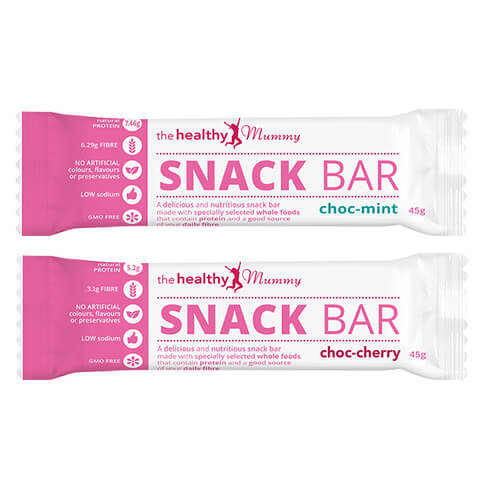 NEW Coloured Smoothie Shaker in Detail
Check out our NEW 4 Colours in the Healthy Mummy Shaker range!
Choose your colour & quantity.
Our Healthy Mummy Smoothie Shakers contain a clever shaker ball that helps dissolve the Healthy Mummy Smoothie Mix, leaving your smoothie the perfect texture!
They're great for an arm workout too!
Our Smoothie Shakers can hold 700ml, are BPA FREE and have a cool grip panel so won't slip out of your hands.
Please note - Logo may fade in the dishwasher.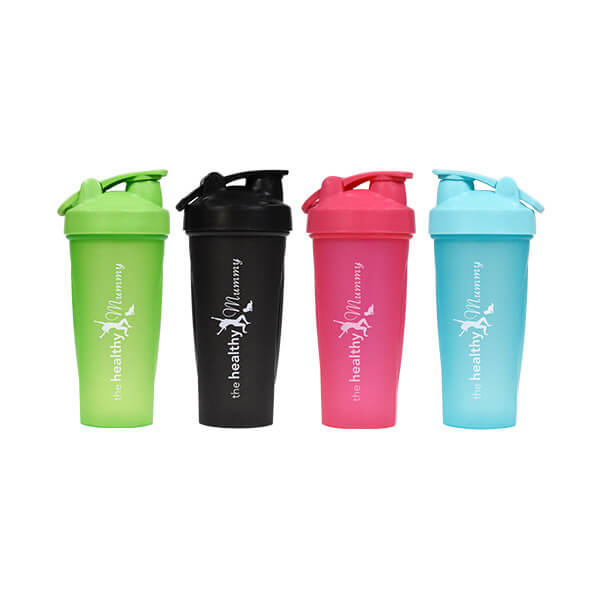 Healthy Mummy Smoothies in Detail
Meal replacement weight loss smoothies for mums
Our meal-replacement weight loss smoothies have been formulated by leading nutritionists to be the perfect companion to a busy mum's life when trying to lose weight. They're breastfeeding-friendly.
20 serves per 500g tub.
Available in: NEW & IMPROVED Chocolate flavour, Vanilla, Caramel, Coffee, Choc-Orange, Choc-Mint, Banana, Strawberry, Cookies & Cream and Raspberry Ripple .
Want more information.
How can Healthy Mummy Smoothies benefit you?
Healthy Mummy Smoothies are an excellent source of essential vitamins, minerals, nutrients & important antioxidants
They don't contain weight loss accelerants, caffeine, gluten and are dairy-free. They are also a non-Genetically Modified product.
They can help with weight management when used as part of a diet & exercise plan
They provide the best possible nutrition for energy
They're breastfeeding-safe and are designed to help to support milk supply
They're 96% sugar free and 100% fructose free
They're low GI & high fibre which helps you feel fuller for longer and aids digestion
They're quick and easy to prepare and taste delicious
They're high in protein & lower in sugar than any other product on the market – see a comparison table.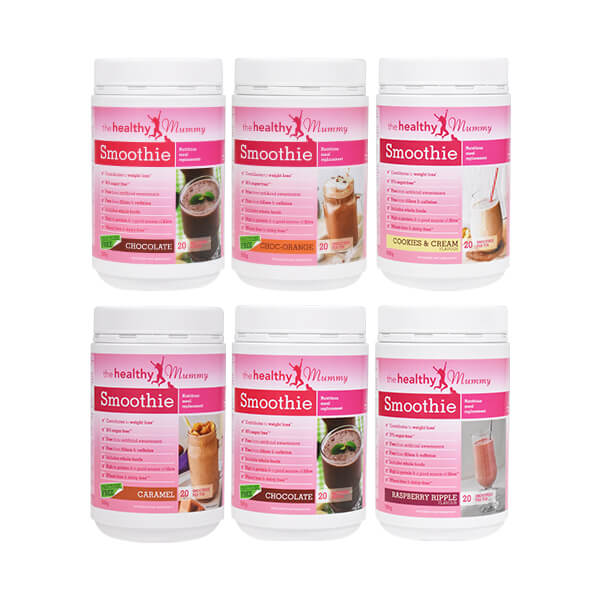 Meals in 15 Minutes or Less Cookbook eBook in Detail
Like you, we're busy mums who want to feed our families healthy meals, but are often too tired to spend ages in the kitchen at the end of each day, or simply don't have the time to spare!
This selection of healthy, family and budget friendly recipes has something for everyone, with meals to suit all tastes. They can all be prepared in under 15 minutes* and are easy to whip up when the family starts their impatient chorus of dinner demands.
Breakfast, lunches, dinners, snacks and healthy desserts are all covered in this cookbook – plus we've included plenty of tips to make meal-time preparation even faster.
We hope you love the speedy recipes we've created for you as much as we love them ourselves!
* 15 minute preparation doesn't include some baking/setting/cooking time.