The Smoothie and Snack Bar Pack Contains:
2 x Healthy Mummy Smoothies
1 x Snack Bars (box of 10)
Healthy Mummy Smoothies in Detail
Meal replacement weight loss smoothies for mums
Our meal-replacement weight loss smoothies have been formulated by leading nutritionists to be the perfect companion to a busy mum's life when trying to lose weight. They're breastfeeding-friendly.
20 serves per 500g tub.
Available in: NEW & IMPROVED Chocolate flavour, Vanilla, Caramel, Coffee, Choc-Orange, Choc-Mint, Banana, Strawberry, Cookies & Cream and Raspberry Ripple .
Want more information.
How can Healthy Mummy Smoothies benefit you?
Healthy Mummy Smoothies are an excellent source of essential vitamins, minerals, nutrients & important antioxidants
They don't contain weight loss accelerants, caffeine, gluten and are dairy-free. They are also a non-Genetically Modified product.
They can help with weight management when used as part of a diet & exercise plan
They provide the best possible nutrition for energy
They're breastfeeding-safe and are designed to help to support milk supply
They're 96% sugar free and 100% fructose free
They're low GI & high fibre which helps you feel fuller for longer and aids digestion
They're quick and easy to prepare and taste delicious
They're high in protein & lower in sugar than any other product on the market – see a comparison table.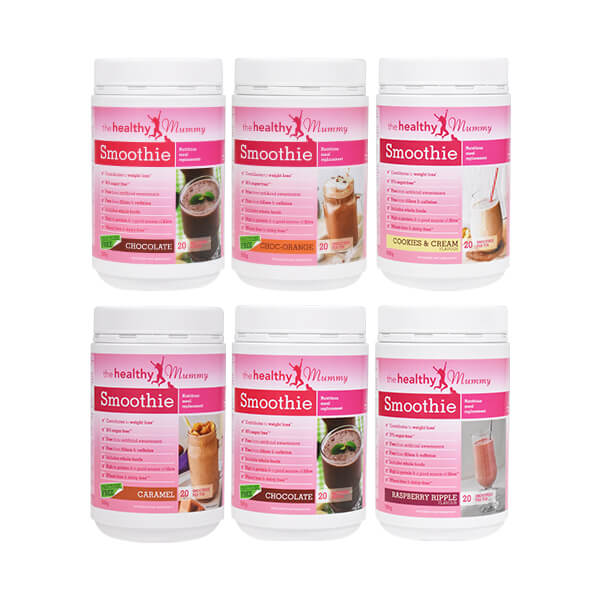 Snack Bars 10 Pack in Detail
Our all natural snack bars are costed at $4.95 each which is cheaper than most protein bars and contain much better natural ingredients.
About the Healthy Mummy Protein SNACK Bars
The Healthy Mummy Snack Bar is a delicious and nutritious snack bar that contains protein and a good source of your daily fibre.
The Healthy Mummy Snack Bar is made with specially selected whole foods and is a breastfeeding friendly product.
It is designed as a convenient snack bar that can replace one of your daily snacks and they come in a value and convenient box of ten.
Choose from both our amazing flavours!
The Snack Bars come in a box of 10 (45g each) and are great protein & energy boosting snack for when you are on the run!
The bars are made in Australia and ingredients are sourced from local and overseas ingredients.
Allergy information
The Healthy Mummy Snack Bars contain dairy, soy and nuts. It does not contain gluten ingredients but has not undergone gluten free testing for us to make the packaging claim.
Saturated Fat
The type of saturated fat in the Snack Bars is from Coconut and is Medium Chain Triglycerides (also known as MCT's). MCT is the main form of fat in coconut making up at least 50% of the total fat content.
The benefits of MCTs as opposed to other types of saturated fats include the following:
MCTs are more rapidly absorbed by the body and more quickly metabolised (burned) as fuel.
MCTs are very efficiently converted into fuel for immediate use by organs and muscles.
MCTs have anti-aging properties such as promoting the development of ketones which is good for the ageing brain.
MCTs have been shown to suppress appetite.