SAVE  45% OFF – discount already applied on this Pack – all other coupon codes do not apply.
The Mum & Bub Tummy Pack includes:
Tummy
Smoothie
Smoothie Shaker
Kids Smoothie
Kids Yellow Shaker
Drinking Chocolate
Tummy
The Healthy Mummy TUMMY  is here to aid digestion and reduce bloating naturally. A nutritious formula with organic herbs, Omega-rich sources of fibre and probiotics which assist with gastrointestinal health and bloating. Nourish your tummy naturally. Yummy CHOC-CHAI flavoured.

13 serves per pack.
Why is our TUMMY supplement different?
It is breastfeeding friendl

y

Full of PROBIOTICS that help to balance the friendly bacteria in your digestive system
Contains inulin which is a powerful probiotic scientifically proven to support bone health and aid immune system function
Superfood enriched – contains superfood ingredients including Chai Seeds and Flax seeds
Reduces bloating and aids digestion NATURALLY 
A VEGETARIAN-friendly product. Free from dairy and preservatives. There are no animal sourced ingredients added during manufacture
GMO-free
High in omega 3, probiotics and organic ingredients
Delicious Choc-Chai flavour
Can be used in conjunction with other Healthy Mummy products such as Smoothie & Super Greens
How to use it?
Mix 7.5g (1.5 teaspoon) per day into a glass of water or juice. Take once daily.
Nutritional Info & Ingredients
Vitamins & Benefits
Probiotics – Lactobacillus acidophilus contributes to gastrointestinal health. Lactobacillus acidophilus and Bifidobacterium lactis contribute to the maintenance of beneficial gastrointestinal microflora. Bifidobacterium lactis contributes to gastrointestinal health and immune function.
Fibre – A source of dietary fibre which contributes to regular laxation
Omega-3 – A source of omega-3 fatty acids (healthy fats).
Calming herbs

 

– to help soothe the body, mind and tummy.
Smoothie
How can Healthy Mummy Smoothies benefit you?
Our meal-replacement Smoothies have been formulated by leading nutritionists to be the perfect companion to a busy mum's life when trying to lose weight.
They're breastfeeding-friendly!
20 serves per 500g tub.
Healthy Mummy Smoothies are an excellent source of essential vitamins, minerals, nutrients & important antioxidants
They don't contain weight loss accelerants, caffeine, gluten and are dairy-free. They are also a non-Genetically Modified product.
They can help with weight management when used as part of a diet & exercise plan
They provide the best possible nutrition for energy
They're breastfeeding-safe and are designed to help to support milk supply
They're 96% sugar free and do not contain added fructose
They're low GI & high fibre which helps you feel fuller for longer and aids digestion
They're quick and easy to prepare and taste delicious
They're high in protein & lower in sugar than any other product on the market
Smoothie Shaker
Check out our NEW 4 Colours in the Healthy Mummy Shaker range!
Choose your colour & quantity.
Our Healthy Mummy Smoothie Shakers contain a clever shaker ball that helps dissolve the Healthy Mummy Smoothie Mix, leaving your smoothie the perfect texture!
They're great for an arm workout too!
Our Smoothie Shakers can hold 700ml, are BPA FREE and have a cool grip panel so won't slip out of your hands.
Please note – Logo may fade in the dishwasher.
Kids Smoothie
The Healthy Kids Smoothies have been specially made as a healthy snack for kids and is ideal if you have fussy eaters or want to ensure your children have a nutritious and healthy smoothie snack. It also has a 4.5 Health Star Rating when made with skim milk. It contains NO added sugars
The sugar content in The Healthy Kids Smoothie is from NATURAL sugars from the lactose in the milk and is FREE from added sugars. WHO recommend aiming for 5% added sugars in the diet and this product provides NO added sugar
The Healthy Mummy Kids Smoothie is rich in carbohydrates and protein and is a natural energy packed smoothie made for kids.

It contains 16 essential vitamins and minerals and when combined with milk, provides children with 50% of their Calcium RDI. 

It also contains probiotics needed for healthy guts and is free from fructose.
What do you need to know about The Healthy Kids Smoothie
It is a nutritious Snack made for kids

It contains probiotics

It contains 16 Vitamins and minerals

It contains NO artificial colours, flavours or preservatives

It is rich in protein

It is fructose free

It contains NO added sugar
Directions 
Mix 10g with 250ml of milk. 

Tip – make into a thick smoothie by adding 1/2 a banana or fruit/vegetable of choice and blend until smooth
Please note that we do not recommend this product for children under 1 years of age and it is not intended as a toddler formula replacement. It is intended as a healthy snack for kids which is full of great nutrition.
Kids Yellow Shaker
The Healthy Mummy community asked …..and HERE IT IS!
Check out our NEW Healthy Kids Yellow Shaker!
Our Healthy Kids Smoothie Shakers contain a clever shaker ball that helps dissolve the Healthy Kids Smoothie Mix, leaving your smoothie the perfect texture! Now your kids will stop using your Healthy Mummy Smoothie Shaker as they have one of their own.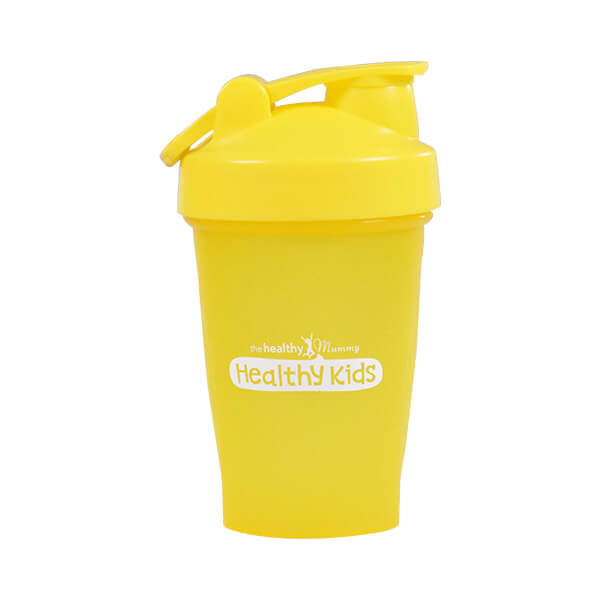 Our Kids Smoothie Shakers can hold 400ml, are BPA FREE and have a cool grip panel so won't slip out of little hands.
Please note – Logo not suitable for dishwasher
Drinking Chocolate
Did you know that traditional drinking chocolate or hot chocolate can have up to 80% sugar in?
The GOOD NEWS is that we have created The Healthy Mummy Drinking Chocolate with NO added sugar and with lots of additional nutrients in – so as well as tasting AMAZING – it is actually good for you.
It's rich, chocolatey and so delicious. AND ONLY 170 Kilojoules (40 Calories) per serve.
Please note that the sugars in the drinking chocolate come from natural sugar in the lactose (dairy).
Have it hot or cold – it is absolutely DELICIOUS and will curb any chocolate cravings in one go!
Ingredients: Full cream milk powder, Skim milk powder, Organic Cocoa powder, Magnesium phosphate, Natural Flavours, Calcium carbonate, Natural sweetener (Thaumatin), Calcium carbonate, Ascorbic acid (Vit C), d-alpha-tocopheryl acid succinate (Vit E), Zinc oxide,
It comes with a 5 STAR Health Rating too.