The Mini Exercise Pack is the perfect way to kickstart your weight loss. The pack is crammed FULL of exciting products that will help you move those unwanted kilos and get you healthier and happier! 
What's in the box?
The #NOEXCUSES singlet comes in 2 colours – choose from black with white text or lime green with silver text. The black is our more traditional singlet colour whereas the lime green fits in with current fashion trends. With this awesome singlet there is NO EXCUSE not to get out there and exercise!
Sizing
12 – SMALL
14 – MEDIUM
18 – LARGE
20 – EXTRA LARGE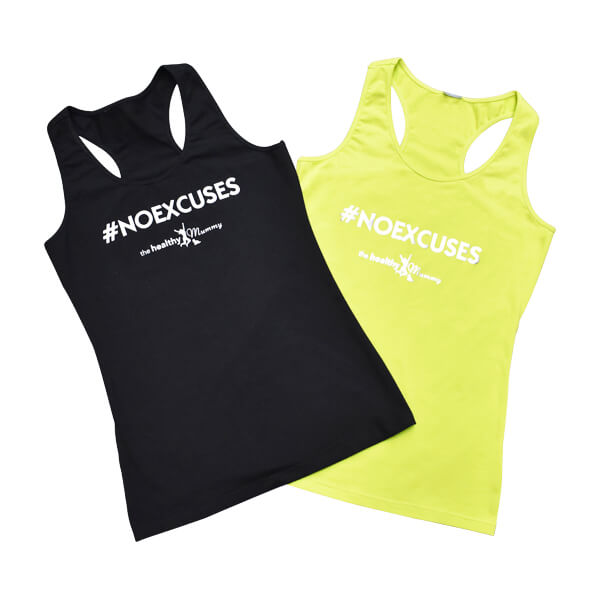 Strengthen and tone your body with our NEW PINK Healthy Mummy Resistance Bands.
Our 5 pack of resistance bands in various resistance levels are portable, easy to use and excellent for working out and stretching anytime and anywhere.
Width 2" (51cm)
Length: 10" (254mm)
Resistance Levels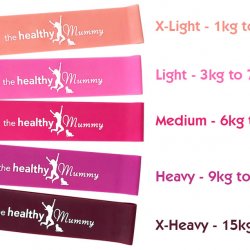 What is included:
Travel pouch – Making them super easy to keep together and take anywhere
5 resistance bands, each with different levels of resistance.
Please Note

The X-Light and Lights

 bands are quite thin for their level of resistance, they shouldn't be stretched more than 2 times their length, as this could cause the bands to snap.

Bands shouldn't be looped around any sharp surfaces.
The Healthy Mummy visor is brilliant for working out on those hot summer days, it keeps your face in the shade whilst letting your head breath. The visor is black with The Healthy Mummy logo embroidered in pink.
One size fits all.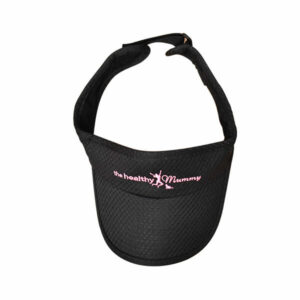 Healthy Mummy Smoothie – Choose x2 from our 8 delicious flavours
Our meal-replacement Smoothies have been formulated by leading nutritionists to be the perfect companion to a busy mum's life. Choose the flavour to be included in your box. The smoothies have no added fructose and contain no artificial colours or preservatives. They are high in protein and fibre and are recommended by 9/10 mums PLUS they are DELICIOUS. They are also Australian made in Byron Bay!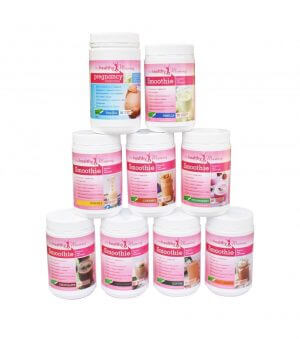 Healthy Mummy Vanilla Whey Protein Powder  
Our Healthy Mummy protein is an AWESOME source of high-quality whey protein with 28 grams per serve and is a whopping 93% protein! This high-quality protein powder is breastfeeding friendly and comes from grass-fed cows. It is ideal for adding to smoothies for an extra protein hit and is also great for baking with. It comes in a Vanilla flavour and is 99.9% sugar-free and contains no added sugars or artificial sweeteners or flavours!
Our whey protein powder is:
Hormone free
GMO free
Breastfeeding friendly
Comes from grass-fed cows
Low sodium
99.9% sugar-Free