The MEGA Queen Pack includes:
1x Smoothie (choose flavour)
1x Drinking Chocolate
1x Resistance Bands (multicoloured)
1x Super Greens
1x Protein Powder
1x Immune Powder
1x Double Choc Snack Bars (10 pack)
1x Metabolism Support Formula
1x Kids Smoothie (choose flavour)
Healthy Mummy Smoothie
Our meal-replacement weight loss smoothies have been formulated by leading nutritionists to be the perfect companion to a busy mum's life when trying to lose weight. They're breastfeeding-friendly.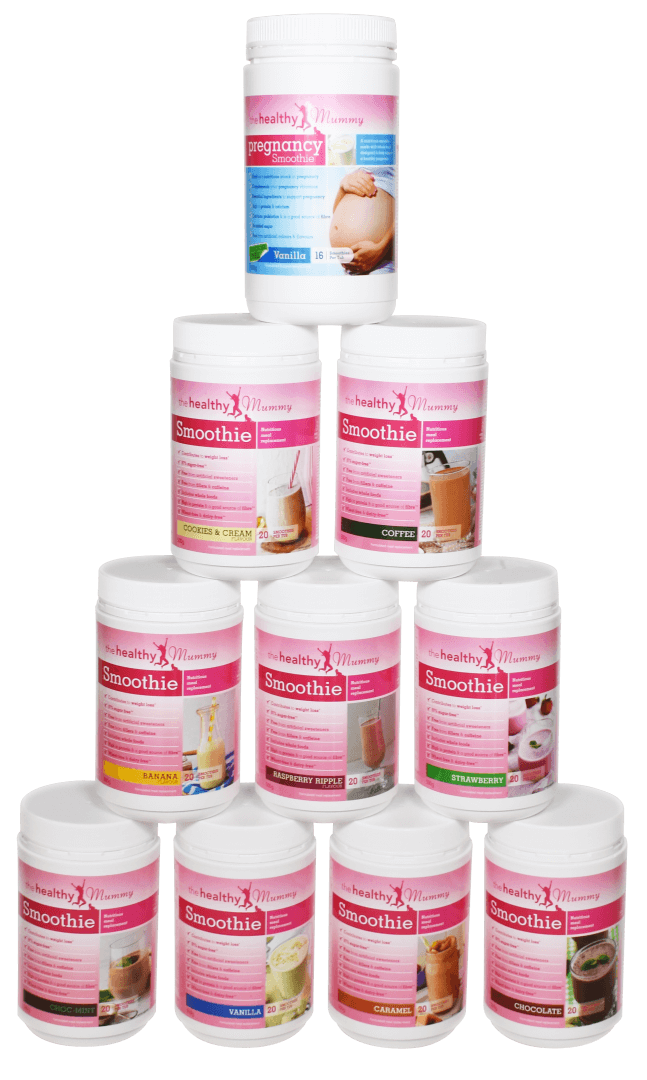 20 serves per 500g tub.
Available Flavours: Chocolate, Vanilla, Caramel, Coffee, Choc-Mint, Banana, Strawberry, Cookies & Cream, Salted Caramel and Raspberry Ripple .
We also have Pregnancy Smoothies.
Drinking Chocolate
Did you know that traditional drinking chocolate or hot chocolate can have up to 80% sugar in?
The GOOD NEWS is that we have created The Healthy Mummy Drinking Chocolate with NO added sugar and with lots of additional nutrients in – so as well as tasting AMAZING – it is actually good for you.
It's rich, chocolatey and so delicious. AND ONLY 170 Kilojoules (40 Calories) per serve.
Please note that the sugars in the drinking chocolate come from natural sugar in the lactose (dairy).
Have it hot or cold – it is absolutely DELICIOUS and will curb any chocolate cravings in one go!
Ingredients: Full cream milk powder, Skim milk powder, Organic Cocoa powder, Magnesium phosphate, Natural Flavours, Calcium carbonate, Natural sweetener (Thaumatin), Calcium carbonate, Ascorbic acid (Vit C), d-alpha-tocopheryl acid succinate (Vit E), Zinc oxide,
It comes with a 5 STAR Health Rating too.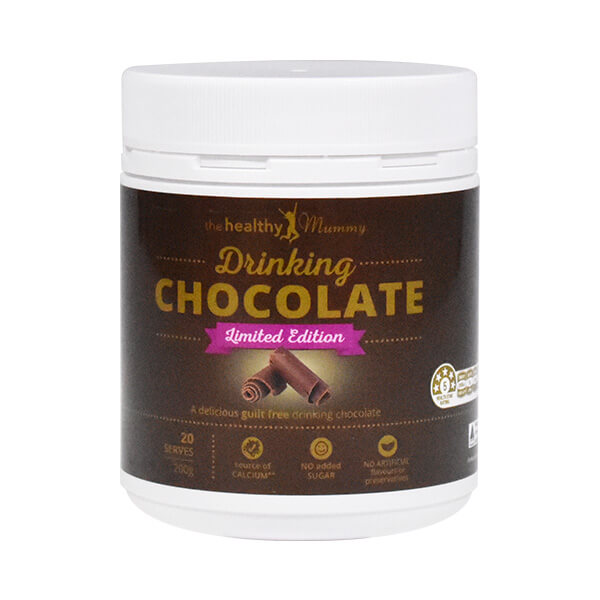 Resistance Bands
Strengthen and tone your body with our Healthy Mummy Resistance Bands.
Our 5 pack of resistance bands in various resistance levels are portable, easy to use and excellent for working out and stretching anytime and anywhere.
What is included:
Travel pouch. Making them super easy to keep together and take anywhere
5 resistance bands, each with different levels of resistance – Yellow (X-Light), Red (Light), Green (Medium), Blue (Heavy), Black  (X-Heavy).
Width 2" (51cm)
Length: 10" (254mm)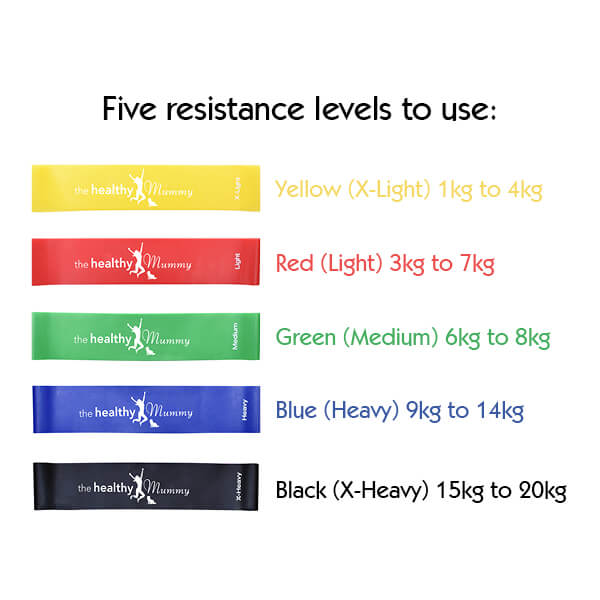 Please Note
The light bands 
(yellow and red) as these bands are quite thin for their level of resistance, they shouldn't be stretched more than 2 times their length, as this could cause the bands to snap.
Bands shouldn't be looped around any sharp surfaces.
Super Greens
More IRON than 12 cups of Spinach!
The Vitamin C equivalent of 1.4 kilograms of Oranges!
56 x more Vitamin B12 than a beef steak!
the calcium equivalent to one litre of milk.
AND it TASTES delicious!!
A vegan-friendly product. Free from dairy, gluten and preservatives.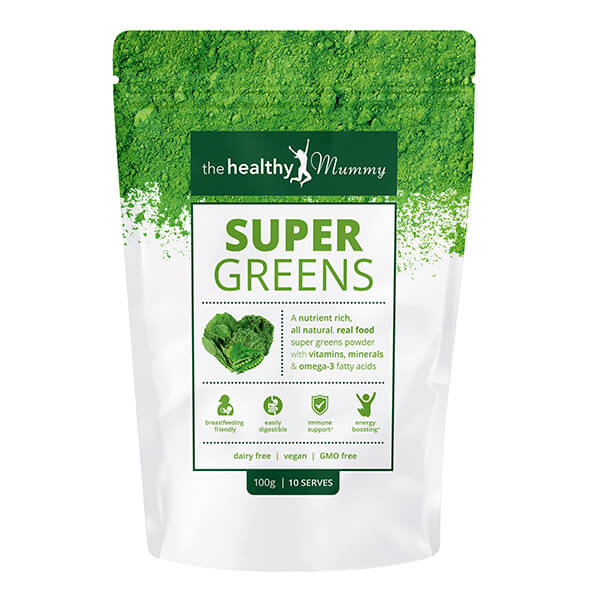 Choose from Chocolate or Vanilla Protein Powder
Our Healthy Mummy protein is an AWESOME source of high-quality whey protein with over 26g of protein per serve.
Our chocolate whey protein powder is:
High-quality whey protein from grass-fed cows
90-93% whey protein
Breastfeeding friendly
99.9% sugar-free
Low sodium
No artificial sweeteners or flavours
Hormone free
GMO-free
Directions
Simply mix 30g of Chocolate Protein Powder with water, it's super easy to make.
The powder is also ideal for adding into smoothies for an extra protein hit and is great for baking with too.
Nutritional Information
Nutritional Information – Chocolate

Nutritional Information – Vanilla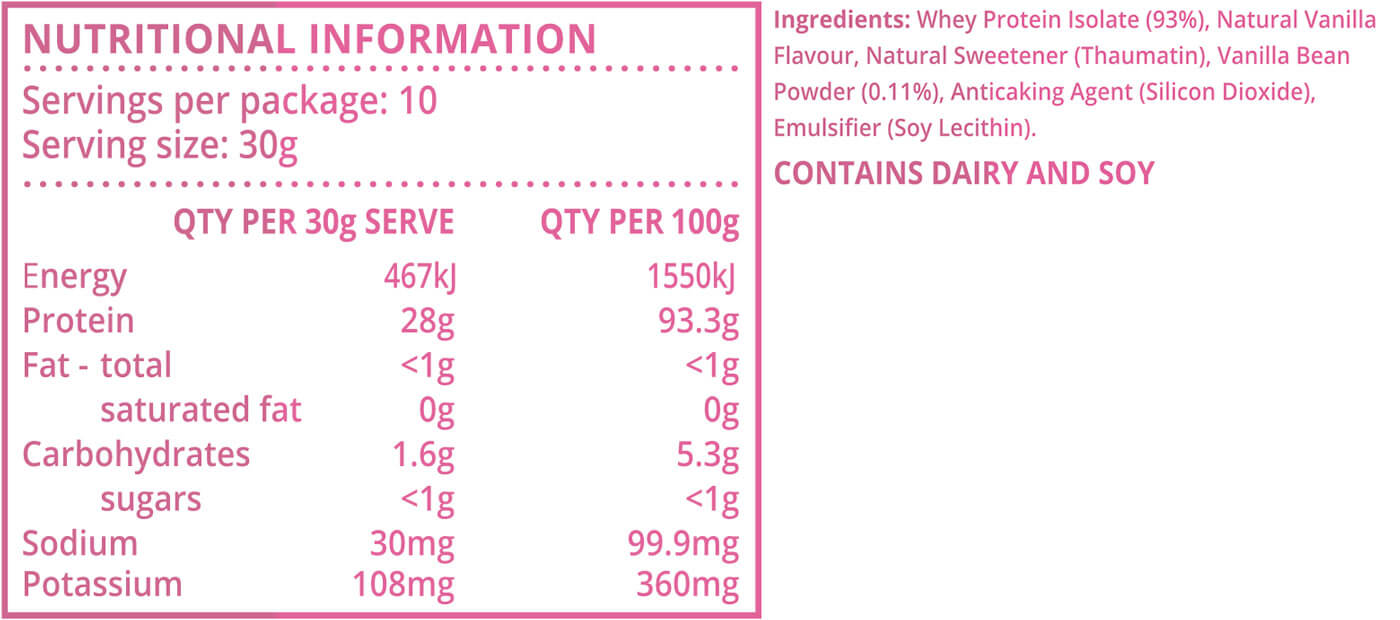 Immune Powder
Specifically designed for busy mums, The Healthy Mummy IMMUNE  is here to help boost your immune system naturally.
A supercharged blend of real food and organic sources packed with vitamins and zinc to assist immune function and help keep you healthy
IMMUNE is high in Vitamin C, Vitamin D, Vitamin A and Zinc which support and nourish the immune system naturally. With a delicious berry flavour.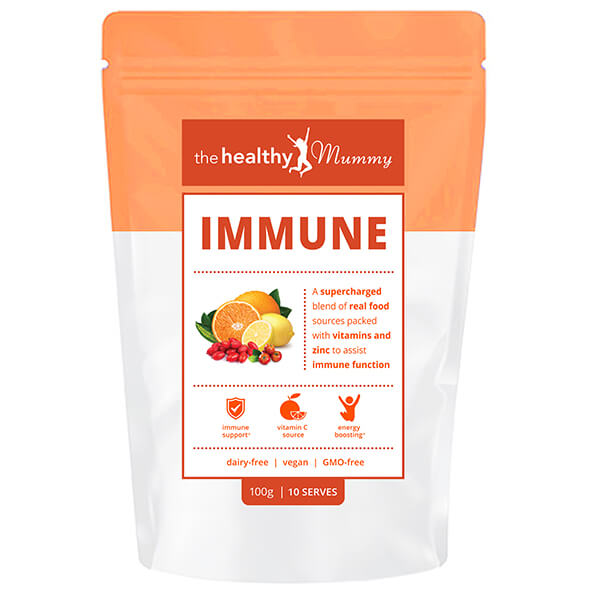 Why is our IMMUNE supplement different?
It has been specifically formulated for BUSY MUMS
It nourishes your immune system NATURALLY (includes organic ingredients)
It is safe for use whilst BREASTFEEDING
A VEGAN-friendly product. Free from dairy and preservatives
Contains PROBIOTICS  – With good gut function you can absorb your nutrients better, so you are better primed to fight off winter colds and other nasties.
Contains no gluten ingredients
Helps to BOOST your Immune System
Tastes GREAT with a berry flavour
Double Choc Snack Bars

The Healthy Mummy Double-Choc Snack Bar is a delicious and nutritious snack bar that contains protein and an excellent source of your daily fibre.
The Healthy Mummy snack bar is made with specially selected whole foods and is a breastfeeding friendly product.
It is designed as a convenient snack bar that can replace one of your daily snacks and they come in a value and convenient box of ten.
Our  THIRD Snack Bar flavour launch comes in Double-Choc flavour and TASTES AMAZING – you won't want to miss out on this AWESOME new product.
These Snack Bars come in a box of 10 snack bars (45g each) and are great protein snack for when you are on the run!
8.2g Natural Protein
Excellent source of fibre – 8.6g
No artificial colours, flavours or preservatives
Low Sodium
GMO Free
213 calories per 45g bar
Metabolism Support Formula
The Healthy Mummy Metabolism Support Formula has been formulated to contain nutrients involved in energy production and the metabolism of carbohydrates, proteins and fats in the body.
The Healthy Mummy Metabolism Support is DOES NOT contain any caffeine, capsaicin, L-carnitine, picolinate, conjugated linoleic acid (CLA) or resveratrol.
The Healthy Mummy Metabolism Support tablets can be taken while breastfeeding or pregnant.
Dosage: take two tablets daily or as directed by your healthcare professional.
Please note:
Vitamins can only be of assistance if the dietary vitamin intake is inadequate. This product contains selenium which is toxic in high doses. A daily dose of 150 micrograms for adults of selenium from dietary supplements should not be exceeded.  If symptoms persist consult your healthcare practitioner".  If you are taking other multi-vitamin supplements we recommend that you consult with your healthcare practitioner for appropriate dosages.
ALWAYS READ THE LABEL
USE ONLY AS DIRECTED
IF SYMPTOMS PERSIST SEE YOUR DOCTOR/HEALTHCARE PROFESSIONAL

Kids Smoothie
The Healthy Kids Smoothie has been specially made as a healthy snack for kids and is ideal if you have fussy eaters or want to ensure your children have a nutritious and healthy smoothie snack. It also has a 4.5 Health Star Rating when made with skim milk. It contains NO added sugars
The sugar content in The Healthy Kids Smoothie is from NATURAL sugars from the lactose in the milk and is FREE from added sugars. WHO recommend aiming for 5% added sugars in the diet and this product provides NO added sugar
The Healthy Mummy Kids Smoothie is rich in carbohydrates and protein and is a natural energy packed smoothie made for kids.

It contains 16 essential vitamins and minerals and when combined with milk, provides children with 50% of their Calcium RDI. 

It also contains probiotics needed for healthy guts and is free from fructose.