Medium Winter Weight Loss Pack
The Medium Winter Weight Loss Pack is an awesome kit that will help you reach your weight loss goals this winter and walk into Summer with a body your proud of!
This pack contains:
x1 NEW IMMUNE Supplement
x1 Smoothie
x1 Drinking Chocolate
x1 Grey Bobble Beanie
x1 NEW style top with EMPOWERED
x1 Winter Weight Loss Cookbook
x1 Pink Resistance Bands
x1 Pink Tape Measure
x1 #DETERMINED Mug
x1 Pack of 10 Double Choc-Snack Bar
x1 Inspirational Tote Bag – Strive for Progress, Not Perfection
NEW IMMUNE Supplement
Specifically designed for busy mums, The Healthy Mummy IMMUNE  is here to help boost your immune system naturally. A supercharged blend of real food sources packed with vitamins and zinc to assist immune function. IMMUNE is high in Vitamin C, Vitamin D, Vitamin A and Zinc which support and nourish the immune system naturally. With a delicious berry flavour.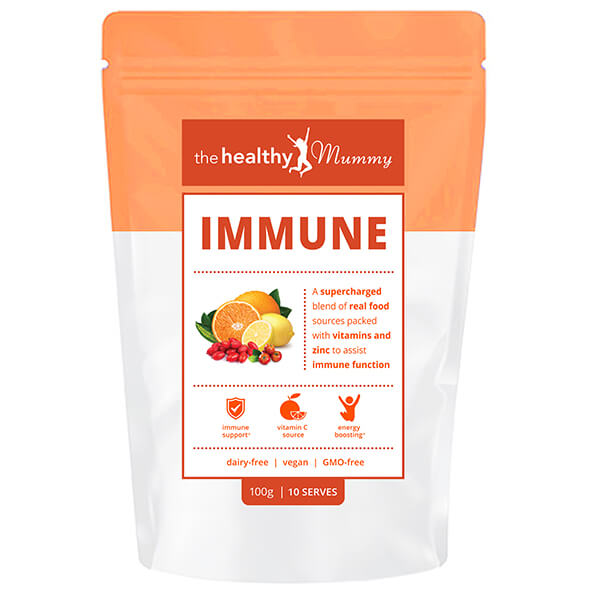 Why is our IMMUNE supplement different?
It has been specifically formulated for BUSY MUMS
It nourishes your immune system NATURALLY
It is safe for use whilst BREASTFEEDING
A VEGAN-friendly product. Free from dairy and preservatives
Benefits of IMMUNE
Packed with immune-supporting superfoods to support and nourish your immune system

Nourish your immune system naturally

Support a healthy immune system

Good source of Vitamin A, C, D, Zinc, Calcium and Magnesium
How to use it?
Mix 10g per day in a glass of water or juice or add as a booster in your Healthy Mummy Smoothie. Take once daily.
Nutritional Info & Ingredients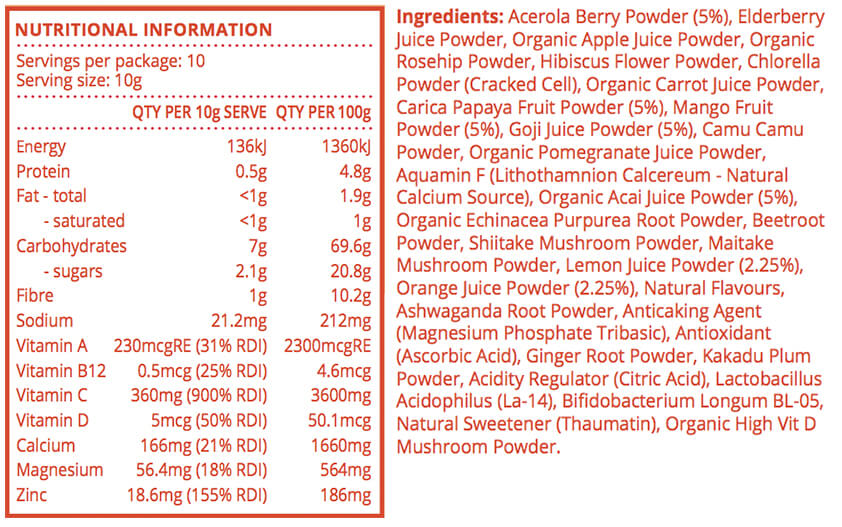 Choose x1 Healthy Mummy Smoothies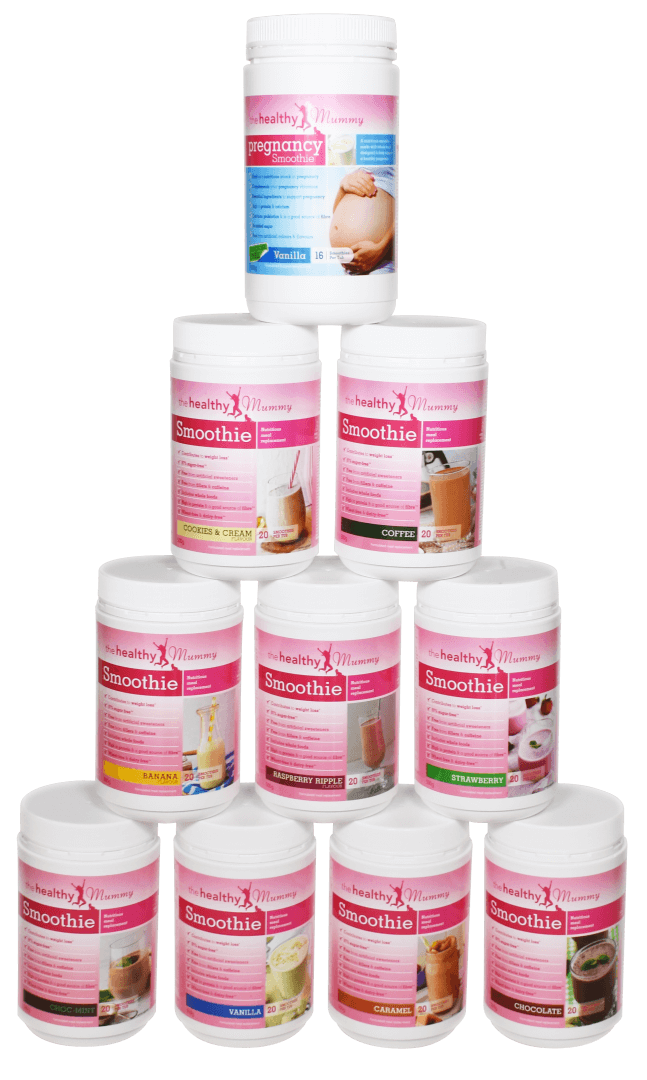 Our meal-replacement weight loss smoothies have been formulated by leading nutritionists to be the perfect companion to a busy mum's life when trying to lose weight. They're breastfeeding-friendly.
20 serves per 500g tub.
Available Flavours: Chocolate, Vanilla, Caramel, Coffee, Choc-Mint, Banana, Strawberry, Cookies & Cream, Salted Caramel and Raspberry Ripple .
We also have Pregnancy Smoothies.
See some of the amazing results Mums have achieved by drinking our Smoothies here
What makes Healthy Mummy Smoothies different?
 Winter Weight Loss Cook Book
The Winter Weight Loss Cookbook is the ultimate guide to help you stay on track with your weight loss goals this winter. The cookbook has a FANTASTIC mix of recipes including soups, slow cooking recipes, smoothies, desserts and more. You will also learn about some great SUPERFOODS to try out this winter and tips on how to exercise when the weather is cold.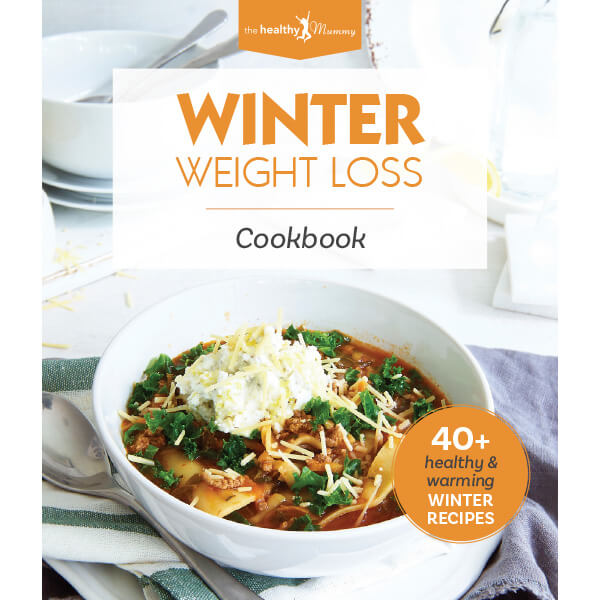 What's in the Winter Weight Loss Cookbook?
Winter Basics – Including why we turn to comfort food, how to exercise when the weather is bad, winter superfoods and more
Winter Soups Recipes
Healthy & Hearty Recipes
Oven Baked and Slow Cooking Recipes
Winter Dessert Recipes
Winter Smoothie Recipes
Drinking Chocolate
Did you know that traditional drinking chocolate or hot chocolate can have up to 80% sugar in?
The GOOD NEWS is that we have created The Healthy Mummy Drinking Chocolate with NO added sugar and with lots of additional nutrients in – so as well as tasting AMAZING – it is actually good for you.
It's rich, chocolatey and so delicious. AND ONLY 170 Kilojoules (40 Calories) per serve.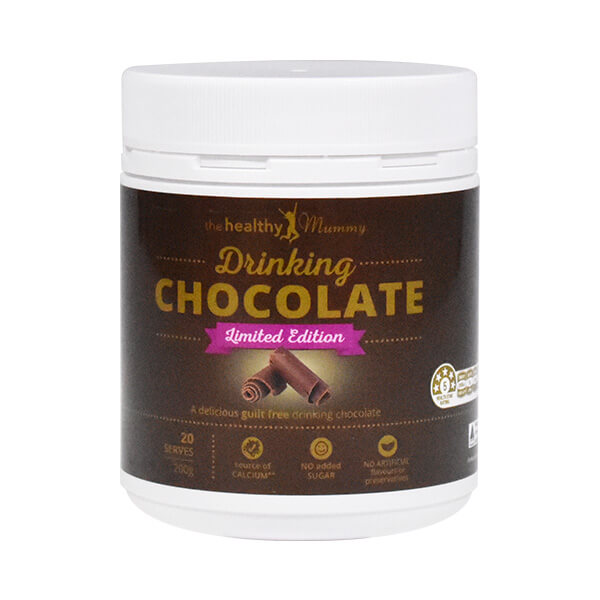 Please note that the sugars in the drinking chocolate come from natural sugar in the lactose (dairy).
Have it hot or cold – it is absolutely DELICIOUS and will curb any chocolate cravings in one go!
Ingredients: Full cream milk powder, Skim milk powder, Organic Cocoa powder, Magnesium phosphate, Natural Flavours, Calcium carbonate, Natural sweetener (Thaumatin), Calcium carbonate, Ascorbic acid (Vit C), d-alpha-tocopheryl acid succinate (Vit E), Zinc oxide,
It comes with a 5 STAR Health Rating too.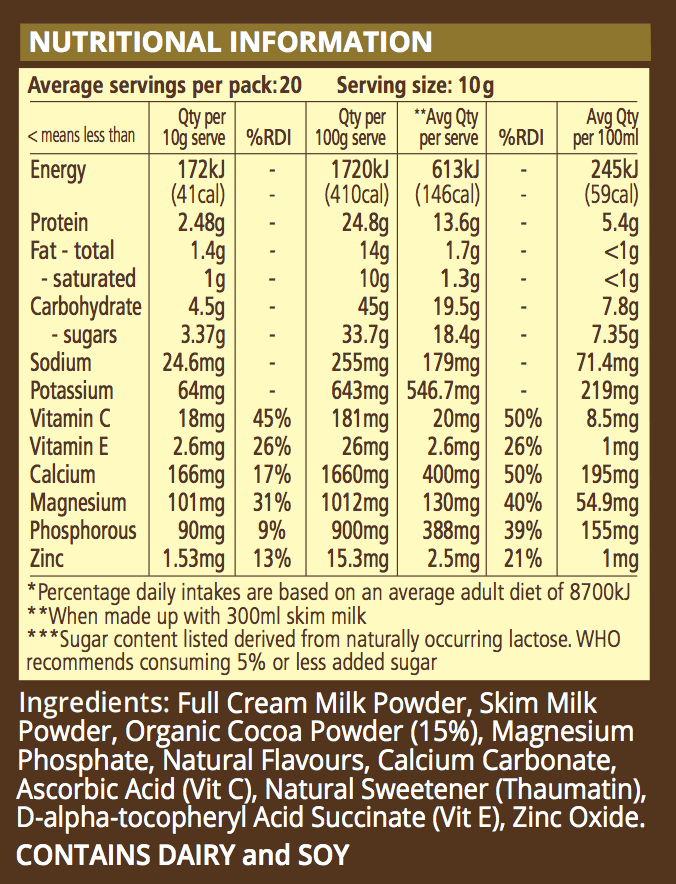 Grey Bobble Beanie
Our LIMITED EDITION grey bobble beanie will be sure to keep you warm this winter. Stylish and functional the grey beanie has a pink bobble with a Healthy Mummy tag on the front.
100% acrylic.
Hand wash
Dry flat
NEW STYLE TANK TOP – EMPOWERED
We at The Healthy Mummy believe in empowering Mums to live a healthier lifestyle. The NEW style tank top is stylish with a powerful message for Mums. Wear this top whilst working out and in pursuit of your weight loss goals!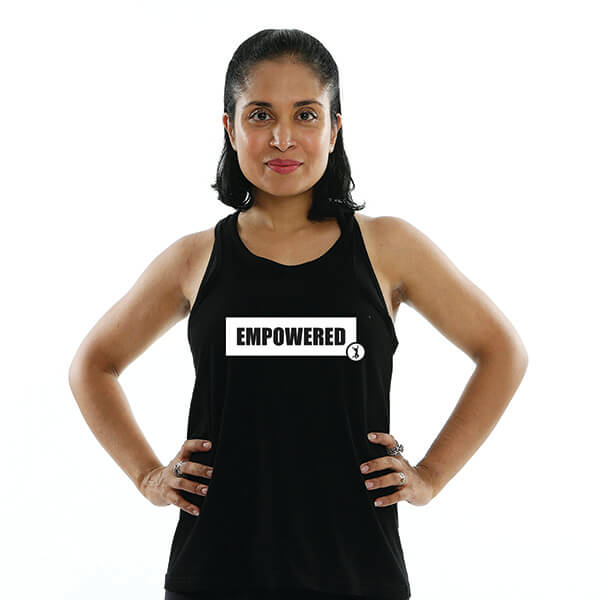 Style: Loose fitting top
Available in…
Small
Medium
Large
X-Large
Pink Resistance Bands
Strengthen and tone your body with our NEW PINK Healthy Mummy Resistance Bands.
Our 5 pack of resistance bands in various resistance levels are portable, easy to use and excellent for working out and stretching anytime and anywhere.
Width 2" (51cm)
Length: 10" (254mm)
Resistance Levels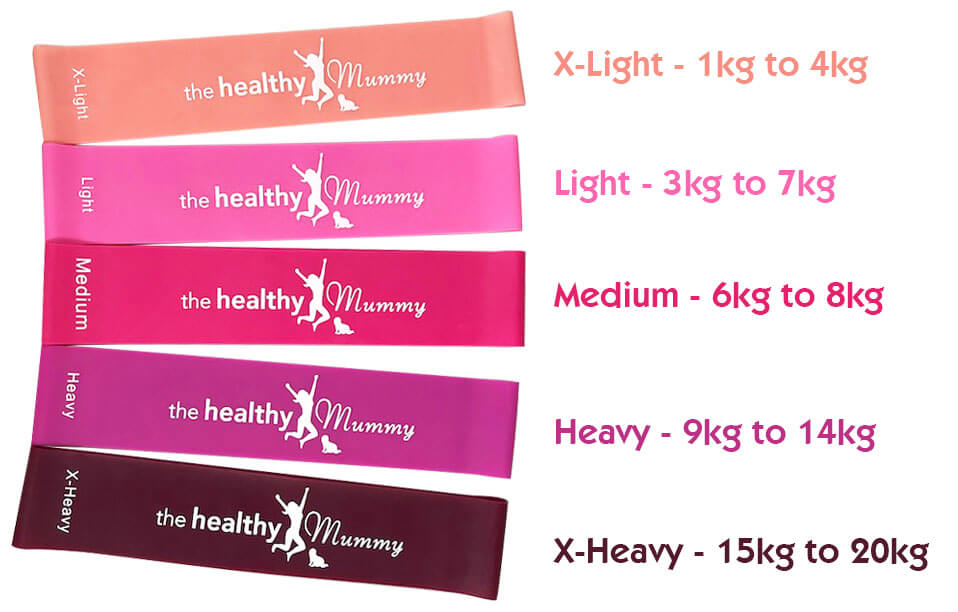 What is included:
Travel pouch – Making them super easy to keep together and take anywhere
5 resistance bands, each with different levels of resistance.
Please Note

The X-Light and Lights

 bands are quite thin for their level of resistance, they shouldn't be stretched more than 2 times their length, as this could cause the bands to snap.

Bands shouldn't be looped around any sharp surfaces.
Pink Tape Measure
This pink tape measure is absolutely PERFECT for monitoring your weight loss progress. So often we rely on scales to tell us how much weight we have lost BUT because muscle weighs more than fat so this form of measurement can be misleading. Use the Healthy Mummy body tape measure for more accurate monitoring.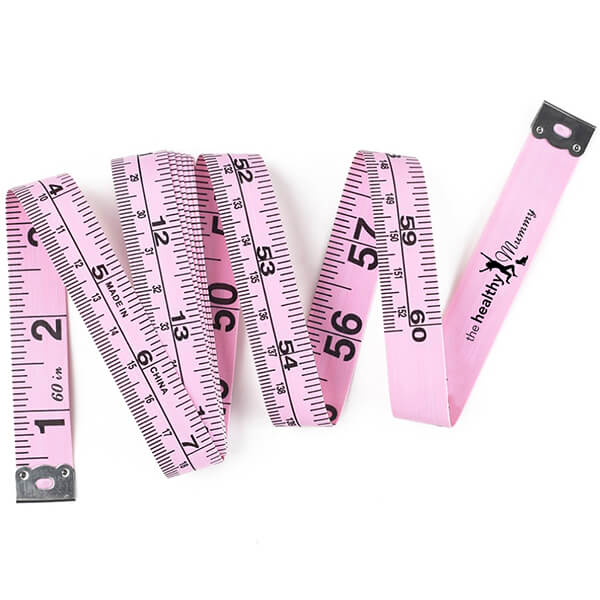 #Determined Mug
Great for drinking hot beverages over the winter. #DETERMINED is a constant reminder to stay determined in the pursuit of weight loss goals. Fill the mug with our Drinking Chocolate for a super delicious and warming drink.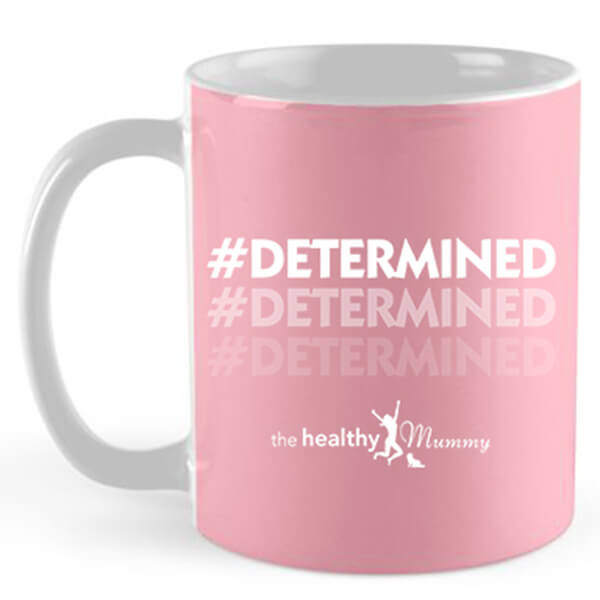 Light Pink
Dishwasher proof
Motivational messaging
Double Choc Snack Bars
Our all natural Double-Choc protein bars are priced at $4.95 each which is cheaper than most protein bars and contain much better natural ingredients.

About the Double Choc Protein Snack Bars
The Healthy Mummy Double-Choc Snack Bar is a delicious and nutritious snack bar that contains protein and an excellent source of your daily fibre.
The Healthy Mummy snack bar is made with specially selected whole foods and is a breastfeeding friendly product.
It is designed as a convenient snack bar that can replace one of your daily snacks and they come in a value and convenient box of ten.
Our  THIRD Snack Bar flavour launch comes in Double-Choc flavour and TASTES AMAZING – you won't want to miss out on this AWESOME new product.
These Healthy Mummy Snack Bars come in a box of 10 snack bars (45g each) and are great protein snack for when you are on the run!
8.2g Natural Protein
Excellent source of fibre – 8.6g
No artificial colours, flavours or preservatives
Low Sodium
GMO Free
213 calories per 45g bar
Ingredients and Nutritional Information: 

The bars are made in Australia and ingredients are sourced from local and overseas ingredients.
Allergy information
Our Healthy Mummy Snack Bars contain dairy, soy and nuts. It does not contain gluten ingredients but has not undergone gluten free testing for us to make the packaging claim.
Saturated Fat
The type of saturated fat in the Snack Bars is from Coconut and is Medium Chain Triglycerides (also known as MCT's). MCT is the main form of fat in coconut making up at least 50% of the total fat content.
The benefits of MCTs as opposed to other types of saturated fats include the following:
MCTs are more rapidly absorbed by the body and more quickly metabolised (burned) as fuel.
MCTs are very efficiently converted into fuel for immediate use by organs and muscles.
MCTs have anti-aging properties such as promoting the development of ketones which is good for the ageing brain.
MCTs have been shown to suppress appetite.
Black Motivational Tote Bag
The black tote bag reads 'Strive for Progress not Perfection' and is an excellent reminder to praise our progress on our Weight Loss Journey. Progress is a mark of our effort and improvement and should be celebrated. Enjoy this handy back and let it inspire you to make progress!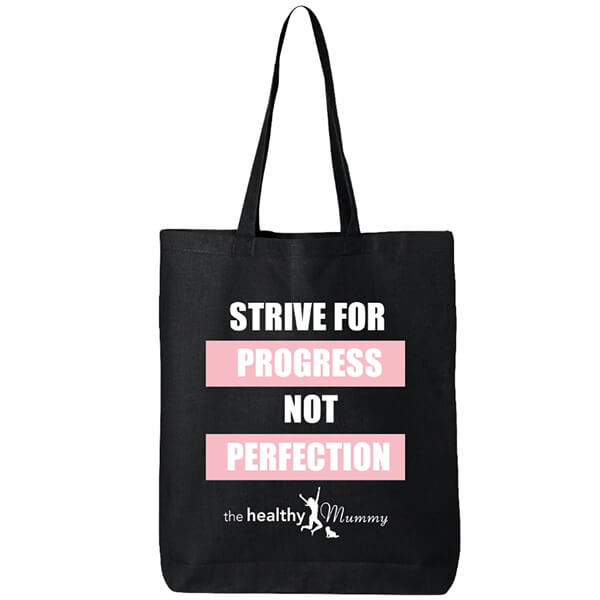 Cotton bag
Strong straps
Ideal as a reusable shopping bag as well as having lots of other purposes