This pack includes:
1 x Smoothie
1 x Protein Powder
1 x Metabolism
1 x Christmas Tote Bag
1 x Christmas Book
1 x Wall Planner
1 x Baking kit
Healthy Mummy Smoothies in Detail
Meal replacement weight loss smoothies for mums
Our meal-replacement weight loss smoothies have been formulated by leading nutritionists to be the perfect companion to a busy mum's life when trying to lose weight. They're breastfeeding-friendly.
20 serves per 500g tub.
Available in: NEW & IMPROVED Chocolate flavour, Vanilla, Caramel, Coffee, Choc-Orange, Choc-Mint, Banana, Strawberry, Cookies & Cream and Raspberry Ripple .
We also have Pregnancy Smoothies. You can even pay using Afterpay.
What makes Healthy Mummy Smoothies different?
How can Healthy Mummy Smoothies benefit you?
Healthy Mummy Smoothies are an excellent source of essential vitamins, minerals, nutrients & important antioxidants
They don't contain weight loss accelerants, caffeine, gluten and are dairy-free. They are also a non-Genetically Modified product.
They can help with weight management when used as part of a diet & exercise plan
They provide the best possible nutrition for energy
They're breastfeeding-safe and are designed to help to support milk supply
They're 96% sugar free and 100% fructose free
They're low GI & high fibre which helps you feel fuller for longer and aids digestion
They're quick and easy to prepare and taste delicious
They're high in protein & lower in sugar than any other product on the market – see a comparison table.
Protein Powder Triple Pack in Detail
Choose from Chocolate or Vanilla Protein Powder
This pack includes:
3x packs of Protein Powder
Our Healthy Mummy protein is an AWESOME source of high-quality whey protein with over 26g of protein per serve.
Our chocolate whey protein powder is:
High-quality whey protein from grass-fed cows
90-93% whey protein
Breastfeeding friendly
99.9% sugar-free
Low sodium
No artificial sweeteners or flavours
Hormone free
GMO-free
Directions
Simply mix 30g of Chocolate Protein Powder with water, it's super easy to make.
The powder is also ideal for adding into smoothies for an extra protein hit and is great for baking with too.
Nutritional Information
Nutritional Information – Chocolate

Nutritional Information – Vanilla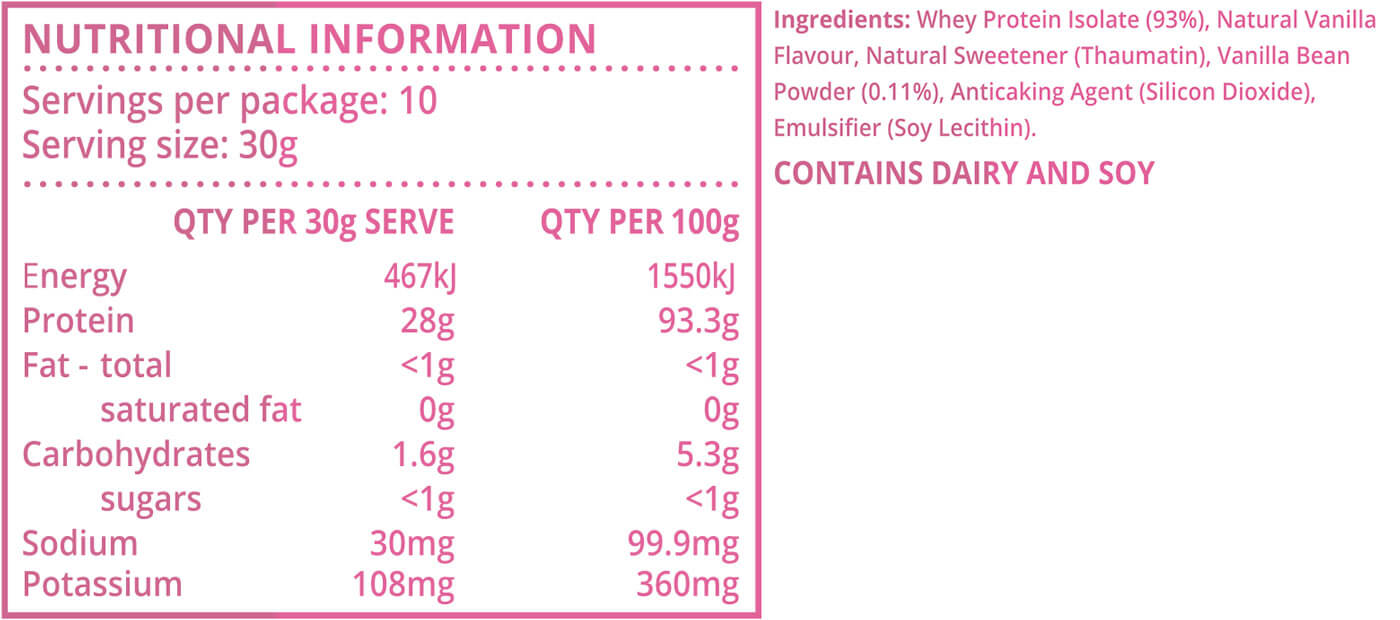 The Healthy Mummy Metabolism Support Tablets
"Metabolism refers to all the chemical processes going on continuously inside your body that allow life and normal functioning (maintaining normal functioning in the body is called homeostasis). These processes include those that break down nutrients from our food, and those that build and repair our body. Building and repairing the body requires energy that ultimately comes from your food."
The Healthy Mummy Metabolism Support Formula has been formulated to contain nutrients involved in energy production and the metabolism of carbohydrates, proteins and fats in the body.
The Healthy Mummy Metabolism Support is DOES NOT contain any caffeine, capsaicin, L-carnitine, picolinate, conjugated linoleic acid (CLA) or resveratrol
How to use the Metabolism Tablets
Take two tablets daily or as directed by your healthcare professional
Nutritional Information

The KEY INGREDIENTS in our Metabolism Support formula contain:
Thiamine, which helps the body to metabolise carbohydrates and is essential for energy production. It is involved in the maintenance of nerve tissues and supports the health and function of the nervous system.
Riboflavin, which is involved in energy production in the body and contributes to normal energy release from food.
Nicotinamide, which helps the body to metabolise proteins, carbohydrates and fats and is a component of glucose tolerance factor.
Iodine, which is essential for the manufacture of thyroid hormones, and regulates cellular oxygen consumption, basal metabolism and energy production throughout the body.
Selenium, which plays a role in thyroid hormone production, required for normal healthy thyroid function, and has a role in the antioxidant systems.
Pyridoxine (Vitamin B6), which is involved in the regulation of hormonal activity and supports a healthy immune system function.
Pantothenic acid (Vitamin B5), which has a central role in adrenal function and cellular metabolism.
Zinc, which plays a necessary role in the metabolism of androgens, oestrogen and progesterone.
Zinc has antioxidant activity and may, therefore, assist in protecting the body from the damaging effects of free radical damage.
Folinic acid, which is a form of Folate, and is involved in the formation and maturation of red blood cells and can assist in maintaining healthy blood.
Magnesium, which is necessary for proper muscle and nerve function and is required for the production of energy in the body.
Chromium, which is a main component of glucose tolerance factor.
Mecobalamin (Vitamin B12), which is required for red blood cell formation, and is also involved in cell growth and replication.
The Healthy Mummy Metabolism Support tablets can be taken while breastfeeding or pregnant. If you are taking other multi-vitamin supplements we recommend that you consult with your healthcare practitioner for appropriate dosages.
Please note:
Vitamins can only be of assistance if the dietary vitamin intake is inadequate. This product contains selenium which is toxic in high doses. A daily dose of 150 micrograms for adults of selenium from dietary supplements should not be exceeded. If symptoms persist consult your healthcare practitioner"
FAQ's
Can I take the metabolism tablets if I am breastfeeding or pregnant?
The Healthy Mummy Metabolism Support tablets can be taken while breastfeeding or pregnant. If you are taking other multi-vitamin supplements we recommend that you consult with your healthcare practitioner for appropriate dosages.
Can I crush the Metabolism Support tablets instead of swallowing them whole?
 Yes, you can crush the tablets if you prefer.  Some people have chosen to mix them with their smoothies.
Will the Metabolism Support cause bloating or wind?
The Metabolism Support tablet is a combination of vitamins and minerals and therefore is unlikely to cause bloating or wind.  However if you have not taken multivitamins previously, you may like to halve the dosage for a few weeks and then increase to the full dosage again to give your body time to get used to it.
Does it matter if my Metabolism Support tablets are different colours?
The colour of your tablets may vary slightly from bright pink to softer pinks.  There is nothing wrong with the product and is safe for consumption.
For more FAQS's on this product, please click here
Please note…
Always read the label
Use only as directed
If symptoms persist see your doctor or healthcare professional
The Red Tote Christmas Bag in Detail
The Healthy Mummy Christmas Gift Bag Perfect for your Christmas shopping and just generally a super handy bag!
Healthy Mummy Christmas Recipe Cookbook
The Christmas and New Year's season is one of the most fun and rewarding times of the year, as there are so many opportunities to get together with family and friends and celebrate what's really important in life.
The festive season is packed with parties, dinners, and barbecues, and these are great times to enjoy yourself and relax. However, even with the best of intentions, a full calendar of festivities can also result in a little too much indulgence, leaving you feeling bloated, lethargic and generally unhealthy by early January!
We've put together this Christmas Entertaining Cookbook so you can go into the silly season armed with tips and tricks on how to have fun without going overboard.
It's filled with healthy, easy-to-prepare recipes to get you through the party season and have you still feeling fabulous on the other side. Plus you get some great advice on what to do with all the left overs!
We've also created some healthy menus for those extra special days like Christmas lunch, Boxing Day and New Year's Eve; choose the combinations that suit you and your loved ones for a healthy, stress-free festive season.
We hope you love the info, tips, and recipes in this book and that it helps you make this party season your healthiest ever.
The Healthy Mummy 2019 Wall Planner in Detail
The 2019 Wall Planner is the perfect edition to your home to help you and your family plan the year ahead.
See the entire year laid out in front of you for easy planning.
Dimensions: H60 x W42cm
The Healthy Mummy Christmas Baking Set in Detail
The Christmas Baking Kit contains a whisk, spatula and measuring cup set. It's ideal for all your Christmas baking needs.