This pack includes:
Meal Prep Containers – 5 Pack
Ankle Weights
Dream it. Wish it. Do it. Singlet
Hydrate Full Infusion Drink Bottle
Measuring Tape
Metabolism Support
2x Smoothie
Brownie Bites Mix
Pink Summer Weight Loss Bag
Meal Prep Containers
Introducing the brand NEW Healthy Mummy Meal Prep containers. Includes 5 containers with pink lids and Healthy Mummy logo embossed into the lid.
Meal prepping is so important to keep you on track and ensure that you reach your weight loss goals.
Save Time
Save Money
Portion Control
Brownie Bites
The NEW Healthy Mummy Brownie Bites are a delicious and nutritious snack that's super quick and easy to make. The Brownie Bites mix contains all natural and whole food ingredients.
Specifically designed for busy mums the Brownie Bites a delicious treat that'll help you through the day, the healthy way.
What makes the Brownie Bites Mix so great?
Just 101 calories per serve
Contains Superfoods – chia seeds, quinoa, and cacao nibs
Specifically formulated for Mums
Delicious AND Healthy
Super quick to make, just 5 minutes prep time!
Breastfeeding Friendly
Contains no artificial colours or flavours
Superfood ingredients include
Chia Seeds –  good source of omega-3 fatty acids, fiber, antioxidants, iron, and calcium.
Quinoa – High in protein
Cacao Nibs – High in fibre
Ankle Weights
The Healthy Mummy ankle weights are 1kg each and perfect for increasing the resistance of any workout. The increase in resistance results in an increase in calories burnt!
Double your workout results with these AMAZING ankle weights.
Ankle weights create additional resistance on the leg muscles. The increased resistance results in greater fitness and tone in a shorter period of time. When you are exercising , the ankle weights will increase the intensity of the exercise by forcing the muscles to work harder.
Dream it. Wish it. Do it. Singlet
The Dream it. Wish it. Do it. Singlet is a brand NEW design, it encourages us to get out there and DO IT in order to achieve our dreams! The singlet is the same fit as the usual Healthy Mummy Singlet that you all know and love.
The singlets are longer styles – so will not ride up
Thick straps and a racer-style back
Not clingy but have a slight stretch
95% cotton and 5% elastane
Available in size 12, 14, 18 and 20
Hydrate Fruit Infusion Drink Bottle
Easily improve your daily water intake by spicing it up with fruit infusions to add some taste to your water and get an extra health and weight loss boost. The drink bottle can hold 700ml.
Metabolism Support Formula
The Healthy Mummy Metabolism Support Formula has been formulated to contain nutrients involved in energy production and the metabolism of carbohydrates, proteins and fats in the body.
"Metabolism refers to all the chemical processes going on continuously inside your body that allow life and normal functioning (maintaining normal functioning in the body is called homeostasis). These processes include those that break down nutrients from our food, and those that build and repair our body. Building and repairing the body requires energy that ultimately comes from your food.
The Healthy Mummy Metabolism Support is DOES NOT contain any caffeine, capsaicin, L-carnitine, picolinate, conjugated linoleic acid (CLA) or resveratrol
How to use the Metabolism Tablets
Take two tablets daily or as directed by your healthcare professional
Please note…
Always read the label
Use only as directed
If symptoms persist see your doctor or healthcare professional
For FAQS's on this product, please click here
Meal Replacement Weight Loss Smoothie
How can Healthy Mummy Smoothies benefit you?
Our meal-replacement Smoothies have been formulated by leading nutritionists to be the perfect companion to a busy mum's life when trying to lose weight.
They're breastfeeding-friendly! 
20 serves per 500g tub.
Healthy Mummy Smoothies are an excellent source of essential vitamins, minerals, nutrients & important antioxidants
They don't contain weight loss accelerants, caffeine, gluten and are dairy-free. They are also a non-Genetically Modified product.
They can help with weight management when used as part of a diet & exercise plan
They provide the best possible nutrition for energy
They're breastfeeding-safe and are designed to help to support milk supply
They're 96% sugar free and do not contain added fructose
They're low GI & high fibre which helps you feel fuller for longer and aids digestion
They're quick and easy to prepare and taste delicious
They're high in protein & lower in sugar than any other product on the market – see a comparison table.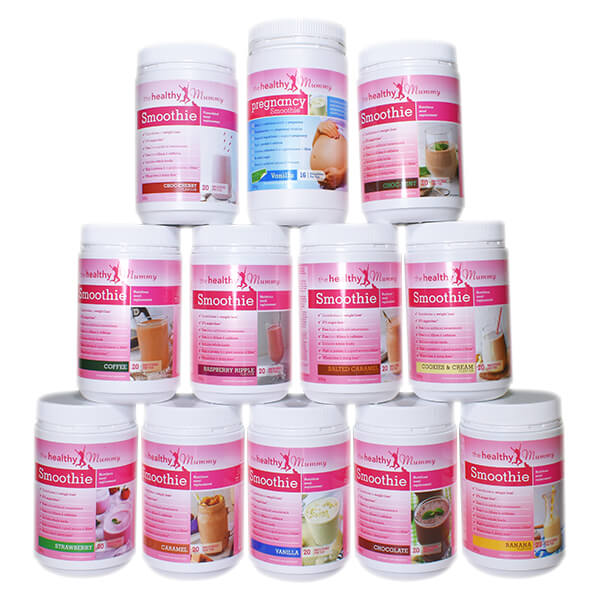 Pink Body Tape Measure
This pink tape measure is absolutely PERFECT for monitoring your weight loss progress. So often we rely on scales to tell us how much weight we have lost BUT because muscle weighs more than fat so this form of measurement can be misleading. Use the Healthy Mummy body tape measure for more accurate monitoring.