It's our 7th Birthday in October and to CELEBRATE we have made the BIGGEST and the BEST LUXURY BOX EVER!
Delivery will be in early October and stock is LIMITED so order yours TODAY to avoid disappointment. Please note discount codes cannot be used on this product as it is an already discounted product
Total RRP value =$477.80
YOUR DISCOUNTED PRICE $333
You save OVER 30% and $143
The Healthy Mummy LUXE BIRTHDAY BOX is jammed packed with all Healthy Mummy LIMITED EDITION items, and we only have 1,000 Available! Pre-Order your box now so you don't miss out!!
The LUXE BIRTHDAY BOX contains 12 amazing items that are valued at over $477.80 but you pay ONLY $333 which is a 30% saving and saves you $143 ! PLUS you can use AfterPay and pay in 4 instalments of $83.25
What's in The Birthday Luxe Box?
Team Healthy Mummy Travel Thermal Mug - RRP $25.00
Our Team Healthy Mummy Thermos style travel mugs will keep your drinks hot or cold.
They hold 475mls and have a double stainless steel inner wall so your grasp stays safe.
Healthy Mummy Smoothie - Choose from our 7 delicious flavours RRP $55.95
Our meal-replacement Smoothies have been formulated by leading nutritionists to be the perfect companion to a busy mum's life. Choose the flavour to be included in your box. The smoothies are fructose free and contain no artificial colours or preservatives. They are high in protein and fibre and are recommended by 9/10 mums and are DELICIOUS. They are also made in Byron Bay and contain no added sugar and no fructose.
Healthy Mummy Drinking Chocolate (Have it Hot or Cold) RRP $39.95
Did you know that traditional drinking chocolate or hot chocolate can have up to 80% sugar in? Well the GOOD NEWS is that we have created The Healthy Mummy Drinking Chocolate with NO added sugar and with lots of additional nutrients in - so as well as tasting AMAZING - it is actually good for you. It's rich, chocolatey and so delicious. AND ONLY 170 Kilojoules (40 Calories) per serve. Please note that the sugars in the drinking chocolate come from natural sugar in the lactose (dairy).
Ingredients: Full cream milk powder, Skim milk powder, Organic Cocoa powder, Magnesium phosphate, Natural Flavours, Calcium carbonate, Natural sweetener (Thaumatin), Calcium carbonate, Ascorbic acid (Vit C), d-alpha-tocopheryl acid succinate (Vit E), Zinc oxide,
Healthy Mummy Whey Protein Powder RRP $55.95
Our Healthy Mummy protein is an AWESOME source of high quality whey protein with 28 grams per serve and is a whopping 93% protein! This high quality protein powder is breastfeeding friendly and comes from grass fed cows. It is ideal for adding into smoothies for an extra protein hit and is also great for baking with. It comes in a Vanilla flavour and is 99.9% sugar free and contains no added sugars or artificial sweeteners or flavours
Our whey protein powder is:
Hormone Free
GMO Free
Breastfeeding friendly
Comes from grass fed cows
Low sodium
99.9% Sugar Free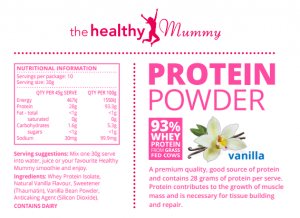 The Healthy Mummy Notebook RRP $25.00
This sturdy silver notebook is the perfect size! It has 100 pages of lined paper and is 140 x 207mm (close to A5).
Team Healthy Mummy Metallic Singlets RRP $49.00
Get ready to share the Team Healthy Mummy Sparkle! We have two to choose from. Black and Shiny Silver racer back tee or the Black and Shiny Gold racer back tee. Both 100% cotton and have a GORGEOUS metallic logo on the front. Ready for you to shine! And for a limited time only we are offering the EXTRA LARGE singlet size which is equivalent to a 20-22 size.
The Healthy Mummy Super Shaker RRP $29.00
We have super BOOSTED the Healthy Mummy Smoothie Shakers. This Super shaker comes with a special section to hold your Healthy Mummy protein powder or Smoothie mix, and a small compartment to hold your vitamins or tablets.
2018 Healthy Mummy Calendar RRP $19.95
Stay organized in 2018 with our Healthy Mummy wall calendar.  Each month you get a Motivational meme and a delicious Healthy Mummy Smoothie recipe to try. Comes with a wall hanging hole to make life easier
Heart Shape Healthy Mummy Key Ring RRP $25.00
This gorgeous metal Healthy Mummy engraved Love Heart key ring will keep your keys all safely together.
Limited Edition Birthday Voucher - RRP $75.00
SAVE $75 worth of SAVINGS at the Healthy Mummy.
This limited edition voucher will entitle you to:
- One FREE Healthy Mummy eBook worth $25
- $25 OFF the Healthy Mummy shop
- $15 OFF the Energy Boosting Healthy Mummy Super Greens
- $15 off a Healthy Kids Chocolate Smoothie
Limited Edition Silver engraved Healthy Mummy Pen RRP $39.95
This high quality Healthy Mummy engraved stunning pen glides over the paper and feels amazing to write with. It comes in a gorgeous padded box to keep it away from any sneaky hands!
The Healthy Mummy Super Greens - RRP $39
The best selling energy boosting Healthy Mummy Super Greens is a MUST HAVE for any mum. It helps to increase energy levels and support health.
Total RRP value =$477.80
YOUR DISCOUNTED PRICE $333
You save OVER 30% and $143
DON'T MISS OUT! 
The gorgeous box will be shipped with all items in the box as ONE delivery in early October as part of the 7th Birthday celebration. Stock is limited.