Kids Vanilla Smoothie Double Pack + Free Shaker
Use code: FREEPOST to get free Aussie post!
This pack includes:
x2 Kids Vanilla Smoothie
x1 FREE Kids Blue Shaker
Kids Vanilla Smoothie
The Healthy Kids VANILLA Smoothie has been specially made as a healthy snack for kids and is ideal if you have fussy eaters or want to ensure your children have a DELICIOUS, nutritious and HEALTHY smoothie snack.

What you need to know about The Healthy Kids Vanilla Smoothie
A nutritious and delicious snack for kids 

Source of carbohydrates and protein

Contains probiotics needed for a healthy gut

Contains 16 vitamins and minerals

Provides children with a MASSIVE 50% of their daily Calcium needs*

NO artificial colours, flavours or preservatives

NO added sugar or fructose
Directions 
Mix 10g (2 tsp) of smoothie powder with 250ml of milk

Top Tip – make into a thick smoothie by adding a fruit/vegetable of choice and blending until smooth
Nutritional Information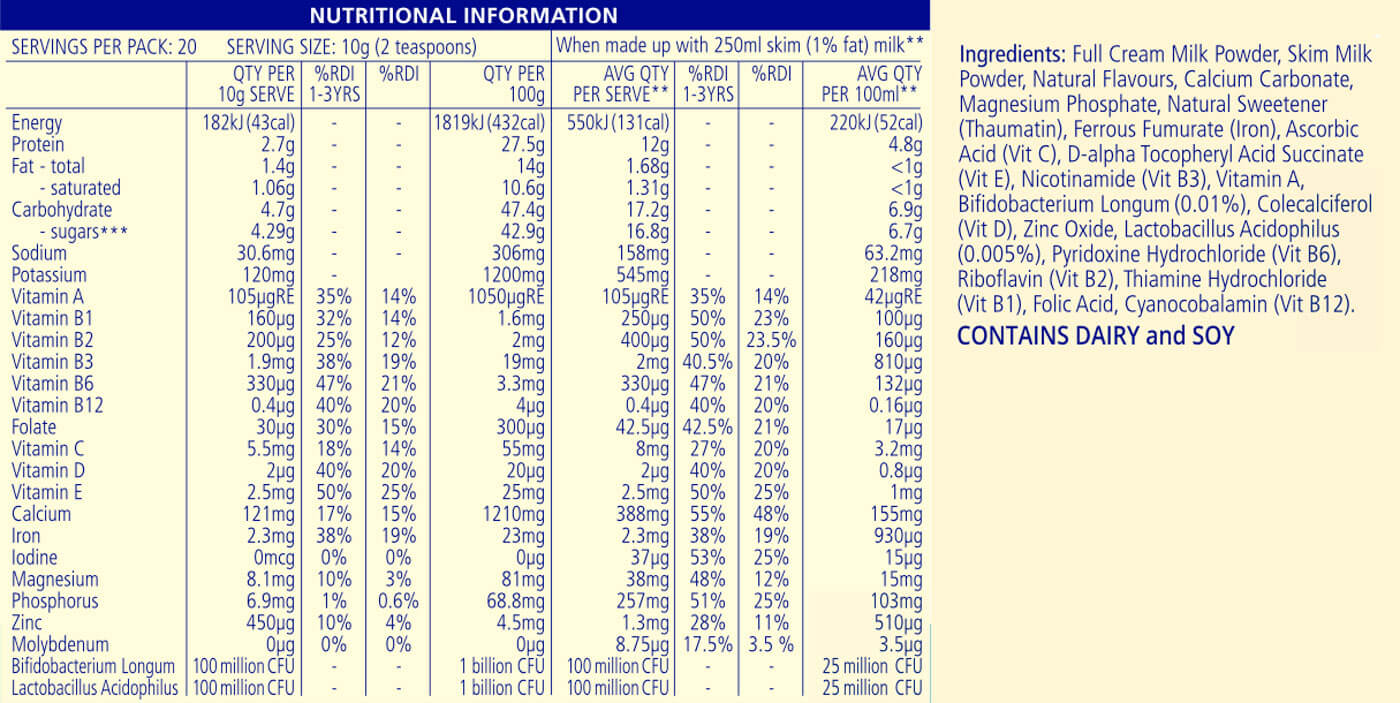 Nutritionist Reviews
Cheree Sheldon, Nutritionist
As a mum who is also a nutritionist-naturopath, it's a major concern of mine if my daughter is meeting her dietary needs, as I know how important it is for their health and development. Kids are notoriously fussy, they all go through phases of food refusal and my kid is no different.
When this happened to us, I wanted something that would be simple, healthy, and wasn't a drama when offered. The Kids Smoothie range is a great solution to this! My daughter loves smoothies, and it's so easy to hide extra fruits and veggies in a product that already tastes great.
Shirley De Jesus, Nutritionist
What is great about the Healthy Kids Vanilla Smoothie is that it contains 16 essential minerals and vitamins, which, when consumed with milk are great for supporting bone health, immunity and energy. One of the other things that I love about these smoothies is that they contain two strains of bacteria that support the immune system and reduce respiratory infections. These are low in sugar they are great for after school or sports training!
Try more delcious flavours:
Please note…
We do not recommend this product for children under the age of 1
This product is not intended as a toddler formula replacement, it is intended as a healthy snack for kids which is full of great nutrition
*when mixed with 250ml milk
For FAQ's on the Healthy Kids Smoothies please click here
Healthy Kids Smoothie Shaker: Blue
Check out our NEW Healthy Kids BLUE Shaker!
Our Healthy Kids Smoothie Shakers contain a clever shaker ball that helps dissolve the Healthy Kids Smoothie Mix, leaving your smoothie the perfect texture! Now your kids will stop using your Healthy Mummy Smoothie Shaker as they have one of their own.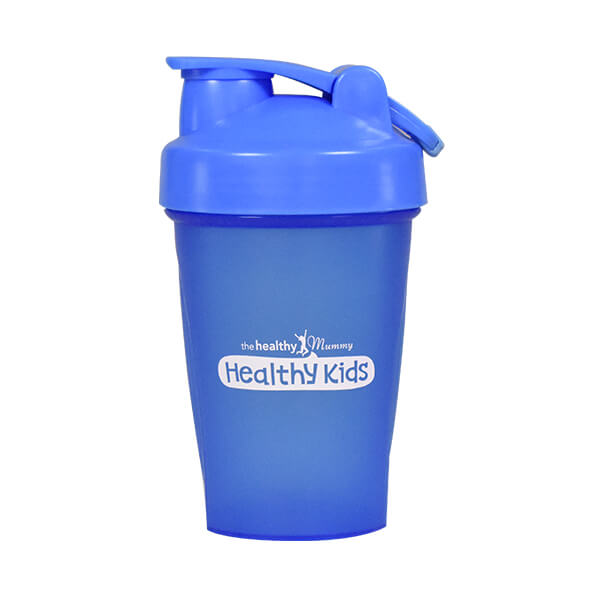 Our Kids Smoothie Shakers can hold 400ml, are BPA FREE and have a cool grip panel so won't slip out of little hands.
We have even MORE Healthy Kids Products
Please note – Logo is not suitable for dishwasher (as it may fade)