Kids Summer Pack in Detail
The Healthy Mummy Kids Summer Pack includes:
1 x Kids Chocolate Smoothie
1 x Healthy Kids Lunch Box Book
The Healthy Mummy Kids Smoothie in Detail
The Healthy Kids Smoothie has been specially made for kids and is ideal if you have fussy eaters or want to ensure your children have a nutritious and healthy smoothie snack. It also has a 4.5 Health Star Rating when made with skim milk
The sugar content in The Healthy Kids Smoothie is from NATURAL sugars from the lactose in the milk and is FREE from added sugars. WHO recommend aiming for 5% added sugars in the diet and this product provides NO added sugar
The Healthy Mummy Kids Smoothie is rich in carbohydrates and protein and is a natural energy packed smoothie made for kids.

It contains 16 essential vitamins and minerals and when combined with milk, provides children with 50% of their Calcium RDI. 

It also contains probiotics needed for healthy guts and is free from fructose.
What do you need to know about The Healthy Kids Smoothie
It is a nutritious Snack made for kids

It contains probiotics

It contains 16 Vitamins and minerals

It contains NO artificial colours, flavours or preservatives

It is rich in protein

It is fructose free
Directions 
Mix 10g with 250ml of milk. 

Tip - make into a thick smoothie by adding 1/2 a banana or fruit/vegetable of choice and blend until smooth
The Cost
The RRP is $39.95 for 20 serves
This works out at $1.99 per serve BEFORE any discount
One serve delivers your child 16 vitamins and minerals as well as probiotics and protein.
When combined with milk, one serve will deliver your child 11g of protein and a MASSIVE 50% of their daily calcium needs
Ingredients: Full Cream Milk Powder, Skim Milk powder, Organic Cocoa powder, Natural Flavours, Calcium carbonate, Magnesium phosphate, Natural sweetener (Thaumatin), Ferrous fumurate (Iron), Ascorbic acid (Vit C), d-alpha-tocopheryl acid succinate (Vit E), Zinc oxide, Nicotinamide (Vit B3), Vitamin A, Pyridoxine hydrochloride (Vit B6), Riboflavin (Vit B2), Thiamine hydrochloride (Vit B1), Folic acid, Potassium iodide, Cholecalciferol (Vit D), Cyanocobalamin (Vit B12).
Please note that we do not recommend this product for children under 1 years of age and it is not intended as a toddler formula replacement. It is intended as a healthy snack for kids which is full of great nutrition.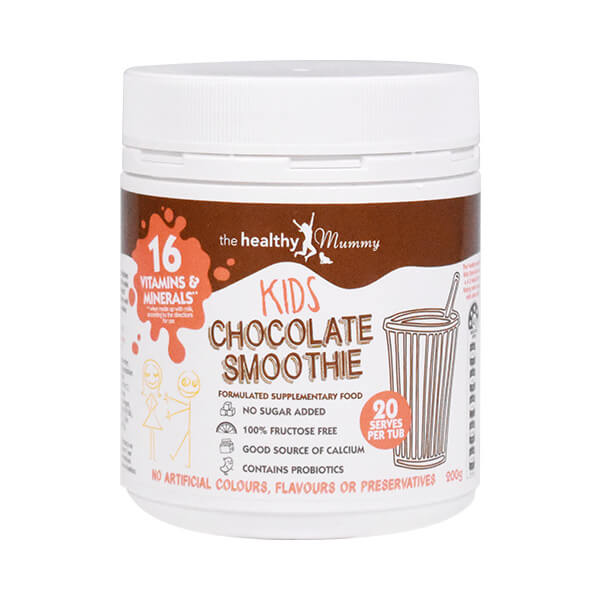 Healthy Kids Lunch Box Hard Copy Cookbook 2017 - 2nd Edition in Detail
The 2nd Edition of the Kids Lunch Box Book is a HUGE hardcopy book with over 130 recipes and ideas for your little ones and is a MUST have if you make lunch boxes - or if you want to get your kids eating healthier foods
Ensuring our children's lunch boxes are filled with healthy, easy to prepare foods that the kids will actually eat is really important.  A school lunch box can potentially make up to 30-50% of our child's daily food intake so, we want to make them count.
This book makes preparing lunch boxes a breeze. The recipes are quick and easy to make, offering maximum nourishment and delicious flavours that the kids will actually enjoy. Plus, many of the recipes use leftovers, to save time and money.
The cookbook contains over 130 ideas/recipes from snacks, meals, smoothies and afternoon treats! You will never be stuck for ideas again!
If you purchased the first edition of the hard copy of the lunch box book in 2016, we don't advise purchasing the second edition as the content is similar but with additional recipes