The Kids Pack Contains:
2x Kids Smoothie
1x Kids Shaker
1x Snack Bars
1x Super Greens
1x Healthy Kids Lunch Box eBook
The Healthy Kids Smoothie in
Detail
The Healthy Kids Smoothie has been specially made as a healthy snack for kids and is ideal if you have fussy eaters or want to ensure your children have a nutritious and healthy smoothie snack. It also has a 4.5 Health Star Rating when made with skim milk. It contains NO added sugars
The sugar content in The Healthy Kids Smoothie is from NATURAL sugars from the lactose in the milk and is FREE from added sugars. WHO recommend aiming for 5% added sugars in the diet and this product provides NO added sugar
The Healthy Mummy Kids Smoothie is rich in carbohydrates and protein and is a natural energy packed smoothie made for kids.

It contains 16 essential vitamins and minerals and when combined with milk, provides children with 50% of their Calcium RDI. 

It also contains probiotics needed for healthy guts and is free from fructose.
What do you need to know about The Healthy Kids Smoothie
It is a nutritious Snack made for kids

It contains probiotics

It contains 16 Vitamins and minerals

It contains NO artificial colours, flavours or preservatives

It is rich in protein

It is fructose free

It contains NO added sugar
Directions 
Mix 10g with 250ml of milk. 

Tip – make into a thick smoothie by adding 1/2 a banana or fruit/vegetable of choice and blend until smooth
The Cost
The RRP is $39.95 for 20 serves
This works out at $1.99 per serve BEFORE any discount
One serve delivers your child 16 vitamins and minerals as well as probiotics and protein.
When combined with milk, one serve will deliver your child 11g of protein and a MASSIVE 50% of their daily calcium needs
Please note that we do not recommend this product for children under 1 years of age and it is not intended as a toddler formula replacement. It is intended as a healthy snack for kids which is full of great nutrition.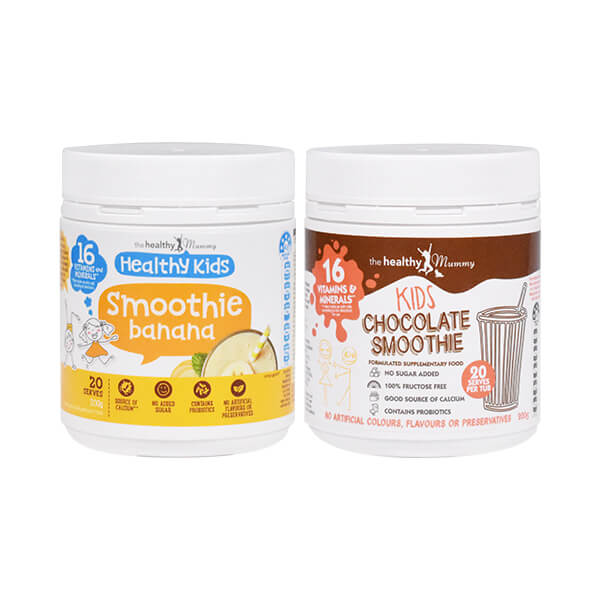 Healthy Kids Smoothie Shaker: Yellow in Detail
The Healthy Mummy community asked …..and HERE IT IS!
Check out our NEW Healthy Kids Yellow Shaker!
Our Healthy Kids Smoothie Shakers contain a clever shaker ball that helps dissolve the Healthy Kids Smoothie Mix, leaving your smoothie the perfect texture! Now your kids will stop using your Healthy Mummy Smoothie Shaker as they have one of their own.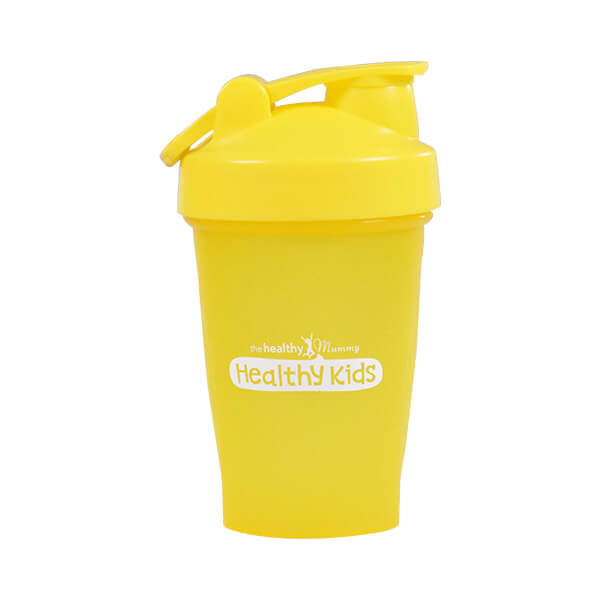 Our Kids Smoothie Shakers can hold 400ml, are BPA FREE and have a cool grip panel so won't slip out of little hands.
Please note – Logo not suitable for dishwasher.
Snack Bars 10 Pack in Detail
Our all natural snack bars are costed at $4.95 each which is cheaper than most protein bars and contain much better natural ingredients.
About the Healthy Mummy Protein SNACK Bars
The Healthy Mummy Snack Bar is a delicious and nutritious snack bar that contains protein and a good source of your daily fibre.
The Healthy Mummy Snack Bar is made with specially selected whole foods and is a breastfeeding friendly product.
It is designed as a convenient snack bar that can replace one of your daily snacks and they come in a value and convenient box of ten.
Choose from both our amazing flavours!
The Snack Bars come in a box of 10 (45g each) and are great protein & energy boosting snack for when you are on the run!
The bars are made in Australia and ingredients are sourced from local and overseas ingredients.
Allergy information
The Healthy Mummy Snack Bars contain dairy, soy and nuts. It does not contain gluten ingredients but has not undergone gluten free testing for us to make the packaging claim.
Saturated Fat
The type of saturated fat in the Snack Bars is from Coconut and is Medium Chain Triglycerides (also known as MCT's). MCT is the main form of fat in coconut making up at least 50% of the total fat content.
The benefits of MCTs as opposed to other types of saturated fats include the following:
MCTs are more rapidly absorbed by the body and more quickly metabolised (burned) as fuel.
MCTs are very efficiently converted into fuel for immediate use by organs and muscles.
MCTs have anti-aging properties such as promoting the development of ketones which is good for the ageing brain.
MCTs have been shown to suppress appetite.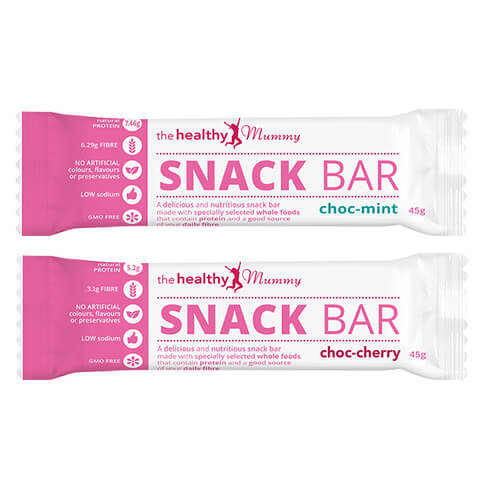 Healthy Mummy Super Greens in Detail
Healthy Mummy Super Greens contain:
More IRON than 12 cups of Spinach!
The Vitamin C equivalent of 1.4 kilograms of Oranges!
56 x more Vitamin B12 than a beef steak!
the calcium equivalent to one litre of milk.
AND it TASTES delicious!!
A vegan-friendly product. Free from dairy, gluten and preservatives.
What makes Super Greens different?
It's safe for use in breastfeeding
The unique blend of ingredients has been designed to help boost energy in tired mums
It contains over 37 quality superfood ingredients. It contains probiotics, vitamins, minerals, antioxidants, essential fatty acids and fibre.

It contains alkaline superfoods rich in nutrients designed specifically for busy mums

It's great tasting with a slight cranberry taste and tastes good enough to be drunk with water.
How to use it?
Add 10g to a glass of water daily or add it to your daily Healthy Mummy Smoothie
10g per serve.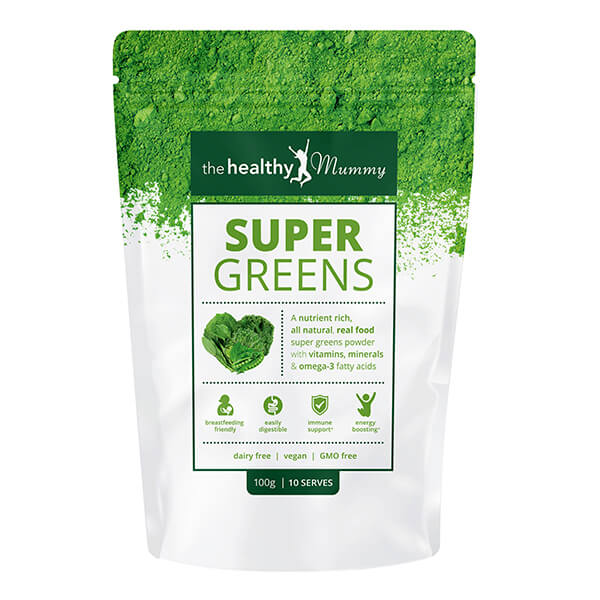 Healthy Kids Lunch Boxes eBook in Detail
Ensuring our children's lunch boxes are filled with healthy, easy to prepare foods that the kids will actually eat is really important.  A school lunch box can potentially make up to 30-50% of our child's daily food intake so, we want to make them count.
This book makes preparing lunch boxes a breeze. The recipes are quick and easy to make, offering maximum nourishment and delicious flavours that the kids will actually enjoy. Plus, many of the recipes use left overs, to save time and money.
Buy your copy today, or you can access ALL 40 of our Healthy Mummy books from just $10/month with our eBook membership – get more details here!