The Immune supplement is specifically designed for busy mums to help boost your immune system naturally.
The delicious, berry flavoured Immune is a supercharged blend of real food ingredients. The supplement contains Vitamin C, Vitamin D, Vitamin A, B12 and Zinc which nourish the immune system naturally.
The Healthy Mummy Immune assists with immune function and helps keep you healthy.
Benefits of our Immune Supplement:
Specifically formulated for BUSY MUMS
Nourishes your immune system NATURALLY and includes organic ingredients
Packed with immune-supporting SUPERFOODS to support and nourish your immune system
Safe for use whilst BREASTFEEDING

Contains

PROBIOTICS

 which assist gut function. A healthy gut means you absorb nutrients better, so you can fight off winter colds 

Berry flavour which tastes DELICIOUS
Source of VITAMIN A, VITAMIN C, VITAMIN D, B12 and ZINC which assist with Immune function
VEGAN-friendly product
Free from dairy and preservatives
GMO free
How to use it?
Mix 10g per day in a glass of water or juice. Alternatively, add the powder as a immune booster to your Healthy Mummy Smoothie. Take once daily.
Nutritional Information and Ingredients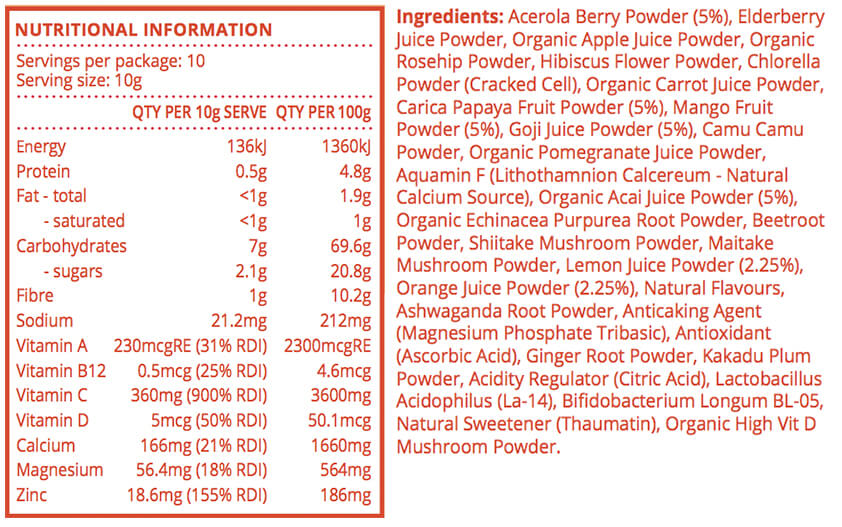 Nutritionist Reviews
Elisha Danine 
"IMMUNE is a great blend of herbs, fruits and vegetables that work well together to create a dynamic health boost. The Healthy Mummy has done a great job in creating this combination of immune enhancing ingredients that will help to prevent sickness and build the immune system. I love the addition of Vitamins C and D, plus Zinc and Probiotics. I believe this is a great all round supplement for the whole family."
Cheree Sheldon
"The thing that I like the most about the Immune supplement is that it is from real foods and herbs, and is not a synthetic product. Foods like acerola, Camu Camu and rose hips are amazing for immunity due to their vitamin C and antioxidant properties. It is full of delicious fruit powders like elder, mango and hibiscus, that not only add amazing flavour but help protect our health. It's a wonderful immune blend. I Love it."
Additional Information
To read FAQ's about IMMUNE, please click here 
Check out our Immunity Boosting eBook. The cookbook is packed with recipes to help boost your immune system
Other Supplements in the Healthy Mummy Supplement range:
Energy Boosting Super Greens – Contains over 37 whole food ingredients giving tired mums an energy boost
Breastfeeding Plus – Supports breast milk supply by providing mothers with a boost of vitamins and minerals
Tummy – Assits digestion and reduces bloating naturally