Healthy Mummy Breastfeeding PLUS Super Greens Pack Contains:
1x Breastfeeding PLUS
1x Breastfeeding Bracelet
2x Healthy Mummy Smoothies
1x Super Greens
1x Pink and White Canvas Tote Bag
1x Post Pregnancy Exercise DVD
1x Milk Supply Boosting Recipes eBook
1x Breastfeeding Friendly eBook
 BREASTFEEDING PLUS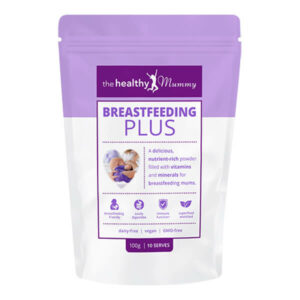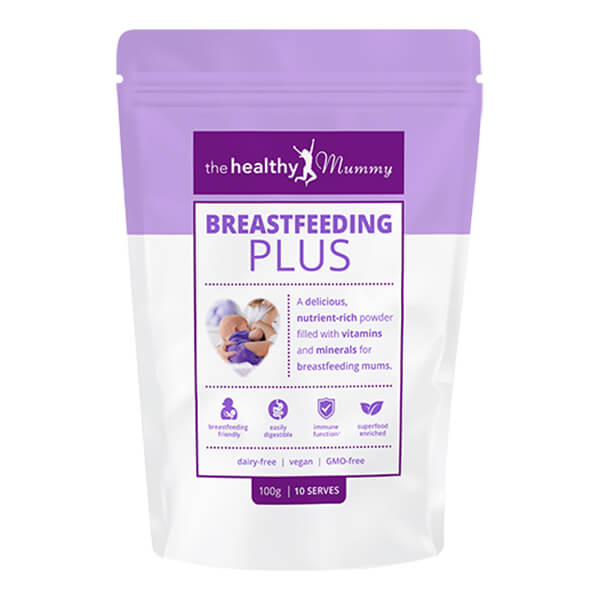 Introducing our *BRAND NEW* Breastfeeding Plus, now available! 
Breastfeeding Plus can assist with energy levels, immune function and support breast milk supply by providing mothers with a boost of vitamins and minerals to aid in recovery post birth. The aim of this product is to focus on mums nourishing their body to feed their baby. 
A delicious, nutrient-rich powder filled with vitamins & minerals for breastfeeding mums. A blend of real food sources to assist mums with the nutrients they need whilst breastfeeding. No nasty chemicals or additives – nothing but nutritious ingredients. If you need help with breastfeeding, or are concerned about you and your baby's wellbeing, it is important to consult the appropriate health professional, such as a certified lactation consultant or your family doctor.
A dairy free and GMO-free product suitable for vegans. It has a mild blackcurrant taste and is delicious
Benefits of Breastfeeding Plus:
Breastfeeding Friendly
Easily Digestible
Immune Function
Superfood Enriched
How to use Breastfeeding Plus?
Mix one 10g serve into water or juice and take once or twice daily.
Breastfeeding Plus Ingredients
Fenugreek:  Is a herb that is well known for its milk boosting properties.
St Marys thistle– Also helps with boosting milk supply and is a liver tonic  and a potent antioxidant.
Flaxseed–  Is a good source of fibre and omega-3 fatty acids and when combined with other galactogues helps boost milk supply.
Fennel – A sweet liquorice flavoured spice is used to treat digestive and menstrual issues but is also a known to stimulate and increase milk production. It may also pass through the breast milk and help a baby's digestion and relieve colic symptoms.
Goats rue– The dried leaved or the goats rue is considered a galactagogue and studies suggest can stimulate the growth of breast tissue.
Here are some other superfoods, nutrients, vitamins and minerals found in The Healthy Mummy Breastfeeding Plus:
Pea protein –  Is a plant based, high protein, nutrient-rich ingredient in The Healthy Mummy Breastfeeding Plus.
Lithothamnion calcareum: Is from the skeletal remains of the red algae plant.  It gathers minerals naturally throughout its life cycles and when harvested, its remains contain calcium, magnesium, iron and several other trace minerals, which are excellent for bone tissue and general health.
Spirulina is a natural algae that is very rich in a number of nutrients such as protein, vitamin b, iron and essential amino acids. It boosts immunity and energy, benefiting breastfeeding mothers.
Vitamin C – The RDI of Vitamin C for lactating women increases by 45mg. The Healthy Mummy Breastfeeding Plus is jam packed with ingredients high in vitamin C such as Rosehip powder, Acerola berry powder and Ascorbic acid.
Lactobacillus Acidophilus and Bifidobacterium Lactis are powerful probiotics that support the digestive and immune system. Research has even suggested that probiotics taken by a mother during breastfeeding may positively influence gut immunity in their infant.
**Please seek medical advice from you doctor or lactation consultant if you need any assistance in this area. The Healthy Mummy supports all types of feeding.**
Where are the ingredients from / where sourced?
We source materials from our approved quality vendors from both Australian suppliers and around the world.  Usually sourced from the country that has the most suitable growing conditions for the particular plant.
How the ingredients may benefit breast milk production and breastfeeding Mums.
Your nutritional requirements change and increase during pregnancy and after the arrival of your baby. Meeting these increased needs through diet alone can be hard to achieve for some as with a new baby to take care of around the clock, eating and drinking right can sometimes fall by the wayside.
The Healthy Mummy Breastfeeding Plus is specially tailored to help meet the nutritional requirements of a breastfeeding mother.  The mixture is full of natural energy and milk supply boosting foods to ensure extra energy, immunity and healthy development of your baby.
Healthy Mummy Breastfeeding Plus assists mothers to meet their increase needs for vitamins and minerals when breastfeeding when not receiving them from food sources. Its also jam packed galactagogues which are known substances that increase milk supply for some women.
FAQ's
Does it contain gluten/dairy? No, The Healthy Mummy Breastfeeding Plus is free from gluten and dairy so is safe for coeliacs and those who are intolerant to gluten. It also won't affect mothers or babies who are cow's milk protein intolerant or lactose intolerant as it contains no traces of dairy.
Is it dairy free? Yes, Healthy mummy Breastfeeding Plus is free of all dairy! Its safe for mothers or babies who are cows milk protein intolerant or lactose intolerant.  Although it is dairy free, 1 serve of Breastfeeding Plus provides over 20% of your recommended daily intake of calcium thanks to the high calcium content in the lithothamnion calcereum.
I am feeding twins or tandem feeding, do I take double the amount? 
No, Just stay with one serving (10gm) of The Healthy Mummy Breastfeeding Plus.  Feeding multiple infants will cause a natural increase in appetite due to the increase energy requirements of breastfeeding (about 500 calories per baby per day). So if choosing nutritious food, you will be consuming extra foods that contain vital vitamins and minerals for both you and your babies.
What if I am only feeding X amount times per day- what is my serving size?
A lactating woman's increased needs for calories, vitamins and minerals only change slightly with increases or decreases in milk production. Continue taking one serve (10 gm) regardless of how much you are feeding or if you are starting to wean to ensure your body is adequately nourished.
How many times a day can I take this?
Healthy Mummy Breastfeeding Plus is a once daily addition to your diet. Mix 2 teaspoons (one serve = 10gm) in with some water or juice to help support your body when breastfeeding.
Can I take this with a breastfeeding/regular multivitamin?
Show the ingredients list to your healthcare provider if you intend on mixing The Healthy Mummy Breastfeeding Plus with any other regular multivitamins or medications to ensure it is safe for both you and your baby as some vitamins can accumulate in the tissues and cause toxicity.
What's the difference between this and The Healthy Mummy smoothies? 
The regular smoothie mix is a low sugar, high fibre and protein combination, which contains 24 important nutrients that can be used as a filling and nourishing meal replacement where as the Breastfeeding Plus is a nutrient dense powder added to water or juice to give an additional boost of vitamins and minerals to breastfeeding women. The smoothie mix and Breastfeeding Plus are both free from dairy and wheat. Both are free of any weight loss accelerants, caffeine or chemicals, making them great, safe choices for breastfeeding women. You can also add the breastfeeding powder to your Healthy Mummy Smoothies
What is in it? 
Ingredients: Organic spirulina powder, Organic Flaxseed flour, Organic pea protein, Aquamin F (Lithothamnion Calcereum – Natural Calcium Source), Inulin, Blackcurrant Juice powder,  Organic Grape Juice powder, Organic Barley Grass powder,  Chia Ground seed,  Organic Fenugreek seed powder, Acidity regulator (Citric acid), Natural flavours,  Pear Juice powder,  Acerola Berry powder,  St Marys Thistle powder,  Organic Cinnamon Cassia powder,  Organic Nettle Leaf powder,  Organic Carrot Juice powder,  Organic Apple Juice powder,  Organic Rosehip powder, Organic Alfalfa Grass powder,  Ashwaganda Root powder,  Goats Rue powder,  Blessed Thistle powder,  Organic Fennel Seed powder, Organic Celery Seed Meal, Antioxidant (ascorbic acid),  Organic Dandelion Leaf powder, Natural sweetener (thaumatin),  Lactobacillus acidophilus,  Beetroot powder,  Zinc Sulphate monohydrate,  Bifidobacterium lactis
A combination of 33 energy and milk boost ingredients in a convenient powder mix. Check out the ingredients list
How do I use it?
Easy! Just add 1 serve (10 gm) to a glass or water or juice or smoothie once or twice a day.
If it is safe in pregnancy?
Some herbal preparations such as blessed thistle and fennel should not be consumed during pregnancy in large amounts.  If you think you may be pregnant, speak with your health care provider before continuing to use Healthy Mummy Breastfeeding Plus.
When is the recommended time to start taking it?
As Breastfeeding Plus contains a whole bunch of milk boosting galactagogues such as Fenugreek, St Mary's Thistle and Goats Rue, it is best to wait six weeks postpartum to allow your body to settle into breastfeeding and your milk supply to regulate to your babies needs. If you've lost a lot of blood, had a delay in milk coming in or are experiencing other postnatal issues, speak with your health care professional about starting earlier.
Does it have soy?
No, The Healthy Mummy Breastfeeding Plus does not contain any soy products.
Are the ingredients organic?
Were possible we have strived to use organic ingredients. The Healthy Mummy Breastfeeding Plus is GMO free (genetically modified) and free of any nasty chemicals or additives making it a safe choice when breastfeeding.
Would it affect my baby who suffers from intolerance from certain foods?
Most food products consumed by a mother will transfer through the milk and could have an affect on a baby that is intolerant. The Healthy Mummy Breastfeeding Plus is a low allergy product as it is free of dairy, gluten and soy! If you notice any changes in your babies when taking the Breastfeeding Plus, consult a trusted health care professional.
What are galactagogues ?
Galactagogues are herbal or prescription substances that have milk boosting properties.  Although they are usually harmless, some have potential side effects and drug interactions that must be considered for each individual mother. You should talk to your health care provider about whether a particular galactagogue is safe for you.
I have low supply, will this help?
True low supply is very uncommon as most women are capable of producing a full milk supply for their infant and is in fact a perceived low supply due to lack of knowledge around normal lactation and normal infant behaviour. Working with a lactation consultant will help correct any underlying issues that may be causing a lack of supply. By far, the most important way to establish and maintain an adequate milk supply is for breastmilk to be removed often and well.  Breastmilk is made of a supply and demand basis- the more milk removed from your breasts (and the more often), the more milk they'll make and vice versa. Adequate maternal nutrition, fluid intake, rest and reduction of stress all assist in ensuring a good milk supply.
If my supply is already great, why would I take it?
Although containing a range of galactagogues (natural milk boosting foods), The Healthy Mummy Breastfeeding Plus also supports mothers by providing a nutrient dense powder filled with vitamins and minerals to nourish her body when faced with the additional requirements on the body when lactating, recovering from pregnancy and birth ailments and caring for an infant around the clock.
Where can I get help for my breastfeeding problems/issues?
Internationally board certified lactation consultants are the gold standard in Breastfeeding Plus. Book in to see you local IBCLC or get in touch with the Australian Breastfeeding Association to discuss any specific breastfeeding issues you may be having.
Can I take this if I'm mix feeding?
Yes, if you are both breastfeeding and giving formula you can still nourish your body with all the goodness from the Breastfeeding Plus. If you are supplementing your infant with formula due to low supply, with the support of a lactation consultant and the milk boosting ingredients in the Breastfeeding Plus, you may be able to exclusively breastfeed your baby if you choose to do so.
I have had oversupply or mastitis before, should I take this product?
The Healthy Mummy Breastfeeding Plus is full of milk boosting nutrients and therefore may lead to oversupply and possibly mastitis if you are prone to it. Keep an eye on supply and comfort levels when starting the Breastfeeding Plus. If the milk boost properties are too strong for you, try half a dose.
Is The Healthy Mummy Breastfeeding Plus free from porcine derived ingredients?  Yes The Healthy Mummy Breastfeeding Plus is free of pork and beef derived ingredients or products.
What is the difference between Breastfeeding Plus and The Healthy Mummy Super Greens?
Super Greens doesn't have any of the milk boosting properties that are included in The Healthy Mummy Breastfeeding Plus, so if you like the Super Greens formula and have been taking it during pregnancy, think about switching over to the Breastfeeding Plus once you've have your baby to keep receiving the health benefits of our specially formulated powders.
The Healthy Mummy Super Greens aims to help boost energy and plus the immune system. It provides over 37 whole food ingredients in an easily digestible & nutritional formula, which can be added to water, or any smoothie mix for consumption. The specially formulated mix is free of dairy, gluten and preservatives and is safe during lactation.  The Super Greens aims to give busy mums an energy boost by providing high levels of iron, vitamin c, vitamin B12 and calcium. It contains 'superfoods' such as goji berries, chia seeds, kale and spirulina, which boast a range of health benefits including assisting in immune function.
Do all mothers need vitamin and mineral supplementation to breastfeed?
The levels of calcium, magnesium, phosphorus, zinc, iron and folic acid in breast milk are usually unchanged even if your diet is deficient. The body is very good at supplying what the baby needs and will take from the mother's store, leaving her deficient in order to nourish the infant. Unless severely malnourished, your baby will receive all it needs from breast milk regardless of maternal supplementation. If you are not nourishing your body with an adequate diet, Healthy Mummy Breastfeeding Plus can help you feel more energy and vitality by ensuring your body is nourished with superfoods, vitamins and minerals present in the mix. Water soluble vitamin such as vitamin C , ingested by the mother will usually increase the levels found in breast milk but only to a certain point.   Lactating women need approximately 1000mg of calcium per day to help with the calcium loss from the bones while breastfeeding. The Healthy Mummy Breastfeeding Plus  had over 20% of the recommended daily intake in just one serve!
Can I add it to baking? – You could, however you may find some of the nutritional benefits are reduced by cooking and the probiotic action will probably be destroyed.
Breastfeeding Bracelet
The pink breastfeeding bracelet reads 'Last fed on this side' and is the PERFECT reminder as to which side you last breast fed on.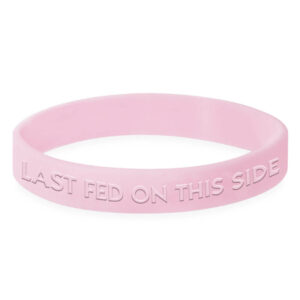 Healthy Mummy Smoothies in Detail
Meal replacement weight loss smoothies for mums
Our meal-replacement weight loss smoothies have been formulated by leading nutritionists to be the perfect companion to a busy mum's life when trying to lose weight. They're breastfeeding-friendly.
20 serves per 500g tub.
Available in: NEW & IMPROVED Chocolate flavour, Vanilla, Caramel, Coffee, Choc-Orange, Choc-Mint, Banana, Strawberry, Cookies & Cream and Raspberry Ripple .
Want more information.
How can Healthy Mummy Smoothies benefit you?
Healthy Mummy Smoothies are an excellent source of essential vitamins, minerals, nutrients & important antioxidants
They don't contain weight loss accelerants, caffeine, gluten and are dairy-free. They are also a non-Genetically Modified product.
They can help with weight management when used as part of a diet & exercise plan
They provide the best possible nutrition for energy
They're breastfeeding-safe and are designed to help to support milk supply
They're 96% sugar free and 100% fructose free
They're low GI & high fibre which helps you feel fuller for longer and aids digestion
They're quick and easy to prepare and taste delicious
They're high in protein & lower in sugar than any other product on the market – see a comparison table.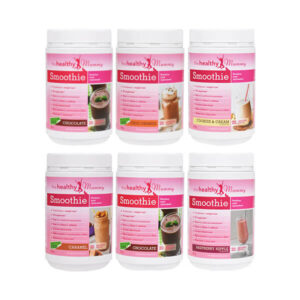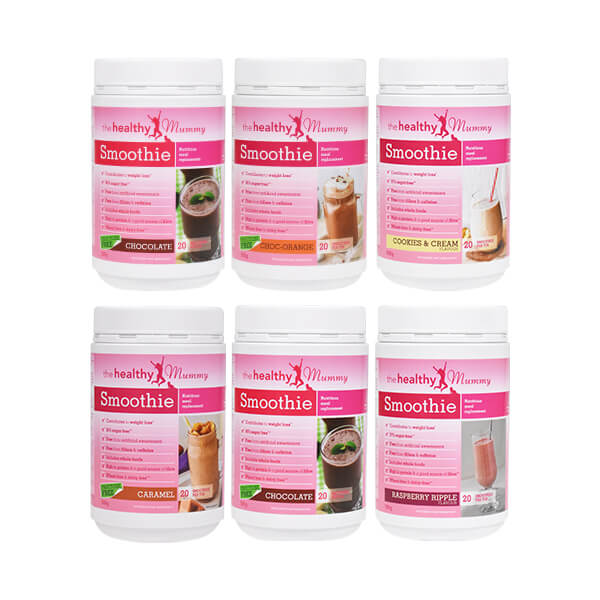 Energy Boosting Super Greens in Detail
Specifically designed for busy mums, the Healthy Mummy Energy Boosting SUPER GREENS Powder vitamin supplement is here to help boost your energy and support your immune system.
The power-packed powder contains over 37 whole food ingredients in an easily digestible & nutritional formula, combining real food sources to deliver a powerful blend of nutrients to help give tired mums the energy they need. They're also safe for use in breastfeeding.
Healthy Mummy Super Greens powder is the culmination of extensive research and development. The combination of natural ingredients are designed to provide a range of vitamins, minerals and phytonutrients. These include Spirulina, Flaxseed, Pea Protein, Organic Barley Grass, Chlorella, Chia, Goji Berry, Kale, Spinach, Mushroom Powder and Dandelion to name but a few.
To protect the nutrients in our premium quality ingredients, the foil packaging has been designed to withstand heat.
A vegan-friendly product. Free from dairy, gluten and preservatives.
Learn more about the benefits of Super Greens here
Healthy Mummy Super Greens contains:
More IRON than 12 cups of Spinach!
The Vitamin C equivalent of 1.4 kilograms of Oranges!
56 x more Vitamin B12 than a beef steak!
the calcium equivalent to one litre of milk.
AND it TASTES delicious!!
What makes Super Greens different?
It's safe for use in breastfeeding
The unique blend of ingredients has been designed to help boost energy in tired mums
It contains over 37 quality superfood ingredients. It contains probiotics, vitamins, minerals, antioxidants, essential fatty acids and fibre.
It contains alkaline superfoods rich in nutrients designed specifically for busy mums
It's great tasting with a slight cranberry taste and tastes good enough to be drunk with water.
How to use the Super Greens?
Add 10g to a glass of water daily or add it to your daily Healthy Mummy Smoothie
10g per serve.
Pink and White Canvas Tote Bag in Detail
These AMAZING Healthy Mummy Carry Bags are perfect to carry all those necessities!
They're made from durable canvas and fully lined with a handy zip pocket on the inside. 
Size: 60cm Length x 38.5cm Height x 15cm Side.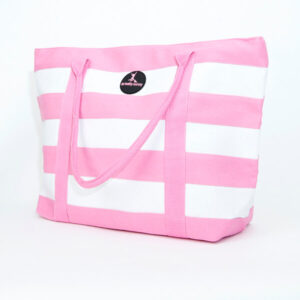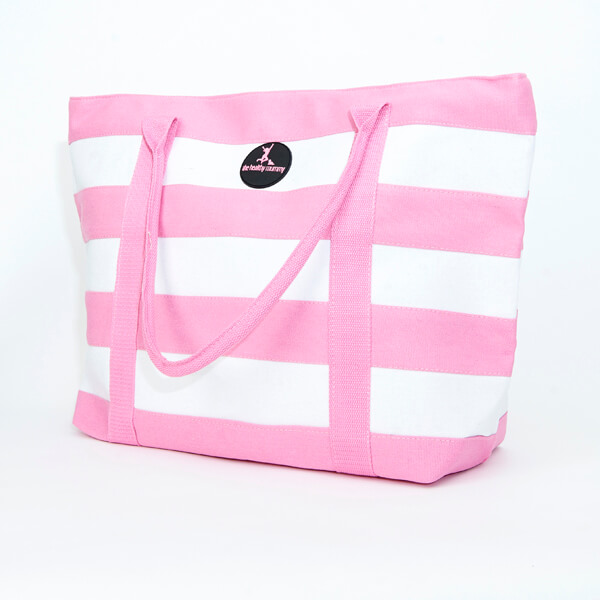 Post Pregnancy Exercise DVD in Detail
Trying to fit exercise into your day when you are a busy mum can be a challenge. At The Healthy Mummy we understand this, and this is why we have created The Healthy Mummy Post Pregnancy Exercise DVD.
The DVD contains safe and effective workouts that you can do in the comfort of your own home.The workouts burn approximately 450 – 550 calories per hour and will help tone up the key areas of your body such as your tummy, hips and thighs.
The DVD can be followed by all mums (for example: new mums or mums with older children) and can be followed by someone with a basic or a more advanced level of fitness.Lisa Westlake is our incredible fitness instructor and postnatal exercise specialist throughout the DVD. With her extensive physiotherapy experience and qualifications (Lisa is one of the most awarded fitness professionals in Australia), Lisa is the perfect fitness instructor to bring The Healthy Mummy Post Pregnancy Exercise DVD to life – you will love working out with her. (You can see our Q&A with Lisa with commonly asked questions on the DVD here)
The exercises in The Healthy Mummy Post Pregnancy Exercise DVD won't just assist in the improvement of your overall fitness levels, they'll also help burn calories, improve  your core strength and strengthen your pelvic floor.
The six workouts are broken down into 10 and 15 minute sections that you can do when it suits you – or, if you have the time and energy, you can do the DVD as one 70 minute continuous workout. The Healthy Mummy Post Pregnancy Exercise DVD also covers special considerations post-birth, such as caesarean sections, back strains, muscle separation, incontinence and pelvic floor issues.
The Workout Summary
15 Minute Low Impact cardio workout – The Low Impact Cardio routine will improve your fitness and energy levels, as well as burning calories, while avoiding stress on your body – in particular, your vulnerable pelvic floor. This workout will put you on the path to being a fitter, leaner and more energetic version of you.
15 Minute toning cardio workout – By combining a low impact cardio conditioning routine with light resistance training, this energetic workout will make your heart and lungs stronger while burning calories and toning your arms, legs and butt. This is a great addition to the low impact routine, or as a stand-alone cardio option with the added bonus of arm and leg toning.
10 Minute upper Body workout – Conditioning your upper body will not only have you feeling and looking stronger, it will provide postural strengthening to combat stress on your upper back. You will also benefit from increased muscle stamina and definition, allowing you to keep up with your little ones.
10 Minute Lower Body workout –  Hone in on your butt and legs with this lower body strengthening workout. It will have you looking and feeling strong, toned and energised.
10 Minute Abs, Back & core workout – The abdominal, back and core muscles are at the centre of a healthy body. With these safe and effective exercises, you will improve your posture, help alleviate back pain and strengthen your pelvic floor while you regain your waist and condition your abs and back.
10 Minute Stretch & Relax-  Lengthen your muscles and relax your mind and body as you calmly and quietly stretch your body, top to toe.
PLUS…See our special section covering all you need to know on special considerations post-birth, such as caesarean sections, back strains, muscle separation, incontinence and pelvic floor issues.
We hope you enjoy The Healthy Mummy Post Pregnancy Exercise DVD and, as always, we love customer feedback so please get in touch.
You can see Customer REVIEWS on the DVD here
Questions & Answers
For all the commonly asked questions about exercise and the DVD including special post natal conditions, when you can start and exercises for tummy fat please click here
Please only begin any exercise routine post birth after receiving the all clear from your Doctor or Physio and never put any pressure on yourself to do exercise before you are 100% recovered post birth – which could up to 12 months or more if you have had a difficult birth.

Milk Supply Boosting Recipes eBook in Detail
Breastfeeding can be a difficult journey for a lot of new mothers – and there aren't many mums who don't question, at least once, whether they are producing enough milk for their growing bub!
Ultimately, your doctor or midwife should be your first port of call with any concerns about adequate supply, but there are also a few foods you can eat that will encourage your body to ramp up milk production.

Breastfeeding Friendly eBook in Detail
Breastfeeding your baby can be a wonderful bonding experience. It can also be a time of stress as you learn a new skill while also taking care of a newborn and ensuring that your own health is maintained.
 We've put together this Breastfeeding Friendly Cookbook to provide you with information about breastfeeding in general, getting started and overcoming common issues as well as learning what foods to include and sometimes to avoid in your breastfeeding diet.
We've also included a range of recipes that are ideal for the breastfeeding mother, to ensure that you're getting enough nutrients to have the energy you need to take care of your baby. The meals included are not only healthy and perfect for breastfeeding mums, they're also quick and easy to prepare and get onto the table.
If family and friends are asking how they can help support you in the early days of new motherhood, you could suggest that they make a large batch of one of these recipes. This will help keep the freezer stocked with healthy meals that you can defrost and enjoy.
We hope you enjoy this special time with your new baby. Try and remember that looking after yourself with plenty of healthy, nutritious food, is vital to a successful breastfeeding relationship and happy, healthy mum.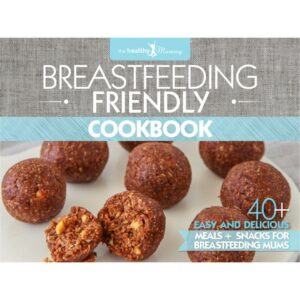 **Please seek medical advice from you doctor or lactation consultant if you need any assistance in this area. The Healthy Mummy supports all types of feeding.**
If you have any more questions please refer to our FAQ's