This pack includes:
Healthy Mummy Tummy Powder
Healthy Mummy Smoothie
Healthy Mummy Protein Powder
Healthy Mummy Metabolism Support Tablets
Healthy Mummy Brownie Bites Mix
TUMMY
The Healthy Mummy TUMMY is here to aid digestion and reduce bloating naturally. A nutritious formula with organic herbs, Omega-rich sources of fibre and probiotics which assist with gastrointestinal health and bloating.

13 serves per pack
Benefits of TUMMY
Aids digestion
Reduces bloating
Delicious Choc-Chai flavour
Fibre that contributes to regular laxation
Source of Omega 3
Nourish your tummy naturally
Probiotics that help to balance the friendly bacteria in your digestive system
Suitable for vegetarians
Superfood enriched – contains superfood ingredients including Chia Seeds and Flax seeds
Breastfeeding friendly
Contains inulin which is a powerful probiotic scientifically proven to support bone health and aid immune system function.
Why is our TUMMY supplement different?
Reduces bloating and aids digestion NATURALLY 
A VEGETARIAN-friendly product. Free from dairy and preservatives. There are no animal sourced ingredients added during manufacture
GMO-free
High in omega 3, probiotics and organic ingredients
It is breastfeeding friendly
Can be used in conjunction with other Healthy Mummy products such as Smoothie & Super Greens
How to use it?
Mix 7.5g (1.5 teaspoon) per day into a glass of water or juice. Take once daily.
Nutritional Info & Ingredients
Vitamins & Benefits
Probiotics – Lactobacillus acidophilus contributes to gastrointestinal health. Lactobacillus acidophilus and Bifidobacterium lactis contribute to the maintenance of beneficial gastrointestinal microflora. Bifidobacterium lactis contributes to gastrointestinal health and immune function.
Fibre – A source of dietary fibre which contributes to regular laxation
Omega-3 – A source of omega-3 fatty acids (healthy fats).
Calming herbs

 

– to help soothe the body, mind and tummy.
FAQ'S
To read FAQ's about TUMMY, please click here 
Nutritionist Reviews
Elisha Danine (B. Hlth Sci Comp. Med.)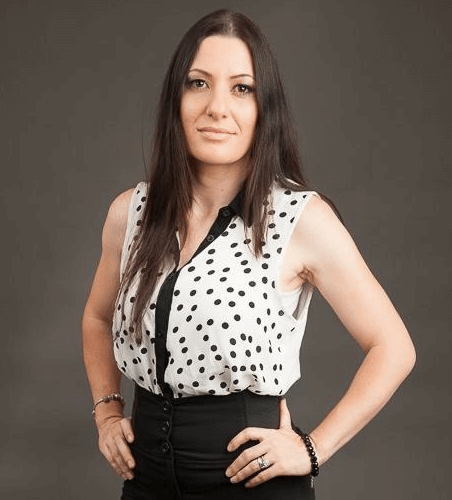 "The Healthy Mummy "Tummy" is a great formulation consisting of quality forms of Omega 3, fibre, pre and probiotics, and calming herb.
One of the ingredients I particularly like is Inulin. Inulin is a powerful pre-biotic that is plant-based – perfect for vegetarians. It supports bone health, immune system function, and gut balance. It is also a soluble dietary fibre which means it dissolves in water. It then forms a gelatinous substance that slows digestion and increases fullness, which may also help to reduce snacking.
The organic herbs in this formulation such as ginger, fennel and peppermint are anti-inflammatory and can aid in reducing digestive issues like bloating heartburn, flatulence, and stomach cramps.
An added bonus is that it's breastfeeding safe! Tummy is a great supplement that you can take daily to support your Healthy Mummy weight loss journey."
Elisha Danine
(B. Hlth Sci Comp. Med.)
Cheree Sheldon, Nutritionist, Ad Dip Nut Med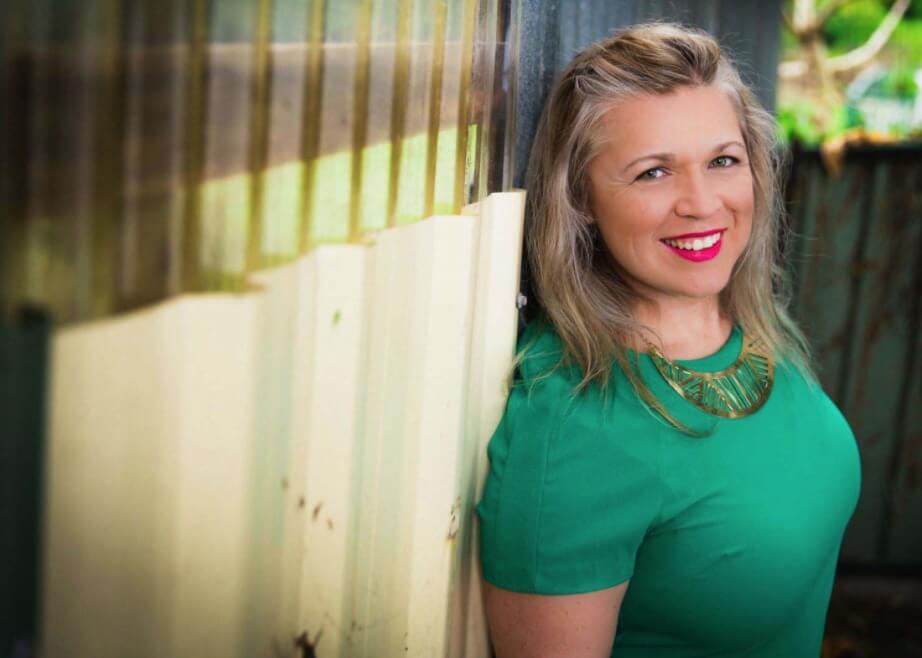 "The new Healy Mummy TUMMY powder is a fabulous blend of herbs and nutrients that will help calm and nourish inflamed tummies. When looking at the ingredients in this product, it is a great balance of prebiotic super foods and probiotics, so your healthy gut bacteria will love this!
I would not hesitate to recommend this to anyone with digestion issues such as bloating, discomfort, reflux, heartburn, or IBS. The ingredients in it will also benefit people trying to boost their immunity as having a healthy happy tummy supports our immune system as well."
Choose x1 Smoothie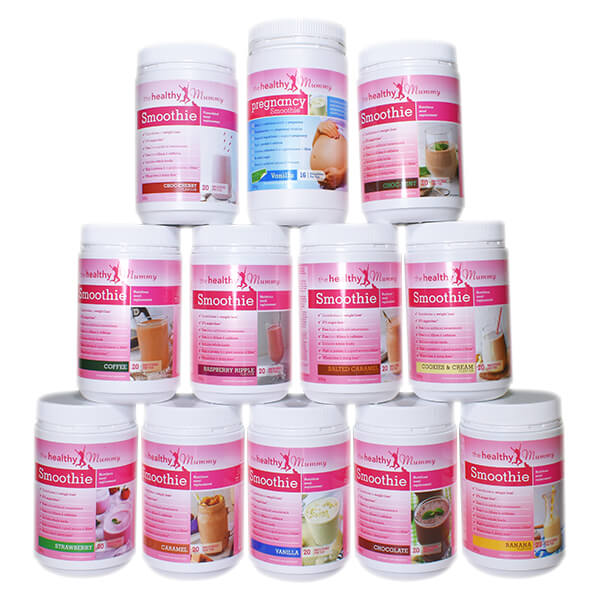 Our meal-replacement weight loss smoothies have been formulated by leading nutritionists to be the perfect companion to a busy mum's life when trying to lose weight. They're breastfeeding-friendly.
20 serves per 500g tub.
Available Flavours: Chocolate, Vanilla, Caramel, Coffee, Choc-Mint, Banana, Strawberry, Cookies & Cream, Salted Caramel and Raspberry Ripple .
We also have Pregnancy Smoothies.
See some of the amazing results Mums have achieved by drinking our Smoothies here
What makes Healthy Mummy Smoothies different?
Banana
Caramel
Chocolate
Choc-Cherry
Choc-Mint
Coffee
Cookies & Cream
Pregnancy
Raspberry Ripple
Salted Caramel
Strawberry
Vanilla
How can Healthy Mummy Smoothies benefit you?
Our meal-replacement Healthy Mummy Smoothies, have been formulated by leading nutritionists to be the perfect companion to a busy mum's life when trying to lose weight. And they're breastfeeding-friendly!
20 serves per 500g tub.
See some of the amazing results Mums have achieved by drinking our Smoothies here
What makes Healthy Mummy Smoothies different?
How can Healthy Mummy Smoothies benefit you?
Healthy Mummy Smoothies are an excellent source of essential vitamins, minerals, nutrients & important antioxidants
They don't contain weight loss accelerants, caffeine, gluten and are dairy-free. They are also a non-Genetically Modified product.
They can help with weight management when used as part of a diet & exercise plan
They provide the best possible nutrition for energy
They're breastfeeding-safe and are designed to help to support milk supply
They're 96% sugar free and do not contain added fructose
They're low GI & high fibre which helps you feel fuller for longer and aids digestion
They're quick and easy to prepare and taste delicious
They're high in protein & lower in sugar than any other product on the market – see a comparison table.
Want more information?
See the AMAZING results from our Healthy Mummy Smoothies
Choose from Chocolate or Vanilla Protein Powder
Our Healthy Mummy protein is an AWESOME source of high-quality whey protein with over 26g of protein per serve.
Our chocolate whey protein powder is:
High-quality whey protein from grass-fed cows
90-93% whey protein
Breastfeeding friendly
99.9% sugar-free
Low sodium
No artificial sweeteners or flavours
Hormone free
GMO-free
Directions
Simply mix 30g of Chocolate Protein Powder with water, it's super easy to make.
The powder is also ideal for adding into smoothies for an extra protein hit and is great for baking with too.
Nutritional Information
Nutritional Information – Chocolate

Nutritional Information – Vanilla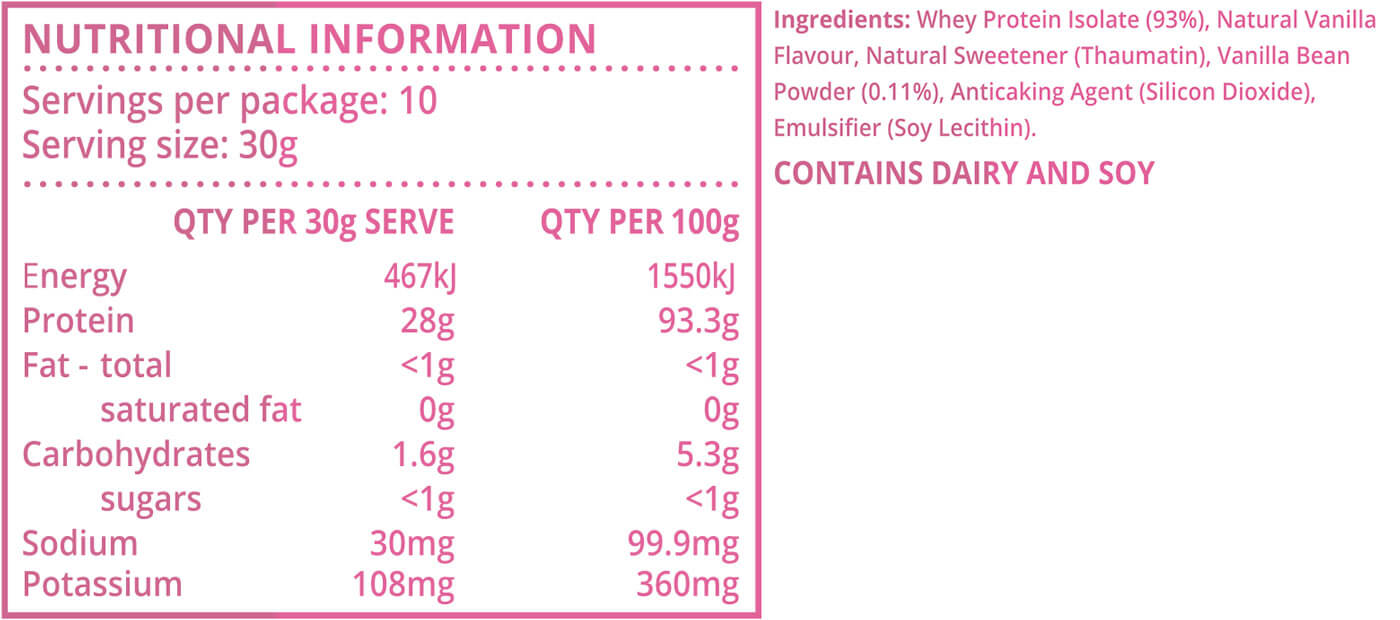 Nutritionist Reviews
Shirley De Jesus – Advanced Diploma in Nutritional Medicine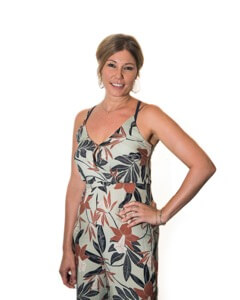 The Healthy Mummy has launched their new protein powders that are in two popular flavours of chocolate and vanilla. Having vanilla as one of the favours, it can be blended with fruit to add to your favourite smoothie. These protein powders contain a great source of whey protein up to 93% from grass fed cows.
Here are some benefits of whey protein:
It is absorbed quickly in comparison to other proteins.
With fast absorption whey is also rich in branched chain amino acids (BCAAs). These amino acids are made up of three essential amino acids Leucine, Isoleucine, and Valine. These are essential because the body is unable to make them out of other amino acids, therefore they must be consumed from food or supplements.
Another great benefit of BCAAs is if you take time off from training for whatever reason, increasing your intake of them minimises muscle loss and preserves lean tissue and will keep your metabolism up. This will prevent fat gain when inactive.
These powders are incredibly low in sugar due to the use of Thaumatin,  it is a natural protein extract that is 2000 times more sweeter than sugar with only 4 calories per gram, makes it the highest natural sweetener ever!
Elisha Danine – Nutritionist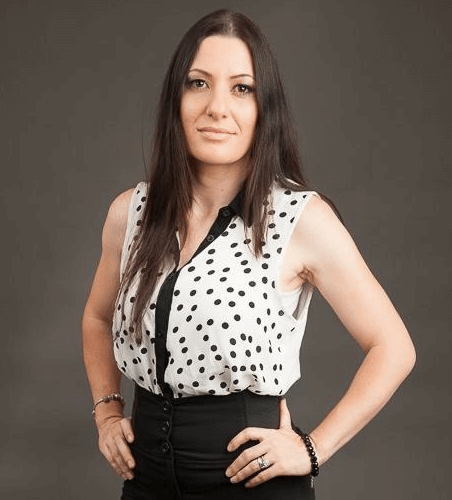 The Healthy Mummy Protein powder range is an excellent source of protein, whether you are using it for exercise recovery, to mix with fruit for breakfast, or as a tasty treat in between meals.
Grass fed whey is a personal favourite ingredient of mine, as it is shown to be significantly higher in nutritional value compared to grain-fed. Cows that are on a grass fed diet are able to have a more stable pH level which allows them to provide beneficial bacteria as well as a broader nutritional content.
The sweeteners used in this product are generally well received and don't cause the unwanted side affects that others may do.
If you are looking for a quality protein powder then I highly recommend The Healthy Mummy brand.
FAQ's
What is Whey Protein Isolate? 
Whey protein isolate (WPI) has a high protein concentration (approximately 90-95%).The process separates protein from fat and lactose resulting in a purer form of whey protein which has less fat and lactose.
Is the Chocolate Protein Powder Gluten Free? 
We do not guarantee the Chocolate Protein powder is 100% gluten free. Although products containing gluten are not added, the protein powders are manufactured in a factory which handles grains containing gluten and some cross contamination may occur.
How many serves of the Chocolate Protein powder can I have in one day?
One serve per day is all that you need. The recommended intake of protein is 50g per day. Each serve contains 26.2g of protein when mixed with water, which is more than half (52%) of your daily recommended protein intake.
For more FAQ's on Chocolate Protein Powder, please click here.
The Healthy Mummy Metabolism Support Tablets
"Metabolism refers to all the chemical processes going on continuously inside your body that allow life and normal functioning (maintaining normal functioning in the body is called homeostasis). These processes include those that break down nutrients from our food, and those that build and repair our body. Building and repairing the body requires energy that ultimately comes from your food."
The Healthy Mummy Metabolism Support Formula has been formulated to contain nutrients involved in energy production and the metabolism of carbohydrates, proteins and fats in the body.
The Healthy Mummy Metabolism Support DOES NOT contain any caffeine, capsaicin, L-carnitine, picolinate, conjugated linoleic acid (CLA) or resveratrol
How to use the Metabolism Tablets
Take two tablets daily or as directed by your healthcare professional
Nutritional Information

The KEY INGREDIENTS in our Metabolism Support formula contain:
Thiamine, which helps the body to metabolise carbohydrates and is essential for energy production. It is involved in the maintenance of nerve tissues and supports the health and function of the nervous system.
Riboflavin, which is involved in energy production in the body and contributes to normal energy release from food.
Nicotinamide, which helps the body to metabolise proteins, carbohydrates and fats and is a component of glucose tolerance factor.
Iodine, which is essential for the manufacture of thyroid hormones, and regulates cellular oxygen consumption, basal metabolism and energy production throughout the body.
Selenium, which plays a role in thyroid hormone production, required for normal healthy thyroid function, and has a role in the antioxidant systems.
Pyridoxine (Vitamin B6), which is involved in the regulation of hormonal activity and supports a healthy immune system function.
Pantothenic acid (Vitamin B5), which has a central role in adrenal function and cellular metabolism.
Zinc, which plays a necessary role in the metabolism of androgens, oestrogen and progesterone.
Zinc has antioxidant activity and may, therefore, assist in protecting the body from the damaging effects of free radical damage.
Folinic acid, which is a form of Folate, and is involved in the formation and maturation of red blood cells and can assist in maintaining healthy blood.
Magnesium, which is necessary for proper muscle and nerve function and is required for the production of energy in the body.
Chromium, which is a main component of glucose tolerance factor.
Mecobalamin (Vitamin B12), which is required for red blood cell formation, and is also involved in cell growth and replication.
The Healthy Mummy Metabolism Support tablets can be taken while breastfeeding or pregnant. If you are taking other multi-vitamin supplements we recommend that you consult with your healthcare practitioner for appropriate dosages.
Please note:
Vitamins can only be of assistance if the dietary vitamin intake is inadequate. This product contains selenium which is toxic in high doses. A daily dose of 150 micrograms for adults of selenium from dietary supplements should not be exceeded. If symptoms persist consult your healthcare practitioner"
FAQ's
Can I take the metabolism tablets if I am breastfeeding or pregnant?
The Healthy Mummy Metabolism Support tablets can be taken while breastfeeding or pregnant. If you are taking other multi-vitamin supplements we recommend that you consult with your healthcare practitioner for appropriate dosages.
Can I crush the Metabolism Support tablets instead of swallowing them whole?
 Yes, you can crush the tablets if you prefer.  Some people have chosen to mix them with their smoothies.
Will the Metabolism Support cause bloating or wind?
The Metabolism Support tablet is a combination of vitamins and minerals and therefore is unlikely to cause bloating or wind.  However if you have not taken multivitamins previously, you may like to halve the dosage for a few weeks and then increase to the full dosage again to give your body time to get used to it.
Does it matter if my Metabolism Support tablets are different colours?
The colour of your tablets may vary slightly from bright pink to softer pinks.  There is nothing wrong with the product and is safe for consumption.
For more FAQS's on this product, please click here
Please note…
Always read the label
Use only as directed
If symptoms persist see your doctor or healthcare professional
Healthy Brownie Bites Mix
The NEW Healthy Mummy Brownie Bites are a delicious and nutritious snack that's super quick and easy to make. The Brownie Bites mix contains all natural and whole food ingredients.
Specifically designed for busy mums the Brownie Bites a delicious treat that'll help you through the day, the healthy way.
What makes the Brownie Bites Mix so great?
Specifically formulated for Mums
Delicious AND healthy
Just 101 calories per serve
Contains Superfoods – chia seeds, quinoa and cacao nib
Super quick to make, only 5 minutes prep time!
Breastfeeding friendly
Contains no artificial colours or flavours
Superfood ingredients include:
Chia Seeds –  A good source of omega-3 fatty acids, fiber, antioxidants, iron, and calcium.
Quinoa – High in protein
Cacao Nibs – Contains antioxidants
Nutritional Information & Ingredients 
How to Make the Brownie Bites
Makes 12 Brownies
Prep time is 5 minutes
Baking time is 15 minutes
You will need to add: 
2 tbsp rice malt syrup
4 tbsp coconut oil
1 large egg
Method: 
Preheat oven to 160c
In a large bowl, pour the Brownie Bites Mix
Take care. In a microwave heat rice malt syrup and coconut oil until bubbling
Add rice malt syrup, coconut oil and egg to the Brownie Bites Mix. Stir through evenly.
In a loft tin (24x14cm), pour the mix and smooth out with a knife
Bake for 15 minutes (You will know that your brownies are perfectly cooked when they are firm around the edges and still soft and fudgey to the touch in the middle. You may think it needs longer in the oven but this is the perfect brownie.)
Cool for 5 minutes, then cut into 12 bite-sized pieces. Enjoy!
Other products in the Dry Mix Range
 Choc-Caramel Protein Ball Mix – Super quick and easy to make with no baking required. The balls also contain 3g of protein per serve and are made from whole food ingredients.