This pack includes:
Tummy
Healthy Brownie Bites Mix
Choc Cherry Snack Bars
Healthy Mummy Smoothie
 TUMMY
The Healthy Mummy TUMMY  is here to aid digestion and reduce bloating naturally. A nutritious formula with organic herbs, Omega-rich sources of fibre and probiotics which assist with gastrointestinal health.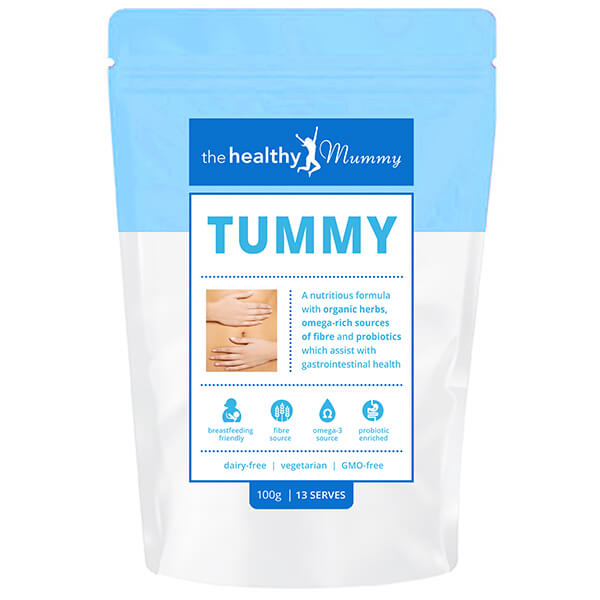 Benefits of TUMMY
Aids digestion
Reduces bloating
Delicious Choc-Chai flavour
Fibre that contributes to regular laxation
Source of Omega 3
Nourish your tummy naturally
Probiotics that help to balance the friendly bacteria in your digestive system
Suitable for vegetarians
Superfood enriched – contains superfood ingredients including Chia Seeds and Flax seeds
Breastfeeding friendly
Contains inulin which is a powerful probiotic scientifically proven to support bone health and aid immune system function.
Why is our TUMMY supplement different?
Reduces bloating and aids digestion NATURALLY 
A VEGETARIAN-friendly product. Free from dairy and preservatives. There are no animal sourced ingredients added during manufacture
GMO-free
High in omega 3, probiotics and organic ingredients
It is breastfeeding friendly
Can be used in conjunction with other Healthy Mummy products such as Smoothie & Super Greens
How to use it?
Mix 7.5g (1.5 teaspoon) per day into a glass of water or juice. Take once daily.
Nutritional Info & Ingredients
Vitamins & Benefits
Probiotics – Lactobacillus acidophilus contributes to gastrointestinal health. Lactobacillus acidophilus and Bifidobacterium lactis contribute to the maintenance of beneficial gastrointestinal microflora. Bifidobacterium lactis contributes to gastrointestinal health and immune function.
Fibre – A source of dietary fibre which contributes to regular laxation
Omega-3 – A source of omega-3 fatty acids (healthy fats).
Calming herbs

 

– to help soothe the body, mind and tummy.
FAQ'S
To read FAQ's about TUMMY, please click here 
Nutritionist Reviews
Elisha Danine (B. Hlth Sci Comp. Med.)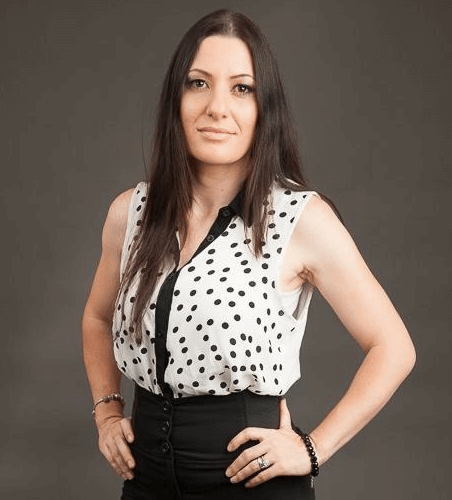 "The Healthy Mummy "Tummy" is a great formulation consisting of quality forms of Omega 3, fibre, pre and probiotics, and calming herb.
One of the ingredients I particularly like is Inulin. Inulin is a powerful pre-biotic that is plant-based – perfect for vegetarians. It supports bone health, immune system function, and gut balance. It is also a soluble dietary fibre which means it dissolves in water. It then forms a gelatinous substance that slows digestion and increases fullness, which may also help to reduce snacking.
The organic herbs in this formulation such as ginger, fennel and peppermint are anti-inflammatory and can aid in reducing digestive issues like bloating heartburn, flatulence, and stomach cramps.
An added bonus is that it's breastfeeding safe! Tummy is a great supplement that you can take daily to support your Healthy Mummy weight loss journey."
Elisha Danine
(B. Hlth Sci Comp. Med.)
Cheree Sheldon, Nutritionist, Ad Dip Nut Med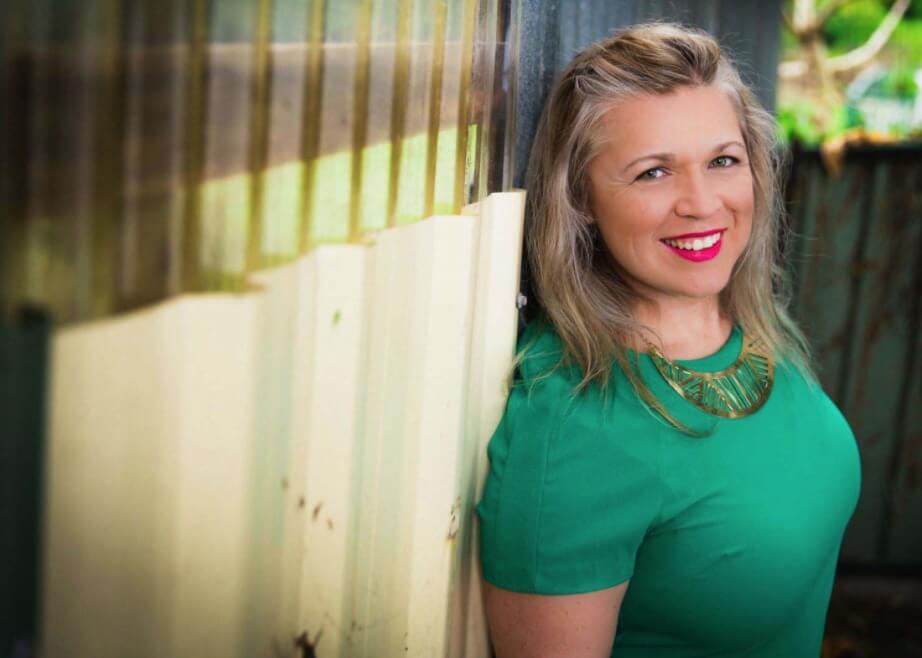 "The new Healy Mummy TUMMY powder is a fabulous blend of herbs and nutrients that will help calm and nourish inflamed tummies. When looking at the ingredients in this product, it is a great balance of prebiotic super foods and probiotics, so your healthy gut bacteria will love this!
I would not hesitate to recommend this to anyone with digestion issues such as bloating, discomfort, reflux, heartburn, or IBS. The ingredients in it will also benefit people trying to boost their immunity as having a healthy happy tummy supports our immune system as well."
Healthy Brownie Bites Mix in Detail
The NEW Healthy Mummy Brownie Bites are a delicious and nutritious snack that's super quick and easy to make. The Brownie Bites mix contains all natural and whole food ingredients.
Specifically designed for busy mums the Brownie Bites a delicious treat that'll help you through the day, the healthy way.
What makes the Brownie Bites Mix so great?
Specifically formulated for Mums
Delicious AND healthy
Just 101 calories per serve
Contains Superfoods – chia seeds, quinoa and cacao nib
Super quick to make, only 5 minutes prep time!
Breastfeeding friendly
Contains no artificial colours or flavours
Superfood ingredients include:
Chia Seeds –  A good source of omega-3 fatty acids, fiber, antioxidants, iron, and calcium.
Quinoa – High in protein
Cacao Nibs – Contains antioxidants
Nutritional Information & Ingredients 
How to Make the Brownie Bites
Makes 12 Brownies
Prep time is 5 minutes
Baking time is 15 minutes
You will need to add: 
2 tbsp rice malt syrup
4 tbsp coconut oil
1 large egg
Method: 
Preheat oven to 160c
In a large bowl, pour the Brownie Bites Mix
Take care. In a microwave heat rice malt syrup and coconut oil until bubbling
Add rice malt syrup, coconut oil and egg to the Brownie Bites Mix. Stir through evenly.
In a loft tin (24x14cm), pour the mix and smooth out with a knife
Bake for 15 minutes (You will know that your brownies are perfectly cooked when they are firm around the edges and still soft and fudgey to the touch in the middle. You may think it needs longer in the oven but this is the perfect brownie.)
Cool for 5 minutes, then cut into 12 bite-sized pieces. Enjoy!
Other products in the Dry Mix Range
 Choc-Caramel Protein Ball Mix – Super quick and easy to make with no baking required. The balls also contain 3g of protein per serve and are made from whole food ingredients.
The Healthy Mummy Protein Snack Bars
The Healthy Mummy Snack Bars are a delicious and nutritious snack that contains protein and an excellent source of your daily fibre. The snack bars are made with specially selected whole food ingredients and are breastfeeding friendly.
The bars are designed as a convenient snack bar that can replace one of your daily snacks.
The Snack Bars come in a box of 10 snack bars (45g each) and are great protein snack for when you are on the run!
Excellent source of fibre
Good source of natural protein
Less than 220 calories per 45g bar
No artificial colours, flavours or preservatives
Low sodium
GMO free
Saturated Fat
The type of saturated fat in the Snack Bars is from Coconut and is Medium Chain Triglycerides (also known as MCT's). MCT is the main form of fat in coconut making up at least 50% of the total fat content.
Some benefits of MCTs as opposed to other types of saturated fats include the following:
MCTs are more rapidly absorbed by the body and more quickly metabolised (burned) as fuel.
MCTs are very efficiently converted into fuel for immediate use by organs and muscles.
MCTs have anti-aging properties such as promoting the development of ketones which is good for the ageing brain.
MCTs have been shown to suppress appetite.
Nutritionist Reviews
Cheree Sheldon, Nutritionist
Finally, a snack bar that is both full of health benefits and chocolatey goodness! Love the fact that this bar contains chicory root, as it will love yourliver at the same time as being a prebiotic and antioxidant!
These bars are high in fibre and contain a nice amount of protein, so you feel fuller for longer…And it hits the sweet cravings on the head at the same time. Winning!
Nutritional Information
Double Choc Snack Bars

Choc Cherry Snack Bars 

The bars are made in Australia and ingredients are sourced from local and overseas ingredients.
Allergy information
These Healthy Mummy Snack Bars contain dairy, soy and nuts. It does not contain gluten ingredients but has not undergone gluten free testing for us to make the packaging claim.
FAQs
Are the snack bars gluten free? 
The Healthy Mummy snack bars do not contain any ingredients with gluten, however they may have come into contact with gluten during processing. The products have not undergone testing to show they are gluten free.
How many Snack Bars can I eat in one day?
Snack Bars are best consumed as snacks, ideally 1-2 per day is all that is required.
Are the Snack Bars suitable for vegetarians / vegans?
Tha snack bars are suitable for vegetarians but they are not suitable for vegans.
Are the Snack Bars pregnancy friendly? 
There is 0.1% peppermint oil per serve in the Choc Mint Snack Bars, Peppermint oil is not recommended in pregnancy due to safe dosages not having been determined and therefore we would not recommended Choc-Mint snack bars during pregnancy.
For more FAQ's on our Snack Bars click here 
Choose x1 Smoothie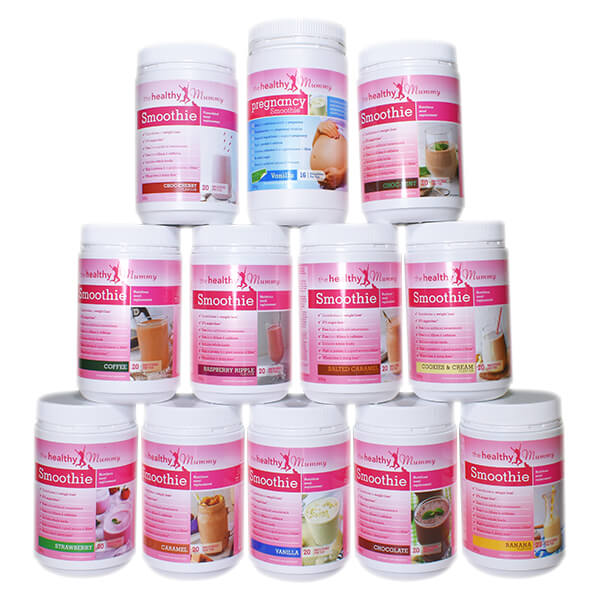 Our meal-replacement weight loss smoothies have been formulated by leading nutritionists to be the perfect companion to a busy mum's life when trying to lose weight. They're breastfeeding-friendly.
20 serves per 500g tub.
Available Flavours: Chocolate, Vanilla, Caramel, Coffee, Choc-Mint, Banana, Strawberry, Cookies & Cream, Salted Caramel and Raspberry Ripple .
We also have Pregnancy Smoothies.
See some of the amazing results Mums have achieved by drinking our Smoothies here
What makes Healthy Mummy Smoothies different?
Banana
Caramel
Chocolate
Choc-Cherry
Choc-Mint
Coffee
Cookies & Cream
Pregnancy
Raspberry Ripple
Salted Caramel
Strawberry
Vanilla
How can Healthy Mummy Smoothies benefit you?
Our meal-replacement Healthy Mummy Smoothies, have been formulated by leading nutritionists to be the perfect companion to a busy mum's life when trying to lose weight. And they're breastfeeding-friendly!
20 serves per 500g tub.
See some of the amazing results Mums have achieved by drinking our Smoothies here
What makes Healthy Mummy Smoothies different?
How can Healthy Mummy Smoothies benefit you?
Healthy Mummy Smoothies are an excellent source of essential vitamins, minerals, nutrients & important antioxidants
They don't contain weight loss accelerants, caffeine, gluten and are dairy-free. They are also a non-Genetically Modified product.
They can help with weight management when used as part of a diet & exercise plan
They provide the best possible nutrition for energy
They're breastfeeding-safe and are designed to help to support milk supply
They're 96% sugar free and do not contain added fructose
They're low GI & high fibre which helps you feel fuller for longer and aids digestion
They're quick and easy to prepare and taste delicious
They're high in protein & lower in sugar than any other product on the market – see a comparison table.
Want more information?