The Healthy Mummy Essentials Results Pack includes products for your everyday use.
2 x Healthy Mummy Smoothies
1 x Metabolism Support tablets
1 x Protein Powder
1 x Snack Bars Choc-Cherry (box of 10)
1 x Lose the Last 5kg eBook
How can Healthy Mummy Smoothies benefit you?
Our meal-replacement Smoothies have been formulated by leading nutritionists to be the perfect companion to a busy mum's life when trying to lose weight.
They're breastfeeding-friendly!
20 serves per 500g tub.
Healthy Mummy Smoothies are an excellent source of essential vitamins, minerals, nutrients & important antioxidants
They don't contain weight loss accelerants, caffeine, gluten and are dairy-free. They are also a non-Genetically Modified product.
They can help with weight management when used as part of a diet & exercise plan
They provide the best possible nutrition for energy
They're breastfeeding-safe and are designed to help to support milk supply
They're 96% sugar free and do not contain added fructose
They're low GI & high fibre which helps you feel fuller for longer and aids digestion
They're quick and easy to prepare and taste delicious
They're high in protein & lower in sugar than any other product on the market – see a comparison table.
Want more information?
The owners of  The Healthy Mummy shall have no liability or responsibility to any person or entity with respect to any loss or damage caused, or alleged to be caused, directly or indirectly by the information contained herein.
If your baby suffers from colic, has allergies, has any digestive issues or any illness, we advise discussing any diet plan with your Doctor as certain foods may exacerbate the problem. 
When introducing any new food into your diet, we advise being alert to any food sensitivity in your baby such as a change in bowel movements and discontinuing any new diet plan if any food sensitivity occurs.
Please only begin any exercise routine post birth after receiving the all clear from your Doctor or Physio and never put any pressure on yourself to do exercise before you are 100% recovered post birth – which could up to 12 months or more if you have had a difficult birth.
The Healthy Mummy Metabolism Support
"Metabolism refers to all the chemical processes going on continuously inside your body that allow life and normal functioning (maintaining normal functioning in the body is called homeostasis). These processes include those that break down nutrients from our food, and those that build and repair our body. Building and repairing the body requires energy that ultimately comes from your food."
The Healthy Mummy Metabolism Support Formula has been formulated to contain nutrients involved in energy production and the metabolism of carbohydrates, proteins and fats in the body.
The Healthy Mummy Metabolism Support is DOES NOT contain any caffeine, capsaicin, L-carnitine, picolinate, conjugated linoleic acid (CLA) or resveratrol
Breastfeeding & pregnancy
The Healthy Mummy Metabolism Support tablets can be taken while breastfeeding or pregnant. If you are taking other multi-vitamin supplements we recommend that you consult with your healthcare practitioner for appropriate dosages.
Dosage: take two tablets daily or as directed by your healthcare professional

The KEY INGREDIENTS in our Metabolism Support formula contain:
Thiamine, which helps the body to metabolise carbohydrates and is essential for energy production. It is involved in the maintenance of nerve tissues and supports the health and function of the nervous system.
Riboflavin, which is involved in energy production in the body and contributes to normal energy release from food.
Nicotinamide, which helps the body to metabolise proteins, carbohydrates and fats and is a component of glucose tolerance factor.
Iodine, which is essential for the manufacture of thyroid hormones, and regulates cellular oxygen consumption, basal metabolism and energy production throughout the body.
Selenium, which plays a role in thyroid hormone production, required for normal healthy thyroid function, and has a role in the antioxidant systems.
Pyridoxine (Vitamin B6), which is involved in the regulation of hormonal activity and supports a healthy immune system function.
Pantothenic acid (Vitamin B5), which has a central role in adrenal function and cellular metabolism.
Zinc, which plays a necessary role in the metabolism of androgens, oestrogen and progesterone.
Zinc has antioxidant activity and may, therefore, assist in protecting the body from the damaging effects of free radical damage.
Folinic acid, which is a form of Folate, and is involved in the formation and maturation of red blood cells and can assist in maintaining healthy blood.
Magnesium, which is necessary for proper muscle and nerve function and is required for the production of energy in the body.
Chromium, which is a main component of glucose tolerance factor.
Mecobalamin (Vitamin B12), which is required for red blood cell formation, and is also involved in cell growth and replication.
The Healthy Mummy Metabolism Support tablets can be taken while breastfeeding or pregnant. If you are taking other multi-vitamin supplements we recommend that you consult with your healthcare practitioner for appropriate dosages.
Dosage: take two tablets daily or as directed by your healthcare professional
Please note:
Vitamins can only be of assistance if the dietary vitamin intake is inadequate. This product contains selenium which is toxic in high doses. A daily dose of 150 micrograms for adults of selenium from dietary supplements should not be exceeded. If symptoms persist consult your healthcare practitioner"
ALWAYS READ THE LABEL
USE ONLY AS DIRECTED
IF SYMPTOMS PERSIST SEE YOUR DOCTOR/HEALTHCARE PROFESSIONAL
Healthy Mummy 93% Protein Powder: Vanilla in Detail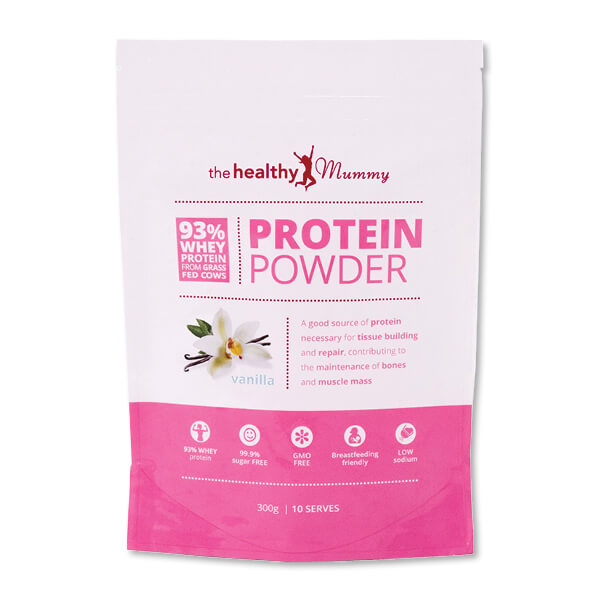 Our Healthy Mummy protein is an AWESOME source of high quality whey protein with 28 grams per serve and is a whopping 93% protein!
This high quality protein powder is breastfeeding friendly and comes from grass fed cows. It is ideal for adding into smoothies for an extra protein hit and is also great for baking with.
It comes in a Vanilla flavour and is 99.9% sugar free and contains no added sugars or artificial sweeteners or flavours.
Our whey protein powder is:
Hormone Free
GMO Free
Breastfeeding friendly
Comes from grass fed cows
Low sodium
99.9% Sugar Free
Use it in your smoothies or use in baking
About the SNACK Bars
The Healthy Mummy Choc-Cherry Snack Bar is a delicious and nutritious snack bar that contains protein and a good source of your daily fibre.
The Healthy Mummy Snack bar is made with specially selected whole foods and is a breastfeeding friendly product.
It is designed as a convenient snack bar that can replace one of your daily snacks and they come in a value and convenient box of ten.
Our SECOND Snack Bar flavour launch comes in Choc-Cherry flavour and TASTES AMAZING – you won't want to miss out on this AWESOME new product.
The Snack Bars come in a box of 10 Snack bars (45g each) and are great protein & energy boosting snack for when you are on the run!
5.2g Natural Protein
No artificial colours and flavours
3.1  Fibre
Low Sodium
GMO Free
212.8 calories per 45g bar
Ingredients:
Organic Rice Malt, Cranberries, Organic Coconut, Almonds, Pepitas, Skim Milk, Chocolate (Contains 50% Cocoa Solids; Sugar, Cocoa Mass, Cocoa Butter, Emulsifier (Soy Lecithin), Milk Solids) (8.6%), Sesame Seeds, Cocoa Powder, Organic Tahini, Organic Cacao Butter, Cherry Flavour Powder.
The bars are made in Australia and ingredients are sourced from local and overseas ingredients.
Allergy information
The Healthy Mummy Snack Bars contain dairy nuts and soy. It does not contain gluten ingredients but has not undergone gluten free testing for us to make the packaging claim.
Saturated Fat
The type of saturated fat in the Snack Bars is from Coconut and is Medium Chain Triglycerides (also known as MCT's). MCT is the main form of fat in coconut making up at least 50% of the total fat content.
The benefits of MCTs as opposed to other types of saturated fats include the following:
MCTs are more rapidly absorbed by the body and more quickly metabolised (burned) as fuel.
MCTs are very efficiently converted into fuel for immediate use by organs and muscles.
MCTs have anti-aging properties such as promoting the development of ketones which is good for the ageing brain.
MCTs have been shown to suppress appetite.
More flavours
MORE flavours will be coming in the future and we are very excited about this new range of Healthy Mummy products and we are working on lots of variants for the future – including dairy and nut free further down the track.
The Healthy Mummy Guide to Losing the last 5kgs in 6 Weeks in Detail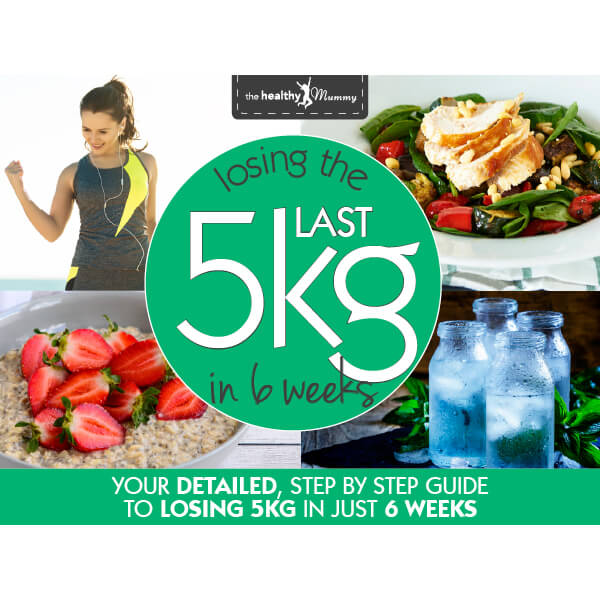 With our busy lifestyles, many of us are looking for a quick fix to get rid of those last few stubborn kilograms. A new fad diet, weight loss pill or body wrap may be very tempting to try, but these quick fixes do not usually provide long lasting results. It's healthy eating and regular exercise that will help you break through a weight loss plateau and keep that weight off long term.
The Healthy Mummy Guide to Losing the Last 5kgs & Keeping it Off, is a sensible and balanced 6 week eating and exercise plan, similar to our 28 Day Weight Loss Challenge, that will help you to break through a weight loss plateau and/or reach your final weight loss goals.
The eating plan is family friendly, meaning you won't need to spend hours in the kitchen preparing separate meals. Hungry kids or partner? Just serve extra sides or make a few ingredient swaps here and there to bulk out meals as required.
This plan is a great way to not only lose the last few kilos standing between you and your weight loss goals but also to get your weight loss back on track or as a refresher in healthy eating to maintain your current weight.
We hope you enjoy the recipes and exercise plans our team of experts have put together and continue to enjoy healthy eating and regular exercise long term, to be the healthiest and happiest version of yourself you can possibly be.