Chocolate Lover Mum's Pack includes:
Drinking Chocolate
Chocolate Smoothie
Snack Bars (10 Pack)
Top 50 Chocolate Recipes eBook
Drinking Chocolate
Did you know that traditional drinking chocolate or hot chocolate can have up to 80% sugar in?
The GOOD NEWS is that we have created The Healthy Mummy Drinking Chocolate with NO added sugar and with lots of additional nutrients in – so as well as tasting AMAZING – it is actually good for you.
It's rich, chocolatey and so delicious. AND ONLY 170 Kilojoules (40 Calories) per serve.
Please note that the sugars in the drinking chocolate come from natural sugar in the lactose (dairy).
Have it hot or cold – it is absolutely DELICIOUS and will curb any chocolate cravings in one go!
Ingredients: Full cream milk powder, Skim milk powder, Organic Cocoa powder, Magnesium phosphate, Natural Flavours, Calcium carbonate, Natural sweetener (Thaumatin), Calcium carbonate, Ascorbic acid (Vit C), d-alpha-tocopheryl acid succinate (Vit E), Zinc oxide,
It comes with a 5 STAR Health Rating too.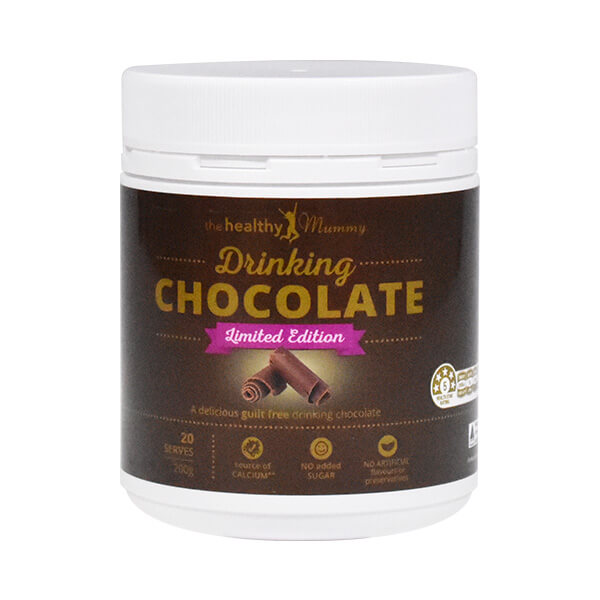 Chocolate Smoothie
Our meal-replacement weight loss smoothies have been formulated by leading nutritionists to be the perfect companion to a busy mum's life when trying to lose weight. They're breastfeeding-friendly.
20 serves per 500g tub.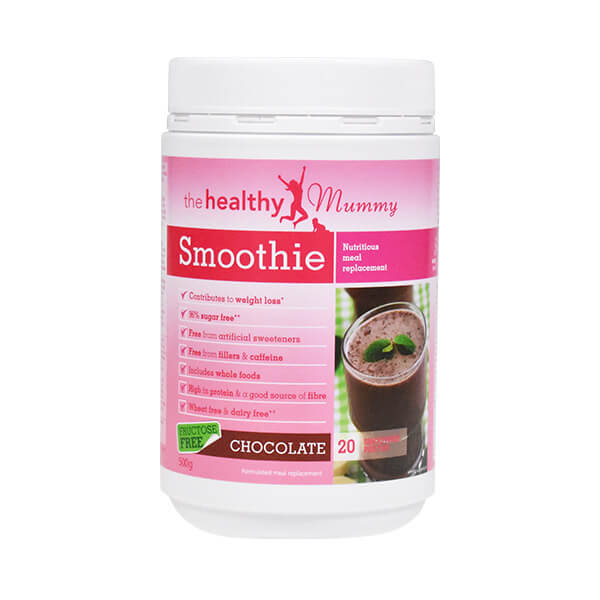 Snack Bars
The Healthy Mummy Snack Bar is a delicious and nutritious snack bar that contains protein and a good source of your daily fibre.
The Healthy Mummy Snack bar is made with specially selected whole foods and is a breastfeeding friendly product.
It is designed as a convenient snack bar that can replace one of your daily snacks and they come in a value and convenient box of ten.
Choose from both our amazing flavours!
The Snack Bars come in a box of 10 Snack bars (45g each) and are great protein snack for when you are on the run!
The bars are made in Australia and ingredients are sourced from local and overseas ingredients.
Allergy information
The Healthy Mummy Snack Bars contain dairy, soy and nuts. It does not contain gluten ingredients but has not undergone gluten free testing for us to make the packaging claim.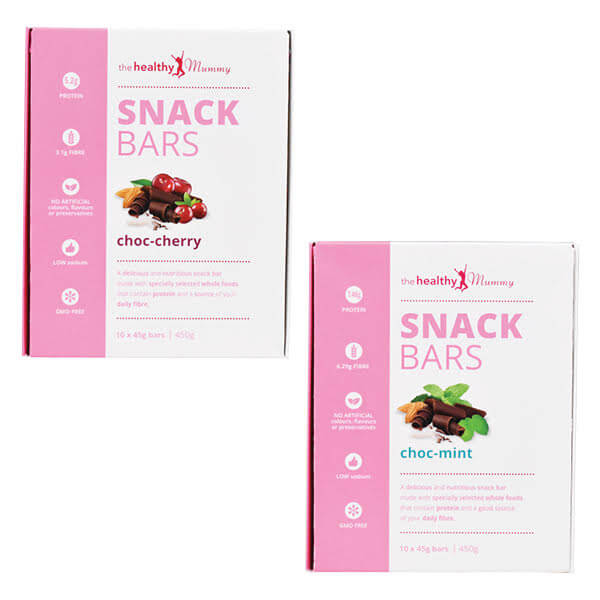 Top 50 Chocolate Recipes eBook
Chocolate is a weak spot for many, The Healthy Mummy team included! When you're following a healthy eating plan, it might seem a little strange to include sweet treats like chocolate. But The Healthy Mummy recipes and meal plans are all about bringing a balance to your eating, enjoying lots of fresh fruits, vegetables, healthy proteins, dairy and whole grains without having to deny yourself the occasional sweet treat.
You're much more likely to make healthy eating a regular part of your life and reach your weight loss goals if you aren't so strict that you cut out every sweet treat or favourite meal.
Moderation and balance are the keys to success. This cookbook is loaded with easy-to-prepare, delicious chocolate recipes, made with healthy, fresh ingredients and all under 300 calories. Even though you might be indulging in something sweet, you are doing so in the best way possible.
We hope you enjoy the recipes we've selected and they help you, your family and friends find that nutritional balance, which is the key to a healthier and happier lifestyle.