This pack includes:
2 x Healthy Mummy Smoothies
1 x Breastfeeding PLUS
Healthy Mummy Smoothie in Detail
Meal replacement weight loss smoothies for mums
Our meal-replacement weight loss smoothies have been formulated by leading nutritionists to be the perfect companion to a busy mum's life when trying to lose weight. They're breastfeeding-friendly.
20 serves per 500g tub.
Available in a variety of flavours including…  Chocolate, Vanilla, Strawberry, Caramel, Coffee, Choc-Mint, Banana,  Cookies & Cream, Salted Caramel, Choc Fudge.
We also have Pregnancy Smoothies.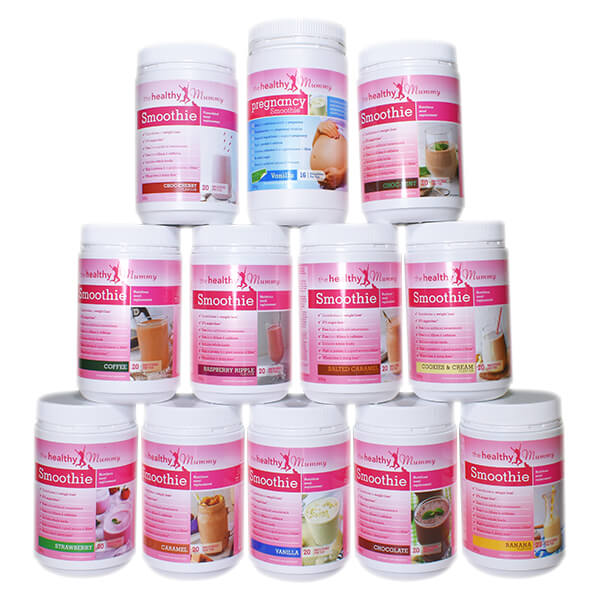 How can Healthy Mummy Smoothies benefit you?
The smoothies are an excellent source of essential vitamins, minerals, nutrients and important antioxidants
Do not contain weight loss accelerants, caffeine or dairy
Non-Genetically Modified product
Can assist with weight management when used as part of a diet & exercise plan
Provide the best possible nutrition for energy
Breastfeeding-safe and designed to help to support milk supply
Approx. 96% sugar free
Low GI and high in fibre which helps you feel fuller for longer and aids digestion
High in protein and lower in sugar than any other product on the market – see a comparison table.
Quick and easy to prepare
Taste delicious
Want more information?
Breastfeeding PLUS in Detail
Breastfeeding PLUS supports breast milk supply by providing mothers with a boost of vitamins and minerals to aid in recovery post birth. The aim of this product is to focus on mums nourishing their body to feed their baby. The product can also assist with energy levels and immune function.
A delicious, nutrient-rich powder filled with vitamins and minerals for breastfeeding mums. A blend of real food sources to assist mums with the nutrients they need whilst breastfeeding. No nasty chemicals or additives – nothing but nutritious ingredients.
A dairy-free and GMO-free product suitable for vegans. It has a mild blackcurrant taste and is delicious.
Benefits of Breastfeeding PLUS:
Supports breast milk supply by providing mothers with a boost of vitamins and minerals
Breastfeeding Friendly
Easily Digestible
Immune Function
Superfood Enriched
Tastes Delicious
How to use Breastfeeding PLUS?
Mix one 10g serve with water or your Healthy Mummy Smoothie and take once a day.
Breastfeeding PLUS Ingredients
Fenugreek:  A herb well known for its milk boosting properties
St Marys Thistle: Helps with boosting milk supply, is a liver tonic and a potent antioxidant
Flaxseed–  A good source of fibre and omega-3 fatty acids, when combined with other galactogues helps boost milk supply
Fennel – A sweet liquorice flavoured spice used to treat digestive and menstrual issues. Also a known to stimulate and increase milk production. In addition, fennel may pass through the breast milk and help a baby's digestion and relieve colic symptoms
Goats Rue– The dried leaves or the goats rue is considered a galactagogue and studies suggest can stimulate the growth of breast tissue
Here are some other superfoods, nutrients, vitamins and minerals found in Breastfeeding PLUS:
Pea Protein: Plant-based, high protein and nutrient-rich
Lithothamnion Calcareum: Contains calcium, magnesium, iron and several other trace minerals, which are excellent for bone tissue and general health
Spirulina: A natural algae that is very rich in a number of nutrients such as protein, vitamin b, iron and essential amino acids. It boosts immunity and energy, benefiting breastfeeding mothers
Vitamin C: The RDI of Vitamin C for lactating women increases by 45mg. The Healthy Mummy Breastfeeding Plus is packed with ingredients high in vitamin C such as Rosehip powder, Acerola berry powder and Ascorbic acid
Lactobacillus Acidophilus and Bifidobacterium Lactis: Powerful probiotics that support the digestive and immune system. Research has  suggested that probiotics taken by a mother during breastfeeding may positively influence gut immunity in their infant
Additional Information
If you need help with breastfeeding, or are concerned about you and your baby's wellbeing, it is important to consult the appropriate health professional. We recommend seeking the advice of a professional such as a certified lactation consultant or your family doctor.
For FAQ's about Breastfeeding Plus, please click here