The Healthy Mummy Basic Results Pack includes products for your everyday use.
1 x Healthy Mummy Smoothies
1 x Metabolism Support tablets
1 x Protein Powder
1 x Snack Bars  (box of 10)
1 x Lose the Last 5kg eBook
How can Healthy Mummy Smoothies benefit you?
Our meal-replacement Smoothies have been formulated by leading nutritionists to be the perfect companion to a busy mum's life when trying to lose weight.
They're breastfeeding-friendly! 
20 serves per 500g tub.
Healthy Mummy Smoothies are an excellent source of essential vitamins, minerals, nutrients & important antioxidants
They don't contain weight loss accelerants, caffeine, gluten and are dairy-free. They are also a non-Genetically Modified product.
They can help with weight management when used as part of a diet & exercise plan
They provide the best possible nutrition for energy
They're breastfeeding-safe and are designed to help to support milk supply
They're 96% sugar free and do not contain added fructose
They're low GI & high fibre which helps you feel fuller for longer and aids digestion
They're quick and easy to prepare and taste delicious
They're high in protein & lower in sugar than any other product on the market – see a comparison table.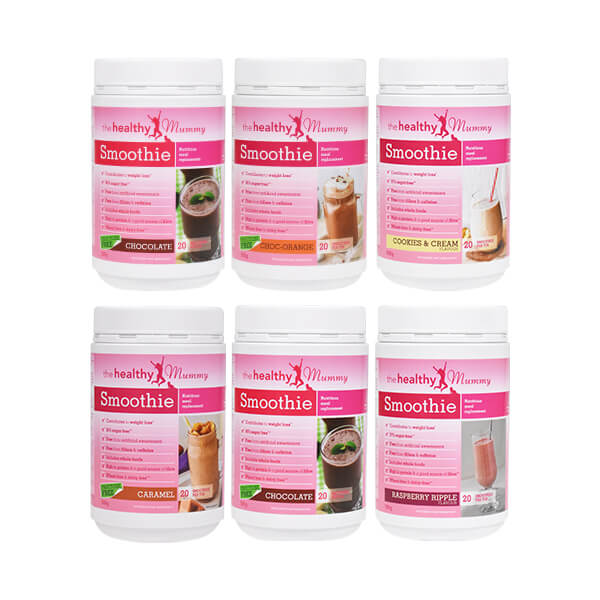 The Healthy Mummy Metabolism Support 
The Healthy Mummy Metabolism Support Formula has been formulated to contain nutrients involved in energy production and the metabolism of carbohydrates, proteins and fats in the body.
The Healthy Mummy Metabolism Support is DOES NOT contain any caffeine, capsaicin, L-carnitine, picolinate, conjugated linoleic acid (CLA) or resveratrol.
The Healthy Mummy Metabolism Support tablets can be taken while breastfeeding or pregnant.
Dosage: take two tablets daily or as directed by your healthcare professional.
Please note:
Vitamins can only be of assistance if the dietary vitamin intake is inadequate. This product contains selenium which is toxic in high doses. A daily dose of 150 micrograms for adults of selenium from dietary supplements should not be exceeded.  If symptoms persist consult your healthcare practitioner".  If you are taking other multi-vitamin supplements we recommend that you consult with your healthcare practitioner for appropriate dosages.
ALWAYS READ THE LABEL
USE ONLY AS DIRECTED
IF SYMPTOMS PERSIST SEE YOUR DOCTOR/HEALTHCARE PROFESSIONAL

Protein Powder 
Our Healthy Mummy protein is an AWESOME source of high quality whey protein with 28 grams per serve and is a whopping 93% protein!
It comes in a Vanilla flavour and is 99.9% sugar free and contains no added sugars or artificial sweeteners or flavours.
Our whey protein powder is:
Hormone Free
GMO Free
Breastfeeding friendly
Comes from grass fed cows
Low sodium
99.9% Sugar Free
Use it in your smoothies, in shakes or use in baking.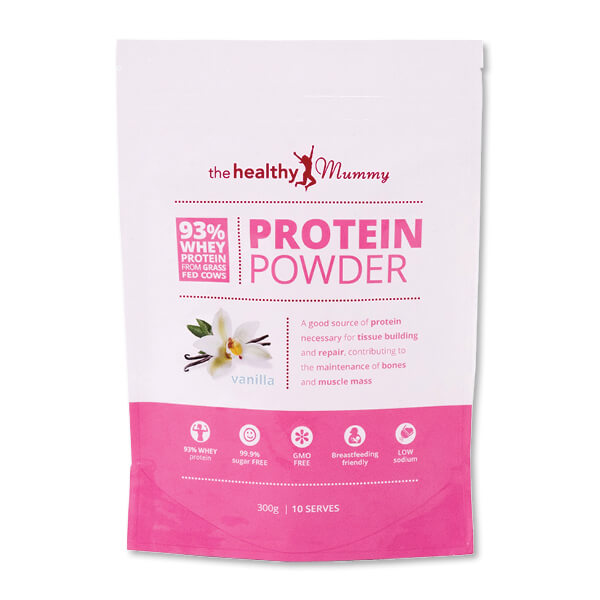 Snack Bars
The Healthy Mummy Snack Bar is:
a delicious and nutritious snack bar that contains protein and a good source of your daily fibre.
made with specially selected whole foods and is a breastfeeding friendly product.
designed as a convenient snack bar that can replace one of your daily snacks.
The Snack Bars come in a box of 10 Snack bars (45g each) and are great protein & energy boosting snack for when you are on the run.
5.2g Natural Protein
No artificial colours and flavours
6.8  Fibre
Low Sodium
GMO Free
212.8 calories per 45g bar
Ingredients:
Organic Rice Malt, Cranberries, Organic Coconut, Almonds, Pepitas, Skim Milk, Chocolate (Contains 50% Cocoa Solids; Sugar, Cocoa Mass, Cocoa Butter, Emulsifier (Soy Lecithin), Milk Solids) (8.6%), Sesame Seeds, Cocoa Powder, Organic Tahini, Organic Cacao Butter, Cherry Flavour Powder.
The bars are made in Australia and ingredients are sourced from local and overseas ingredients.
Allergy information
The Healthy Mummy Snack Bars contain dairy, soy and nuts. It does not contain gluten ingredients but has not undergone gluten free testing for us to make the packaging claim.
Saturated Fat
The type of saturated fat in the Snack Bars is from Coconut and is Medium Chain Triglycerides (also known as MCT's). MCT is the main form of fat in coconut making up at least 50% of the total fat content.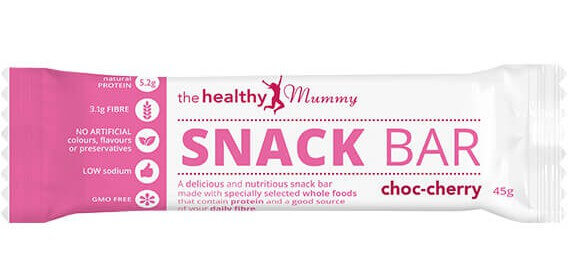 The Healthy Mummy Guide to Losing the last 5kgs in 6 Weeks
The Healthy Mummy Guide to Losing the Last 5kgs:
is a sensible and balanced 6 week eating and exercise plan, similar to our 28 Day Weight Loss Challenge.
will help you to break through a weight loss plateau and/or reach your final weight loss goals.
is family friendly, meaning you won't need to spend hours in the kitchen preparing separate meals.
helps you lose the last few kilos, get your weight loss back on track, and help you maintain your weight loss.