Healthy Mummy Smoothies in detail
Meal replacement weight loss smoothies for mums
Our meal-replacement weight loss smoothies have been formulated by leading nutritionists to be the perfect companion to a busy mum's life when trying to lose weight. They're breastfeeding-friendly.
20 serves per 500g tub.
Available in a variety of flavours including…  Chocolate, Vanilla, Strawberry (currently on pre-order), Caramel, and Choc Fudge (currently on pre-order), Banana, Cookies & Cream, Sneakylicious, Honeycomb (currently on pre-order) and Vanilla 45+!
We also have Pregnancy Smoothies.
How can Healthy Mummy Smoothies benefit you?
The smoothies are an excellent source of essential vitamins, minerals, nutrients and important antioxidants
Do not contain weight loss accelerants, caffeine or dairy
Non-Genetically Modified product
Can assist with weight management when used as part of a diet & exercise plan
Provide the best possible nutrition for energy
Breastfeeding-safe and designed to help to support milk supply
Approx. 96% sugar free
Low GI and high in fibre which helps you feel fuller for longer and aids digestion
High in protein and lower in sugar than any other product on the market – see a comparison table.
Quick and easy to prepare
Taste delicious
Want more information?
Resistance Bands with Handles in detail
The Resistance Bands with Handles come in either light (Pink) or medium (Aqua) resistance and are a great piece of equipment to tone and strengthen your body. The bands are perfect for all fitness levels including those new to fitness as well as those more experienced. The bands are designed to be used anywhere, so you can workout at home, outside or in the gym. 
We recommend you slowly progress from pink to aqua for a more intense workout. Both bands are suitable for the same exercises. 
What's included with the bands? 
Resistance Band with handles 

Door Anchor 

Leaflet with safety instructions and exercises 

Handy bag to keep the bands and door anchor in 
Reasons to LOVE the Resistance Bands 
For body toning and flexibility 

Whole body conditioning, strength and movement. Perfect to build muscles and burn fat

Overall mobility and injury prevention. Recommended for pre/rehab and joint function

Provides resistance for a more intense workout 

Suitable for a variety of exercises 

Easy on the joints thanks to the progressive elastic resistance

Suitable for a variety of exercises
The Door Anchor 
The door anchor is a great way to set up your resistance band so that you can use it at home 
Set up Instructions:
Place the door anchor inside the door. 

Close the door with the strap coming through the door frame 

Thread the handle / tube through the black nylon loop 
Prior to using the door anchor, make sure that: 
The door is closing towards you and not away from you 

The door is locked and will not open during exercising 
Exercises with the Resistance Band
For more exercises using the resistance band, log onto The Healthy Mummy App!

Our 28 Day Stronger Program uses this style of resistance band. Here are some reasons to try it out! 

Tone and strengthen your body 

Beginner and Advanced Programs to choose from

All workouts are less than 30 minutes in length 

Minimal equipment required – all you need is our resistance bands with handles and some weights

Workouts that you can do at home

Find out more about The Healthy Mummy App and the 28 Day Weight Loss Challenge here
Additional Information 
Light (Pink) Dimensions: 5 x 8 x 12000mm
Medium (Aqua) Dimensions: 6 x 10 x 12000mm
Make sure that you read the safety instructions prior to using the resistance band
Vanilla Protein Powder in detail
Our Healthy Mummy protein is an AWESOME source of high quality whey protein with 28 grams per serve and is a whopping 93% whey protein!
This high quality protein powder is breastfeeding friendly and comes from grass fed cows. It is ideal for adding into smoothies for an extra protein hit and is also great for baking with.
Our whey protein powder is:
93% whey protein from grass-fed cows
Hormone Free
GMO Free
Breastfeeding friendly
Low sodium
No artificial sweeteners or flavours
99.9% sugar free
Directions for use 
Nutritional Information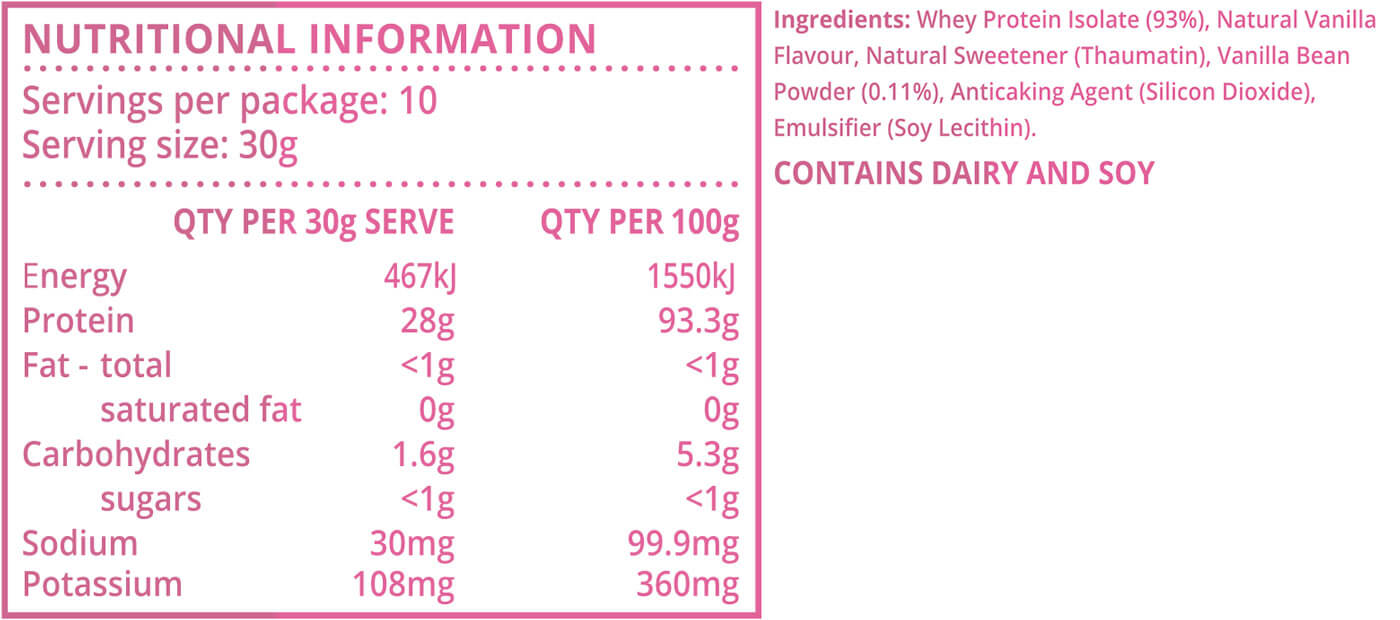 Energy Boosting Super Greens in detail
Specifically designed for busy mums, the Healthy Mummy SUPER GREENS supplement is here to help boost your energy and support your immune system.
The power-packed powder contains over 37 whole food ingredients in an easily digestible & nutritional formula, combining real food sources to deliver a powerful blend of nutrients to give tired mums the energy they need.
They're also safe for use in breastfeeding and free from preservatives.
Healthy Mummy Super Greens powder is the culmination of extensive research and development. The combination of natural ingredients are designed to provide a range of vitamins, minerals and phytonutrients. These include Spirulina, Flaxseed, Pea Protein, Organic Barley Grass, Chlorella, Chia, Goji Berry, Kale, Spinach, Mushroom Powder and Dandelion to name but a few.
Learn more about the benefits of Super Greens here
Healthy Mummy Super Greens contains:
More IRON than 12 cups of Spinach!
The Vitamin C equivalent of 1.4 kilograms of Oranges!
56 x more Vitamin B12 than a beef steak!
The calcium equivalent to one litre of milk.
AND it TASTES delicious!!
What makes Super Greens different?
It's safe for use in breastfeeding
The unique blend of ingredients has been designed to help boost energy in tired mums
It contains over 37 quality superfood ingredients. It contains probiotics, vitamins, minerals, antioxidants, essential fatty acids and fibre.

It contains alkaline superfoods rich in nutrients designed specifically for busy mums

It's great tasting with a slight cranberry taste and tastes good enough to be drunk with water.