Description
This Pack includes:
1 x Apple Cider Vinegar Tablets
1 x Protein Powder – Your choice of flavour
Choose from Chocolate or Vanilla Protein Powder
Our Healthy Mummy Protein Powder is an AWESOME source of high-quality whey protein with 25.8g of protein per serve!
This high-quality protein powder is breastfeeding friendly and comes from grass-fed cows. It is great on it's own, ideal for adding into smoothies for an extra protein hit and is also great for baking with.
Our whey protein powder is:
High-quality whey protein from grass-fed cows
89-93% whey protein
Breastfeeding friendly
98 -99.9% sugar-free
Low sodium
No artificial sweeteners or flavours
Hormone-free
GMO-free
What Our Mums Are Saying:
Chelsea 34, Mum of 4, Sunshine Coast: "Chocolate Protein Review, I have been using the protein powder for over 12 months now, benefits is my muscle recovery is so much quicker, its 99.9% sugar free & the chocolate flavour is delicious I have it with cold water ice & a serve of the powder delicious…"

Jess: "One of the best proteins I have tried. I always have protein after the gym and the Healthy Mummy Chocolate Protein is very high quality and tastes great."
Katrina:"This protein powder is awesome, super versatile and can be added to fruits and other smoothies but keeps me feeling full I really like it!"
Michelle: "The healthy mummy protein powder is by far the smoothest, creamiest and tastiest protein powder I've had. I use it after a workout and it mixes as well in food such as bliss balls."
How can protein assist with weight loss?
A high protein intake boosts metabolism, reduces appetite and changes several weight regulating hormones.
What makes whey protein different from other types of protein?
Whey Protein is a high-quality protein which contains essential amino acids. It is very digestible and is absorbed from the gut quickly when compared with other sources of protein. Whey protein is also highly filling which can stop you snacking on other foods.
Directions for use 
Mix one 30g serve into water or your favourite Healthy Mummy Smoothie 
You can even use the protein powder for baking!
Nutritional Information
Nutritional Information – Chocolate
Nutritional Information – Vanilla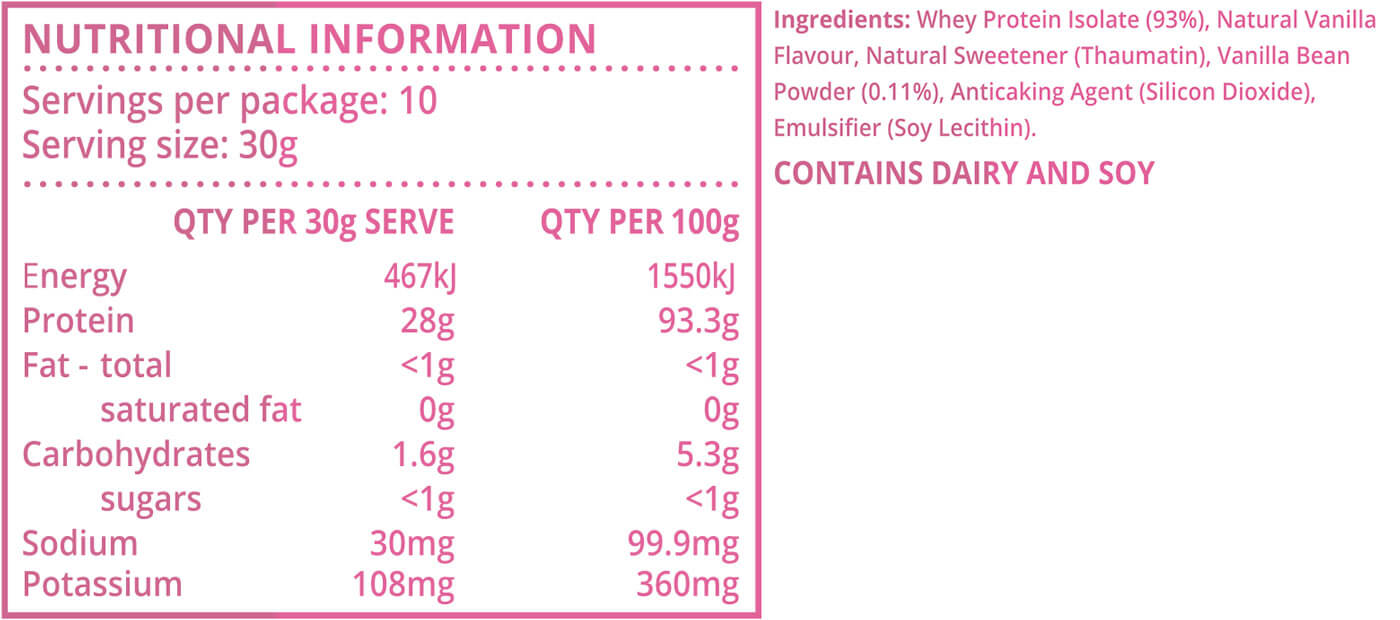 Nutritionist Reviews
Shirley De Jesus – Advanced Diploma in Nutritional Medicine
The Healthy Mummy protein powders are available in three popular flavours of chocolate, vanilla and the NEW Choc-Fudge. These protein powders contain a great source of whey protein up to 93% from grass-fed cows.
Here are some benefits of whey protein:
It is absorbed quickly in comparison to other proteins.
With fast absorption whey is also rich in branched chain amino acids (BCAAs). These amino acids are made up of three essential amino acids Leucine, Isoleucine, and Valine. These are essential because the body is unable to make them out of other amino acids, therefore they must be consumed from food or supplements.
Another great benefit of BCAAs is if you take time off from training for whatever reason, increasing your intake of them minimises muscle loss and preserves lean tissue and will keep your metabolism up. This will prevent fat gain when inactive.
These powders are incredibly low in sugar due to the use of Thaumatin,  it is a natural protein extract that is 2000 times sweeter than sugar with only 4 calories per gram, makes it the highest natural sweetener ever!
Elisha Danine – Nutritionist
The Healthy Mummy Protein powder range is an excellent source of protein, whether you are using it for exercise recovery, to mix with fruit for breakfast, or as a tasty treat in between meals.
Grass-fed whey is a personal favourite ingredient of mine, as it is shown to be significantly higher in nutritional value compared to grain-fed. Cows that are on a grass-fed diet are able to have a more stable pH level which allows them to provide beneficial bacteria as well as a broader nutritional content.
The sweeteners used in this product are generally well received and don't cause the unwanted side effects that others may do.
If you are looking for a quality protein powder then I highly recommend The Healthy Mummy brand.
FAQ's
What is Whey Protein Isolate? 
Whey protein isolate (WPI) has a high protein concentration (approximately 90-95%). The process separates protein from fat and lactose resulting in a purer form of whey protein which has less fat and lactose.
Is the Protein Powder Gluten-Free? 
We do not guarantee the Protein powders are 100% gluten-free. Although products containing gluten are not added, the protein powders are manufactured in a factory which handles grains containing gluten and some cross-contamination may occur.
How many serves of the Protein powder can I have in one day?
One serve per day is all that you need. The recommended intake of protein is 50g per day. Each serve contains up to 26.2g of protein when mixed with water, which is more than half (52%) of your daily recommended protein intake.
For more FAQ's on Protein Powder, please click here.
Apple Cider Vinegar Tablets
The Healthy Mummy's NEW Apple Cider Vinegar is a convenient once daily serving of apple cider vinegar. No 'tang' that you get with the liquid version. Our once daily serving provides a tang-free alternative with 120mg of acetic acid per serve.
The once daily tablet is a teeth and taste friendly way to take apple cider vinegar every day.

Why we love it
Contains "The Mother"
Tang-free
Gentle on teeth
Gentle on taste buds

Nutritional Information
60 tablets per pack
How to enjoy
Take once daily before a meal