The 2019 Weight Loss Box contains everything you need to lose weight this summer. Have your BEST ever body in 2019!
The ULTIMATE 2019 Weight Loss Box includes:
NEW Body Sculpting Lotion
NEW Summer Weight Loss Guide
NEW Brownie Bites Mix
NEW Meal Prep Containers – 5 Pack
NEW Ankle Weights
NEW Hydrate Fruit Infusion Drink Bottle
NEW Roller and Massage Ball Pack
NEW "Dream it. Wish it. Do it."  Singlet
Metabolism Support
Supplement Choice (Tummy OR Immune OR Energy Boosting Super Greens OR Breastfeeding Plus)
2 x Smoothies
Measuring Tape
4 x Weight Loss Vouchers
Body Sculpting Lotion
CLINICALLY PROVEN to reduce the appearance of cellulite 
85% of women who use the lotion experience a reduction in cellulite!
Triple Action Formula:

STRETCH MARK REDUCTION
INCREASE FIRMNESS
REDUCE CELLULITE APPEARANCE

Unique ingredients to provide visibly firmer and more toned skin
Reduces under eye puffiness
Provides 24–hour hydration
Easily absorbed
Safe during PREGNANCY and BREASTFEEDING
A lightweight lotion that stimulates skin cells, reduces cellulite to sculpt the body. When used regularly, the nutritional actives of Artichoke and Avocado work in synergy to help enhance skin firmness, help reduce the appearance of stretch marks while moisturising and hydrating the skin.
Body Sculpting is clinically proven to reduce the appearance of cellulite and the orange-peel look, improves firmness and reduces the look of stretch marks.
How can our Bodysculpting Lotion help you?
STRETCH MARK REDUCTION
Australian Kakadu Plum is a skin whitening ingredient that can help reduce the appearance of stretch marks.  A potent antioxidant and anti-inflammatory ingredient that helps to heal damaged skin.
INCREASE FIRMNESS
Active ingredients provide a tightening film on the skin. Visibly and measurably refines the silhouette and when used regularly leads to a slimmer abdomen. 
REDUCE CELLULITE APPEARANCE
Slimming and anti-cellulite ingredients such as unroasted Shea Butter refine the silhouette. Each of the individual ingredients activates and causes the existing fat to increasingly fragment into fat globules and decompose. Unique ingredients together with Artichoke extract stimulate the skin cells and improves the removal of decomposed fat.
ULTIMATE 2019 Hard Copy Weight Loss Guide
The Ultimate 2019 Weight Loss Guide is the ultimate companion to help you smash your weight loss goals and have your best ever Summer Body!
Key features include:
How to stay on track this summer

Goal Planning

Maintaining motivation

Diet and Nutrition

Fitness and Exercise

How the 28 Day Weight Loss Challenge App can help you

Recipes and a 3 Day Meal Plan

The Healthy Mummy Product Range
How to use The Guide
This guide takes out all the guesswork and explains exactly how you can work smarter, not harder to achieve results! It demonstrates how to use each product for maximum impact and encourages you to set goals and record them in the goal planner. The guide will also help you maintain your motivation which can be one of the biggest hurdles many face on their journey. This is all supported with expert guidance on diet, nutrition, fitness and exercise for busy mums!
Meal Prep Containers
Introducing the brand NEW Healthy Mummy Meal Prep containers. Includes 5 containers with pink lids and Healthy Mummy logo embossed into the lid.
Meal prepping is so important to keep you on track and ensure that you reach your weight loss goals.
Save Time

Save Money

Portion Control
Brownie Bites
The NEW Healthy Mummy Brownie Bites are a delicious and nutritious snack that's super quick and easy to make. The Brownie Bites mix contains all natural and whole food ingredients.
Specifically designed for busy mums the Brownie Bites a delicious treat that'll help you through the day, the healthy way.
What makes the Brownie Bites Mix so great?
Just 101 calories per serve

Contains Superfoods – chia seeds, quinoa, and cacao nibs

Specifically formulated for Mums

Delicious AND Healthy

Super quick to make, just 5 minutes prep time!

Breastfeeding Friendly

Contains no artificial colours or flavours
Superfood ingredients include
Chia Seeds –  

good source of omega-3 fatty acids, fiber, antioxidants, iron, and calcium.

Quinoa – High in protein

Cacao Nibs – High in fibre
Nutritional Information & Ingredients 
Metabolism Support Formula
The Healthy Mummy Metabolism Support Formula has been formulated to contain nutrients involved in energy production and the metabolism of carbohydrates, proteins and fats in the body.
"Metabolism refers to all the chemical processes going on continuously inside your body that allow life and normal functioning (maintaining normal functioning in the body is called homeostasis). These processes include those that break down nutrients from our food, and those that build and repair our body. Building and repairing the body requires energy that ultimately comes from your food.
The Healthy Mummy Metabolism Support is DOES NOT contain any caffeine, capsaicin, L-carnitine, picolinate, conjugated linoleic acid (CLA) or resveratrol
How to use the Metabolism Tablets
Take two tablets daily or as directed by your healthcare professional
Please note…
Always read the label
Use only as directed
If symptoms persist see your doctor or healthcare professional
For FAQS's on this product, please click here
Supplement Choice
Choose from our awesome supplement range.

Energy Boosting Super Greens
Specifically designed for busy mums, the Healthy Mummy SUPER GREENS supplement is here to help boost your energy and support your immune system.
The power-packed powder contains over 37 whole food ingredients in an easily digestible & nutritional formula, combining real food sources to deliver a powerful blend of nutrients to give tired mums the energy they need.
Learn more about the benefits of Super Greens here
Healthy Mummy Super Greens contains:
More IRON than 12 cups of Spinach!
The Vitamin C equivalent of 1.4 kilograms of Oranges!
56 x more Vitamin B12 than a beef steak!
The calcium equivalent to one litre of milk.
AND it TASTES delicious!!
Ingredients and Nutritional Information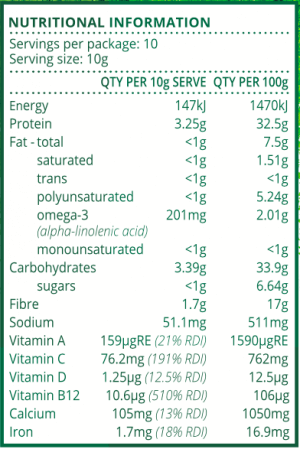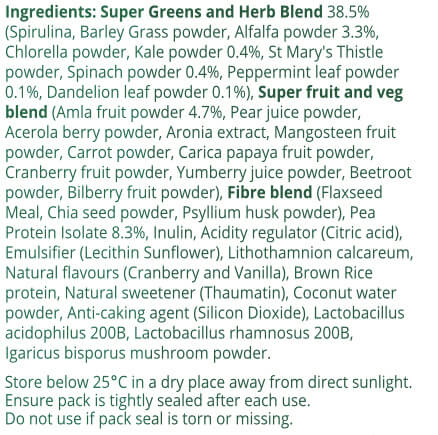 Read Mums' real reviews of Super Greens
Just what's so AMAZING about The Healthy Mummy's Super Greens?
FAQ's
For FAQ's on Super Greens, please click here
IMMUNE
Specifically designed for busy mums, The Healthy Mummy IMMUNE  is here to help boost your immune system naturally.
A supercharged blend of real food and organic sources packed with vitamins and zinc to assist immune function and help keep you healthy
IMMUNE is high in Vitamin C, Vitamin D, Vitamin A and Zinc which support and nourish the immune system naturally. With a delicious berry flavour.
Why is our IMMUNE supplement different?
It has been specifically formulated for BUSY MUMS
It nourishes your immune system NATURALLY (includes organic ingredients)
It is safe for use whilst BREASTFEEDING
A VEGAN-friendly product. Free from dairy and preservatives

Contains

PROBIOTICS

 – With good gut function you can absorb your nutrients better, so you are better primed to fight off winter colds and other nasties.

Contains no gluten ingredients
Helps to BOOST your Immune System
Tastes GREAT with a berry flavour
TUMMY
The Healthy Mummy TUMMY  is here to aid digestion and reduce bloating naturally. A nutritious formula with organic herbs, Omega-rich sources of fibre and probiotics which assist with gastrointestinal health and bloating.
Benefits of TUMMY
Aids digestion
Reduces bloating
Delicious Choc-Chai flavour
Fibre that contributes to regular laxation
Source of Omega 3
Nourish your tummy naturally
Probiotics that help to balance the friendly bacteria in your digestive system
Suitable for vegetarians
Superfood enriched – contains superfood ingredients including Chia Seeds and Flax seeds
Breastfeeding friendlyNutritional Info & Ingredients

FAQ'S
To read FAQ's about TUMMY, please click here 
Breastfeeding PLUS
Breastfeeding PLUS can assist with energy levels, immune function and support breast milk supply by providing mothers with a boost of vitamins and minerals to aid in recovery post birth. The aim of this product is to focus on mums nourishing their body to feed their baby. 
A delicious, nutrient-rich powder filled with vitamins & minerals for breastfeeding mums. A blend of real food sources to assist mums with the nutrients they need whilst breastfeeding. No nasty chemicals or additives – nothing but nutritious ingredients. If you need help with breastfeeding, or are concerned about you and your baby's wellbeing, it is important to consult the appropriate health professional, such as a certified lactation consultant or your family doctor.
A dairy free and GMO-free product suitable for vegans. It has a mild blackcurrant taste and is delicious.
Benefits of Breastfeeding PLUS:
Breastfeeding Friendly
Easily Digestible
Immune Function
Superfood Enriched
How to use Breastfeeding PLUS?
Mix one 10g serve with water or your Healthy Mummy Smoothie and take once a day.
Nutritional Information & Ingredients
**Please seek medical advice from your doctor or lactation consultant if you need any assistance in this area. The Healthy Mummy supports all types of feeding.**
FAQ's
To read FAQ's about Breastfeeding Plus, please click here
Ankle Weights
The Healthy Mummy ankle weights are 1kg each and perfect for increasing the resistance of any workout. The increase in resistance results in an increase in calories burnt!
Double your workout results with these AMAZING ankle weights.
Ankle weights create additional resistance on the leg muscles. The increased resistance results in greater fitness and tone in a shorter period of time. When you are exercising , the ankle weights will increase the intensity of the exercise by forcing the muscles to work harder.
Massage Ball & Roller
Using a foam roller and massage ball assists with releasing the muscles after a workout or when any tightness occurs. Both items can also be used as a rehabilitation tool, which relaxes the muscles from any tension created by a workout.
The mini foam roller is an excellent lightweight recovery tool that is great for massaging yourself to release tension anywhere. Most people can benefit from regular use of the mini foam roller on the lower arms, legs, soles of the feet or even the neck, to prevent or correct tension and strain.
The pink massage ball provides a deep tissue massage and can target isolated problem areas to help relieve pain. As well as relieving sore muscles, the massage ball can also assist in the prevention of injuries.
Dream it. Wish it. Do it. Singlet
The Dream it. Wish it. Do it. Singlet is a brand NEW design, it encourages us to get out there and DO IT in order to achieve our dreams! The singlet is the same fit as the usual Healthy Mummy Singlet that you all know and love.  
The singlets are longer styles – so will not ride up

Thick straps and a racer-style back

Not clingy but have a slight stretch

95% cotton and 5% elastane
Available in size 12, 14, 18 and 20
Hydrate Fruit Infusion Drink Bottle
Easily improve your daily water intake by spicing it up with fruit infusions to add some taste to your water and get an extra health and weight loss boost. The drink bottle can hold 700ml.
Meal Replacement Weight Loss Smoothie
How can Healthy Mummy Smoothies benefit you?
Our meal-replacement Smoothies have been formulated by leading nutritionists to be the perfect companion to a busy mum's life when trying to lose weight.
They're breastfeeding-friendly! 
20 serves per 500g tub.
Healthy Mummy Smoothies are an excellent source of essential vitamins, minerals, nutrients & important antioxidants
They don't contain weight loss accelerants, caffeine, gluten and are dairy-free. They are also a non-Genetically Modified product.
They can help with weight management when used as part of a diet & exercise plan
They provide the best possible nutrition for energy
They're breastfeeding-safe and are designed to help to support milk supply
They're 96% sugar free and do not contain added fructose
They're low GI & high fibre which helps you feel fuller for longer and aids digestion
They're quick and easy to prepare and taste delicious
They're high in protein & lower in sugar than any other product on the market – see a comparison table.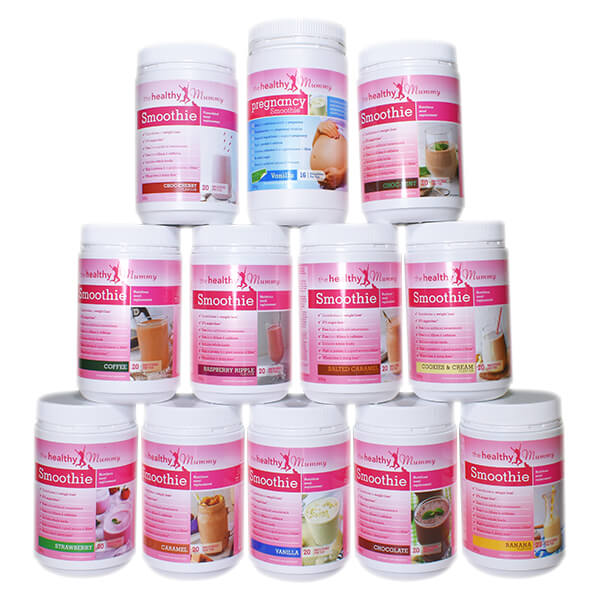 Pink Body Tape Measure
This pink tape measure is absolutely PERFECT for monitoring your weight loss progress. So often we rely on scales to tell us how much weight we have lost BUT because muscle weighs more than fat so this form of measurement can be misleading. Use the Healthy Mummy body tape measure for more accurate monitoring.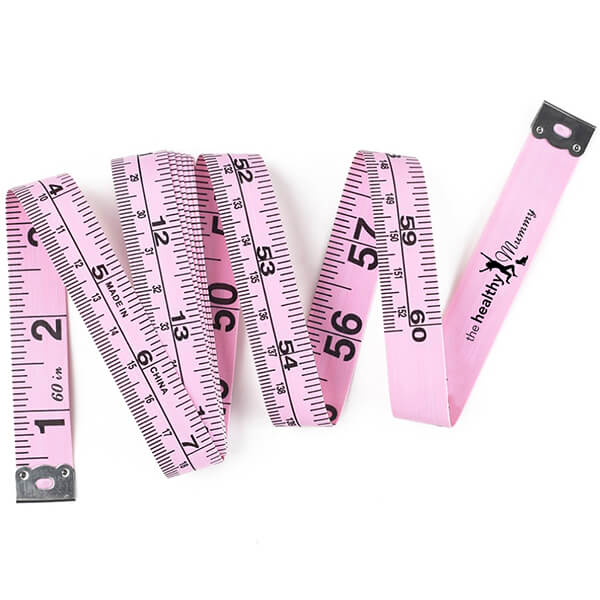 2019 Weight Loss Box Vouchers
1x Free eBook

$20 off THM shop  

$15 off Smoothies 

$15 off supplements